Are you looking for a cordless hedge trimmer having a perfect package of power and comfort? If yes, why don't you give Black Decker LHT321FF vs LHT2220 a try? These two products are all top-notch and sought-after by plenty of users all over the world.
To broaden your knowledge of each trimmer here, we have written an in-depth comparison below. Check it out now!
Differences

Between

Black Decker LHT321FF and LHT2220
Image
The Winner (#1)
The Runner-up (#2)
The Winner (#1)
Image
The Runner-up (#2)
Image
Design Comparison
At first glance, you can quickly notice that Black Decker LHT321FF vs LHT2220 is relatively lightweight. And the specifications have proved that you are right.
The LHT321FF model weighs about 8.4 pounds, and its dimensions are 39.98 x 6.97 x 7.48 inches. On the other hand, the LHT2220 one is lighter with a weight of 5.84 pounds and sizes of 35.63 x 7.88 x 7.56 inches.
Thanks to the super lightweight and compact design, BLACK+DECKER LHT2220B indeed brings extra convenience for you to hold it without muscle fatigue.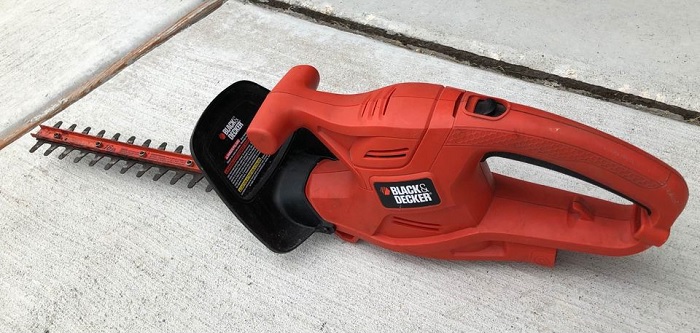 Power Comparison
When it comes to engine power, these two candidates share the similarity. They all come with a mighty 20-volt MAX lithium Ion battery that provides enough power and extended runtime to deal with any standard jobs.
Of course, there will be no winner in this regard. But rest assured that they guarantee you a superior performance of pushing through even thick patches of branches and leaves.
Feature Comparison
In addition to power, Black Decker LHT321FF vs LHT2220 also is much identical in other features.
To be more specific, they are all engineered to have the 22-inch dual-action blade. It is sturdy enough to cut through stubborn and thick branches up to 3/4 inches diameter like butter. These trimmers are claimed to trim up to 3000 square feet of hedges or bushes per charge.
Furthermore, it also reduces vibration during operation to complete your job effectively and quickly.
As for the LHT321FF model, an ergonomic handle with premium micro texture soft grips has contributed significantly to the smooth and less-tiring operation. For this reason, we highly praise the manufacturer's effort to give users the most convenience while using their machine.
It is not an exaggeration to say that BLACK+DECKER has smartly built many nice features into this machine. One of them must be the POWERCUT system to support you to cut through the toughest hedges within a button press.
This BLACK+DECKER LHT321FF comes in a combination of an ergonomic handle, a 22-inch blade, a battery, and a charger.
Let's continually see how outstanding the remaining trimmer shows off. It cannot be denied that this LHT2220 device is doing immensely great in the users' convenience.
In more detail, it offers a wrap-around front handle for optimum comfort and firmness while gripping, regardless of any cutting orientations. Also, the comfort during usage is enhanced thanks to the full-length trigger. As such, there is no need for extension cords while you are trimming far bushes and hedges.
Buying BLACK+DECKER LHT2220B often includes a comfortable wrap-around handle, a 22-inch blade, and a full-length trigger.
Quick Rundown of BLACK+DECKER LHT321FF
Sale
BLACK DECKER LHT321FF Hedge Trimmer
A powerful 20 volt max lithium Ion battery delivers power and extended run time
22 inches dual action blade to ensures less vibration while trimming
Cuts branches up to 3/4 inches diameter
Ergonomic grips and low vibration help you work longer and complete the job
Part of the 20 volt max system, Cutting Strokes/Min: 2400
Pros:
Powerful blade
Comfortable grip
Reduced vibration
POWERCUT system
Cons:
Cannot work in extreme weather

Quick Rundown of BLACK+DECKER LHT2220B
BLACK DECKER LHT2220B Hedge Trimmer
Dual-action blades cut branches with 40 percent less vibration
Part of 20-volt MAX lithium-ion battery system -- easily swap with other lawn and power tools
Quickly cuts branches up to ¾-inch thick
Hedge trimmer features 22-inch dual-action blade for extended reach
2-year limited warranty; does not include battery or charger
Pros:
Lightweight and compact design
40% less vibration than standard tools
Superb cutting power
Comfortable handle
Cons:
Lacks a charger or battery

Conclusion
Both Black Decker LHT321FF vs LHT2220 bear a strong resemblance in terms of motor and cutting capacity. But if you consider carefully, you will notice a few small differences.
Our cup of tea is BLACK+DECKER LHT321FF, which promises to give you a high-end performance. How about you? Good luck with your choice!