Which drill will the crown of the battle among Bosch 11255VSR Vs RH228VC Vs GBH2-28L Vs RH328VC belong to? Quickly dig into this article to find the answer.
Bosch 11255VSR vs RH228VC vs GBH2-28L vs RH328VC Review
1. Bosch 11255VSR Rotary Hammer Review
Starting off the Bosch rotary hammer list today is the Bosch 11255VSR, which has pleased many customers by its wonderful features and functions.
The first feature that must be mentioned in this item's versatility, which offers users 3 modes of operation. Specifically, the rotation only mode is suitable to use on thin walls or small steel bars while the hammer only mode can be applied to harder surfaces like concrete roads or walls.
And most importantly. In the last one, the rotary hammer mode is automatically modified to fit each kind of working surface.
While providing a robust 7.5 Amp motor and 2.0 feet /pounds of impact energy for maximum performance, this hammer still holds a very affordable price. If you decide to purchase this machine, you can save up to $100 compared to other available items.
However, a significant shortcoming of this Bosch 11255VSR is its weight. As it weighs up to 10.4 pounds, the drilling process would be harder and slower, leading to workers' fatigue and hassle.
Bosch 11255VSR Rotary Hammer
3 MODES: multi-function selector offers 3 modes of operation; Rotation-only, rotary hammer, and hammer only mode; Variable speed trigger with reverse offers accurate bit starting or easy fastener removing
EASE OF USE: vibration control for comfort in all day applications
ERGONOMIC: D-handle design provides comfort and optimal control, especially for overhead or downward drilling applications
CONVENIENT: SDS-plus bit system provides tool-free bit changes with automatic bit locking, dust protection and maximum impact energy transfer; Vario lock positioning offers 36 bit positions for optimized chiseling angle
POWER: 7.5 amp motor produces 0.1,300 RPM and 0.5,800 BPM to power through the toughest applications; delivers 2.0 feet /pounds of impact energy for maximum performance
Pros:
D handle design
Provides 3 flexible working modes
Capable of 2.0 feet /pounds of impact energy
Comes with a carrying case
Quite reasonable
Cons:
2. Bosch RH228VC Rotary Hammer Review
Another compelling candidate from Bosch is the RH228VC model, known for its powerful engine and excellent control system.
The most outstanding feature of this machine is its powerful motor with the Amp rate going up to 8.7. Compared to other products with the same size, this rotary hammer can handle continuously even the roughest material within 3 hours.
What's more, even featuring a robust engine system, this machine weighs only 6.9 pounds, 4 pounds lighter than the average products in the market. In addition to its light construction, the Bosch RH228VC is also equipped with a counter-balanced vibration control to improve user comfort during working applications.
Despite possessing many exceptional characteristics, this Bosch RH228VC still makes many customers hesitate because of its sky-high price. But it won't be a problem if you really want to own a high-quality rotary hammer, right?
Bosch RH228VC Rotary Hammer
VERSATILE: The Bosch RH228VC Rotary Hammer offers three modes of operation including hammer drilling, chiseling, and drilling only. It provides 8.0 amps of power and delivers 2.4 ft.-lbs. of impact energy and increased drill capacity
CONTROL: The hammer provides a counter-balance vibration control for comfort during extended work. The vibration reduction in the hammer mechanism for lowest vibration levels in its class
SECURE: The Bosch RH228VC has an integral clutch which helps minimize torque reaction and will disengage transmission if the bit gets into a bind-up situation
CONVENIENT: The SDS-plus Bulldog Xtreme Max Rotary Hammer features Bosch's Vario-Lock positioning, allowing for adjustable chiseling into 40 different positions
DURABLE: The tool features a metal gear housing for increased jobsite durability
Pros:
Strong 8.7 Amp motor
Counter-balanced vibration control
Light yet sturdy structure
2.4 feet /pounds of impact energy
Variable speed
Cons:
3. Bosch GBH2-28L Rotary Hammer Review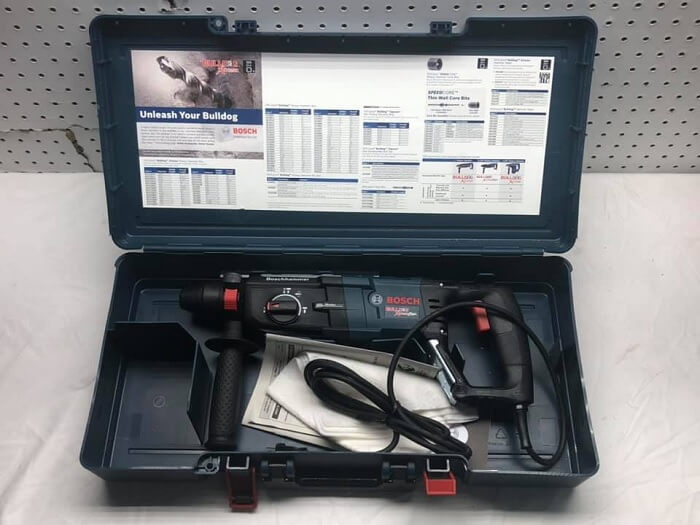 The third item from the giant Bosch is the Bosch GBH2-28L. This machine is excellently optimized for better control and vibration management.
Specifically, an integral clutch is facilitated to disengage the torque transmission in case there is a bind-up situation. This feature protects you from sudden incidents and makes the process faster and more productive.
For workers who have to spend a long time in the worksites, the counter-balanced management would be a great support as the vibration is reduced as much as possible. The laborers would then feel more comfortable towards the strenuous tasks.
The only downside of this Bosch GBH2-28L is its speed, which can run from 0 to 1,230 RPM. This speed is fine with average-duty work, yet regarding the more burdensome task, it would take more time to finish.
Sale
Bosch GBH2-28L Rotary Hammer
Robust 8.5 amp motor – delivers 2.4 ft.-Lbs. Of impact energy for reliable bulldog performance
Kickback control – uses an integrated sensor to stop tool rotation during bit bind-up situations
Counter-balanced vibration control – improves user comfort during drilling or chiseling applications
Vario-lock – rotates and locks chisel to optimize working angle
Variable-speed trigger with reversing – offers accurate bit starting
Pros:
More safety ensured
Excellent counter-balanced management system
Maximum capacity in concrete: 1-1/8 inches
Enables the user to rotate 40 different positions
Quite light
Cons:
4. Bosch RH328VC Rotary Hammer Review
The last candidate we want to mention here is the Bosch RH328VC, which is an outstanding choice for workers and builders.
In terms of power, this hammer drill is considered to own one of the most robust engines with an 8 Amp motor. This can handle 2.4 feet /pounds of impact energy.
As they say, power is nothing without stability and this item has demonstrated that it both holds power and stability. The drill is uniquely designed to shorten the body's length and make it more convenient to hold. The finish is glossily painted to prevent scratches and damage.
Most importantly, the machine's body is made from 100 % steel and all parts are well-attached so that the drill can withstand damage and rough material.
A disappointing disadvantage of this model is its lack of a trigger lock, which will mostly prevent accidental ignition. Thus, it is better for you to consult Bosch's caution carefully.
Sale
Bosch RH328VC Rotary Hammer
Professional rotary hammer design - features 2.4 Ft.-Lbs. of impact energy, with Vibration Control and three modes of operation
Active Vibration Control in the (1) hammer mechanism and the (2) grip area - provides maximum user comfort
Features an integral clutch, which disengages the torque transmission if the bit gets into a bind-up situation.Material:Metal, Plastic
Convenient 360° auxiliary handle provides additional user control
Vario-Lock places the tool in neutral, allowing you to choose from 12 different positions so you can fine tune where the chisel should sit
Pros:
8 Amp motor
Handle a 2.4 feet /pounds of impact energy
Light yet firm
Well-attached parts
Comes with a carrying case
Cons:
Which one is BEST?
It's hard to figure out the winner at first sight, but after our brief comparison, we think the Bosch RH228VC has won our hearts as we find it a bargain to own both exceptional functions and reasonable price at the same time.
When it comes to power, the 8.7 Amp motor is the strongest amongst all competitors, and so does the impact capacity.
What also makes this product stand out is the light but sturdy construction, while still maintains the best comfort and control for users.
Image
Rank #1
Rank #2
Rank #3
Rank #4
Rank #1
Image
Rank #2
Image
Rank #3
Image
Rank #4
Image
Conclusion
After this useful review, we're sure that you are able to find your answer and can't wait to go shopping for your reliable partner, aren't you?
We hope that this Bosch 11255VSR Vs RH228VC Vs GBH2-28L Vs RH328VC Review would be helpful for you.