Want a detailed comparison between Dewalt dcf620 vs dcf622? Let's jump right into this article to understand all these designs' features and decide which one is right for you!
Difference between Dewalt DCF620B and DCF622B
Image
The Winner (#1)

The Runner-up (#2)

The Winner (#1)
Image

The Runner-up (#2)
Image

Power Comparison
In terms of speed, the DEWALT DCF622B has a speed up to 2,000 RPMs. It may look like other cordless drywall screw-guns. However, its power is enough for metal fastening applications and heavy screws. Additionally, you can use the device for cement board, subfloor, and the pressure treated deck.
For DEWALT DCF620B, it is equipped with a powerful motor, whose speed can reach up to 4,400 RPMs. Therefore, this screwgun offers superior performance in fast applications when compared with its counterpart.
In particular, it means when using DEWALT DCF620B, the screw can perform 2 times faster than the DEWALT DCF622B. This is definitely a plus point for this drill.
One factor we have to consider when speaking of speed is the stability of applications. Although the DCF620B's motor speed is far behind that of the DCF622B, it is supposed to be more controllable. Not only being built for driving drywall screws, but DEWALT DCF622B can also handle driving tasks in metal and wood, including metal roof installation and metal to metal fastening. You can use it for a wide range of applications.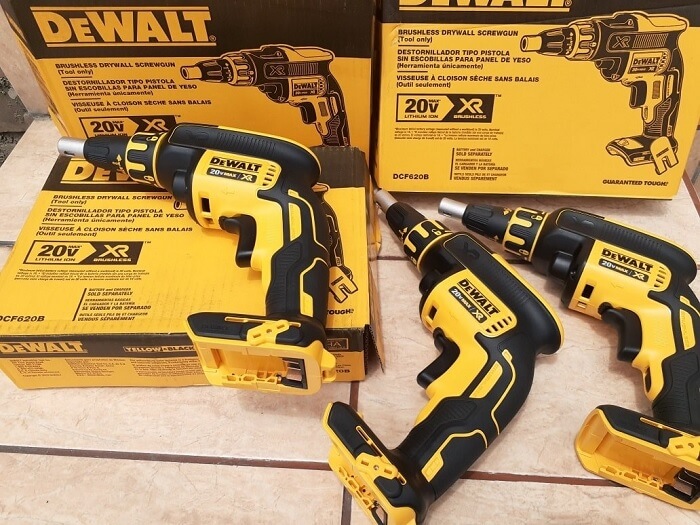 Design Comparison
Both drills have similar dimensions and weights – 8.2 x 3 x 11.1 inches and 2.8 pounds. However, DEWALT DCF620B has an ergonomic design that helps reduce the worker's fatigue. This ergonomic shape makes the drill seem lighter. Therefore, it helps prolong the working time and better control the drilling process.
Once again, the DEWALT DCF620B surpasses DEWALT DCF622B in terms of design.
One advantage of both drills is that they are added a clip on their sides for hanging, which is extremely handy when you have to work on a ladder.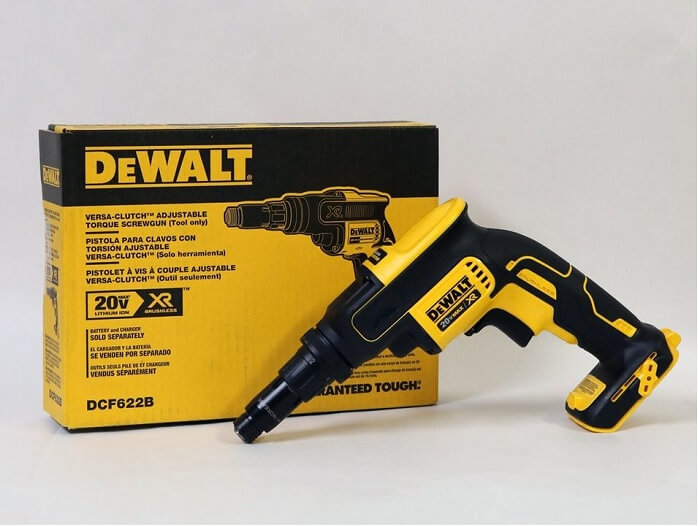 Features Comparison
The Versa-Clutch System of DEWALT DCF622B helps prevent damages to material and fasteners. This system allows us to dial in the proper torque. As a result, you can easily install the screws into drywall and other materials without stripping out fasteners.
This feature is only available for DEWALT DCF622B.
Quick Rundown Of DEWALT DCF622B
Sale
DEWALT DCF622B Screwgun
Delivers up to 2,000 RPMs of consistent speed
DEWALT built brushless motor for increased efficiency and runtime
Versa-Clutch System to help prevent damage to material and fasteners
LED light for increased visibility and illuminating dark work areas
Battery sold separately

Quick Rundown Of DEWALT DCF620B
Sale
DEWALT DCF620B Screwgun
DEWALT brushless motor in that delivers superior performance and maximum run time
Cone-Lock(tm) nosecone locks on securely and is easily removed
ergonomically designed for less worker fatigue
LED light for visibility in tight spaces
Battery sold separately

Product Videos
Conclusion
Well, that's all for this review of Dewalt dcf620 vs dcf622. After reading through this article, we hope you have found the information needed in this comparison before deciding which drill to buy. However, this post is only a reference since the comparison is all based on our experience.