Below I will compare the power, portability, and features of the Dewalt DWFP71917 and D51257K
Difference between Dewalt DWFP71917 and D51257K
Image
The Winner (#1)
The Runner-up (#2)
The Winner (#1)
Image
The Runner-up (#2)
Image
Design Comparison
Coming from the same manufacturer and line, Dewalt DWFP71917 vs D51257K is not much identical in terms of weight.
The former weighs around 5 pounds and its dimensions are 4.49 x 14.96 x 13.47 inches, whereas the latter is introduced to the finish nailer at a heavier weight of 7.6 pounds and sizes of 13.46 x 4.49 x 14.96 inches.
Therefore, the winner here is Dewalt DWFP71917, providing comfortable mobility for users regardless of longer working time.
Power Comparison
A finish nailer is nothing without a mighty engine. Luckily, these nail guns will live up to your expectation with their power.
To be more specific, they all deliver up to 120 PSI of operating pressure, which is enough to get any finished work done without a hitch.
At the same time, the magazine enables you to hold up to 100 nails at a time. Be glad that this sufficient capacity will help you out well.
Obviously, we cannot indicate the winner in this field.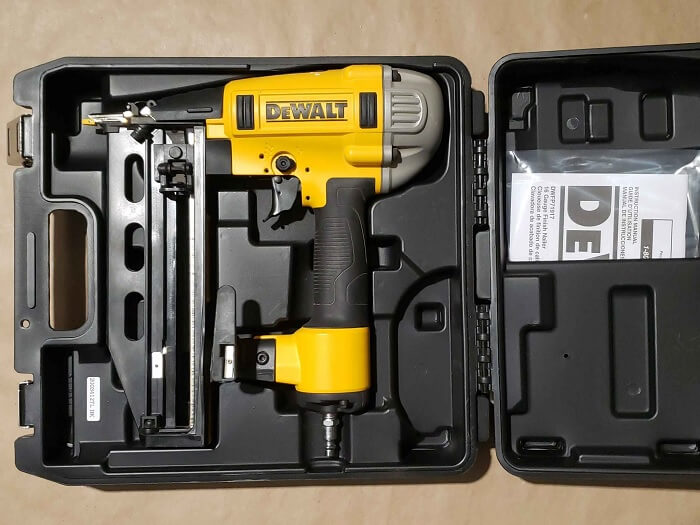 Features Comparison
Although these two devices share convenient tool-free settings in common, we will only focus on the different remarkable features in this comparison.
Taking a closer look at Dewalt DWFP71917, we notice that this tool offers precision point technology, making it much more comfortable to use. For example, you will effortlessly place the nails with the small nose, as well as do not need to compress the contact trip to actuate the tool anymore.
Another distinct feature must be the rear exhaust, which comes in handy to prevent the contaminants from getting in the way of your work.
What is more, everything seems to be a breeze thanks to a selectable trigger included in this finish nailer. You will be given two modes between sequential or contact actuation to support your work.
A whole package of Dewalt DWFP71917 consists of a nailer, a fitting, extra no-mar tips, and a carrying case.
However, do not get wrong that the D51257K model is less pleasant. This tool is equipped with a trigger lock-off that you cannot find from its opponent. The exclusive feature has contributed greatly to enhanced performance and safety.
On top of that, you can experience precise work and perfect finish at last without getting scratched thanks to a low profile no-mar pad.
And it will be our big mistake if we forget to mention the sealed lube dual technology. It aims at letting you operate the motor as either an oil-free nailer or an oil-lubricated unit. Is it enough to impress you?
If you intend to buy a Dewalt D51257K tool kit, you will get a sample to finish nails "FN" style, safety glasses, two wrenches, and air fitting, and a carrying case.
Quick Rundown Of Dewalt DWFP71917
Dewalt DWFP71917 Finish Nailer
PRECISION PT 16GA FINISH NAILER KIT
PRECISION PT 16GA FINISH NAILER KIT
PRECISION PT 16GA FINISH NAILER KIT
PRECISION PT 16GA FINISH NAILER KIT
PRECISION PT 16GA FINISH NAILER KIT
Pros:
Incredibly light and compact design
Advanced precision point technology
A helpful selectable trigger
Ensures your safety
Cons:

Quick Rundown Of Dewalt D51257K
Dewalt D51257K Finish Nailer
Sealed lube dual tech: motor works as an oil free and oil lube unit.
Tool-free features: adjustable belt hook, nail depth adjustment, jam clearing, 360 degree exhaust
Uses 1-inch to 2-1/2-inch (25.4 milimeter-65 milimeter) 16 gauge straight collated nails,
Includes carrying case and sample finish nails ( safety glasses are not included.)
Low profile no-mar pad; Sequential action trigger installed
Pros:
Superior sealed lube dual technology
Low profile no-mar pad
Useful trigger lock-off
Cons:
Only offers the sequential trigger style

Conclusion
It cannot be denied that Dewalt DWFP71917 vs D51257K should be on your top list while you are considering a finish nailer for your home DIY projects. Any tool can suit your demands well because of its premium features.
If we have to make a choice, the DWFP71917 unit will be our priority. We do hope that you can decide wisely to own the desired product.