Though 25022 and 25112 are similar in many ways, you will also find a few differences. A new buyer needs to understand these differences to make a smart decision. Here are the details of GreenWorks 25022 vs 25112. Go through the following to be familiar with the features, pros, and cons of each, and then only you can decide depending on your specific requirements.
Image
The Winner (#1)
The Runner-up (#2)
The Winner (#1)
Image
The Runner-up (#2)
Image
GreenWorks 25022 vs 25112 Review details
1. GreenWorks 25022 Corded Electric Lawn Mower Review.
As GreenWorks 25022 is an electric mower, you do not need to spend on gasoline. So, there will be no gasoline smell as well. This is an eco-friendly, lightweight, and easy to use an electric mower that comes with a lot of power. You can make it run with a single push of the button. You do not need to pull the cord again and again to ensure smooth functioning. It features foldable handles that make it the best option for transportation and storage.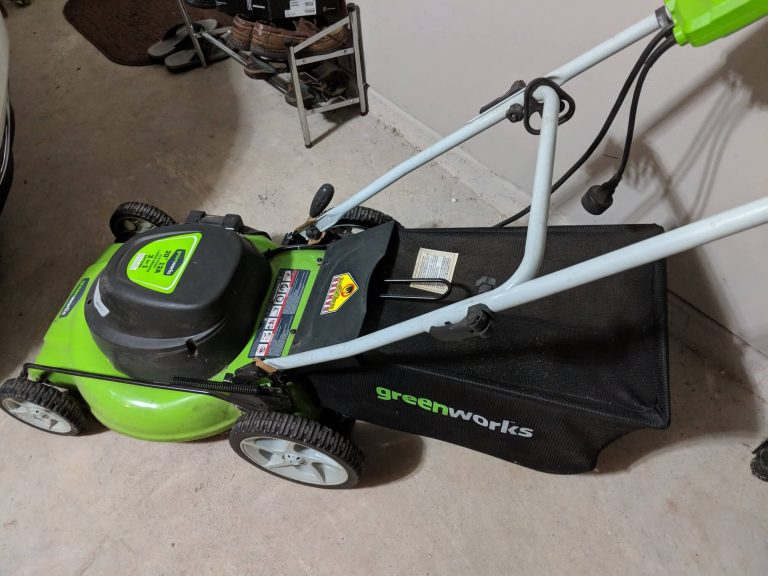 Some other key features are a powerful 12 amp motor and a lasting 20-inch steel deck. The powerful motor will ensure that users can easily get through the grass and weeds. You can also bag or mulch the trimming. It comes with seven height adjustment positions to offer effective performance as well as easy usage. The larger wheels and the steel deck make it perfect for smaller to big yards.
Greenworks 25022
Powerful Cutting: The 12 amp motor and 20-inch steel deck with a 3600 RPM work together to cut through the toughest grass with ease
Versatile Cutting Options: The 3-in-1 system allows for mulching, rear bagging, and side discharge, giving you the flexibility to handle clippings in various ways
Easy to Use: The easy push button start and single lever 7 position height adjustment make using the mower a breeze, while the cam lock handle allows for easy folding and storage
Efficient and Durable: The durable steel 21-inch cutting deck gets the job done quickly and efficiently, while the AC corded power provides unlimited run-time with no gas, oil, or emissions
Extension Cord Requirement: It is important to use a 14 gauge 50' or 12 gauge 100' extension cord (not included) for optimal performance
*** Pros:
No spending on gasoline and no gasoline smell.
Eco-friendly and lightweight.
Plenty of power to ensure easy and fast cutting.
7 height adjustment positions.
Large tires for easy maneuvering.
Demands less maintenance.
*** Cons:
2. GreenWorks 25112 Corded Electric Lawn Mower Review.
As stated earlier, both these are the products are of GreenWorks. These are also electric mowers. So, you can expect many similarities. First of all, you will not have to spend on gasoline and you do not need to deal with that irritating smell. Now we will come to the differences. This mower can be best if you are looking for more mowing power. The motor of this model is a bit powerful than the previous one.
It provides 13 amps of power when 25022 mower has only 12 amp power. Also, the cutting deck is a bit larger. With 21 inches cutting deck, you can certainly expect a better result while handling both smaller and large yards. This mower also comes with seven height adjustment options for easy usage.
You will have the freedom to choose how to handle the trimming. You can consider the greener growth or simply bag it for easy disposal. The GreenWorks 25112 electric mower is lightweight and easy to move around. It has oversized wheels that provide more mowing power without demanding too much effort. However, you might need an extension cord to move it around your yard.
Greenworks 25112
Powerful 13 amp motor delivers enough power to cut through the toughest grass
Durable Steel 21" Cutting deck gets the job done quicker and more efficiently
3-In-1 feature provides options for grass clippings from rear bagging, side discharge and mulching capabilities
7-Position Height adjustment offers a range of cutting Height from 1-3/4" To 3-3/4" For all grass types
Wide 10" Rear wheels and 7" Front wheels
*** Pros:
Runs quietly and fast.
7 adjustable height positions.
Easy to start and run.
Lightweight and easy to maneuver.
Four years warranty.
3-in-one operation.
*** Cons:
You need to buy the extension cord separately
Which One Is Better?
After going through the above, you might need more clarification to decide on one. You might have realized that many of their features are the same. Both these models are efficient, lightweight, and easy to operate. Also, they have larger wheels for easy maneuvering. The mowing power is great as well.
When it comes to the differences, you can compare the price and the storage benefit. You will have to spend more on 25112. But the benefit is more amp and 21-inch steel deck. The downside is that you will have to buy a separate extension cord to ensure easy maneuvering of your mower throughout the yard. 25022 is worth considering for price and easy storage.
This mower is a bit affordable than its competitors. Also, you will not find much difference in mowing power. Even the customers appreciate both these products for quality, durability, and better efficiency. So, it is up to you to decide which one can be the best fit for your yard.