We all understand how difficult it can be when it comes to choosing the best milling machine in the market. With hundreds of brands available nowadays, the efforts it requires to narrow down the finest products often make your head spin.
Our post would, thus, be a useful guide for you. We are going to compare the Grizzly G0704 vs G0705 vs PM25MV and reveal which one is the most worthy of your investment.
Now let's get started!
Grizzly G0704 vs Grizzly G0705 vs PM25MV Review.
1. Grizzly Industrial G0704 Milling Machine Review.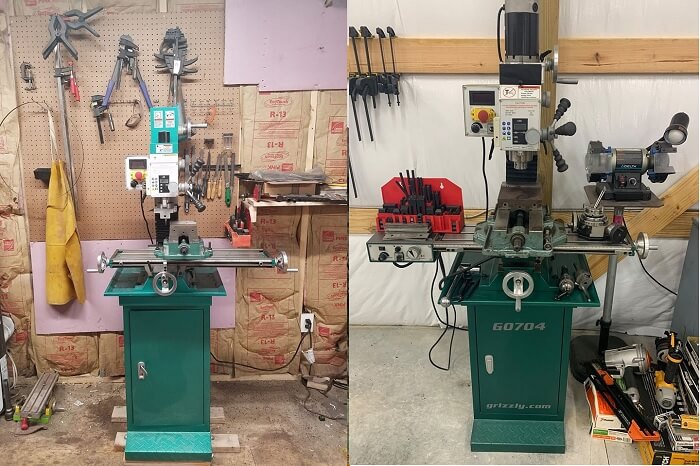 The G0704 Milling Machine from Grizzly has long earned consumers' trust for its reliability and flexibility. You can take advantage of this tool for both home and professional purposes.
Thanks to the lightweight nature, it has never been easier to transport the machine from place to place. Also, with the compact design of 7''x27'', you can easily fit it in any spaces of your shop or house.
Despite the moderate measurements, the G0704 is still an efficient workhorse with its powerful 1HP-12A motor. It can magically tackle various materials such as steel, aluminum, bronze, and cast iron with no noticeable deflection.
Another feature that distinguishes the G0704 from the other mill drills in the market is the cast-iron dovetail column.
For anyone who doesn't know, the dovetail column simplifies the detachment and reattachment of the head, preventing it from losing the original alignment with the table. It also makes the transition between low and high-positioned works much smoother.
One major concern of the G0704 is its inefficiency when working during long-shift applications and milling stubborn and chunky materials. It's highly suggested that you slow things down and pay attention to the engine's working limit to lengthen the device's lifespan.
Grizzly G0704 Milling Machine Review
Item may ship in more than one box and may arrive separately
This great little machine sports some of the same features found on much larger mill/drills: dovetail column variable speed 1 HP motor R-8 spindle
2A single-phase Spindle taper: R-8 Spindle travel: 2-Inch T-slots: 3 @ 2-1/2-Inch centers 1/2-Inch wide
Distance spindle to table: 13-Inch Swing: 15-Inch Table travel: 18-7/8-Inch Table travel : 6-7/8-Inch
Pros:
Powerful motor
Lightweight
Durable
2-speed gearbox
Cons:
Not suitable for extensive works

2. Grizzly Industrial G0705 Milling Machine Review.
Since its appearance in 2011, the Grizzly G0705 has always been a highly sought-after single-purpose milling machine. This product is an essential item for any professional users out there who are gunning to purchase a high-quality mill for their industrial shops.
In comparison with the G0704 model, this mill has a relatively stronger mechanical operation. It is well-equipped with a powerful 2HP-20A motor to deliver better milling performance while still manage to shorten the time of the whole process significantly.
What's more, the G0705 model is larger with the max distance from the spindle to the table of 17-5/16 inches (compared to the G0704 of 13 inches) and extra-large horizontal travel.
Therefore, it comes as no surprise that this drill is a must-have for anyone who constantly works with large, sturdy workpieces that require more applying spaces.
However, the G0705 features a round-shaped column. The circular cross-sections make it extremely difficult to keep the head from rotating and drifting throughout the entire application. If the head is misaligned, it might take a while for you to reposition the head and relocate the cutter.
Pros:
Powerful operation
Easy to use
Variable spindle speed
Large machine
Cons:

3. PM-25MV Milling Machine Review.
The PM-25MV is a well-loved brushless mill machine from Precision Matthews. If you are seeking out some decent mills for your hobbies or garage uses, this product is definitely worth a shot.
When it comes to the operation, the machine runs on a 1HP-12A motor, which doesn't differ much from the two Grizzly models.
However, as opposed to the gear-driven motor of Grizzly products, the PM-25MV is a belt-driven mill. Not only does it provide the users with a quieter motor, but it also acts as a safeguard to prevent the machine from getting stuck with bits of workpieces.
Another advantage that the PM-25MV offers over the Grizzly G0705 model is the DRO monitor, which stands for "digital readout".
With the help of this monitor, it will be easier for you to switch between different measures such as inches to meters. Also, it can prevent the miscount of handwheel dials and rotations.
The only notable weak point of the PM-25MV has something to do with the price. Its cost is relatively higher compared to the previous two milling machines. Therefore, some budget-focused purchasers might want to consider the product more carefully before making the final decisions.
PM-25MV Milling Machine Review
Completely different factory, castings, and design than many others out there, GREATLY improved design
Extremely Reliable, Brushless DC Variable Speed Motor Included Standard
Larger Dials at Table Ends, Graduated in .001", For Easier to Read, Accurate Table Movements. Leadscrews Are True Inch Pitch Screws (Not Metric Conversions Like Many), 10 Threads Per Inch (.100" Per Turn). Machine Carries A 3 Year Warranty For Added Peace Of Mind
Extra Large Column To Base Mount, Over 400% More Area, Makes A Much More Rigid Machine, Greatly Improved Over Other Machines In This Size Range
More Information below under the DESCRIPTION Tab below – It is NOT just the same old model with just a belt drive upgrade – Be sure to compare carefully
Pros:
Large column
GRO included
Durable head
Cons:

Which One Is The Best?
After numerous evaluations and comparisons in terms of key features, efficiency, and durability, we have decided to list the Grizzly G0704 is the best milling machine out of the three.
The main reason for our pick is mainly because of its versatility. Operated on a decent range of power, the G0704 is suitable for both industrial and amateur users. Additionally, it will significantly reduce the unnecessary power consumption in the G0705 model.
Moreover, this product is such a real bargain for any budget-focused users out there. With everything the G0704 has to offer, you can get it at the lowest price compared to the G0705 and the PM-25MV.
Image
Rank #1
Rank #2
Rank #3
Rank #1
Image
Rank #2
Image
Rank #3
Image
Final Words
After reading our quick reviews among the Grizzly G0704 vs G0705 vs PM25MV, hopefully, you have gained enough information to make your final buying decision.
Because each product carries within itself unique features that set it apart from the others, it would be best if you carefully evaluated the items to decide which one whose features will suit you the most.