Further down the page, you'll find some explanations regarding the key similarities and differences between the Horizon 7.0 AT and the Horizon 7.8 AT.
But before checking out explanations regarding their specs and features here's a table that summarizes the main technical summary sheet for these 2 treadmills:
Image
The Winner (#1)
The Runner-up (#2)
Heart Rate Monitor
Contact Hand Grips, Bluetooth 4.0 Compatible Receiver
includes a Bluetooth wireless chest strap
The Winner (#1)
Image
Heart Rate Monitor
Contact Hand Grips, Bluetooth 4.0 Compatible Receiver
The Runner-up (#2)
Image
Heart Rate Monitor
includes a Bluetooth wireless chest strap
Specs Comparison
Opening the battle, we will compare the prices of the two products. The Horizon 7.0 AT costs about $200 cheaper than the 7.8 AT. To be specific, the former is above $1,300, and the latter is in the range of less than $1,500.
Let's move on to the maximum user weight of the two machines. In this aspect, both trainers can lift a person over 300 pounds. Specifically, the Horizon 7.0 AT withstands a weight of up to 325 pounds, while the Horizon 7.8 AT can even support up to 350 pounds!
What about the number of training programs built into each of them? Well, there's a big difference here! While the Horizon 7.0 AT has only six programs, the 7.8 AT offers customers up to 10 exercises to choose from!
As for power, their two warriors are both equipped with powerful engines. According to the manual, the Horizon 7.0 AT runs on a 3 CHP motor, while its competitor – the Horizon 7.8 AT, comes with a much more powerful engine – 4 CHP.
What about their incline ranges? Undoubtedly, the Horizon brand has had impressive tilt ranges so far! In this aspect, it seems like the Horizon 7.8 AT will prevail over its brother! Specifically, the 7.8 AT's is about 0% to 15%, and Horizon 7.0 AT is a bit narrower: 0-15%.
When it comes to the maximum speed, both can reach the speed from 0 to 12 MPH. And, of course, when the treadmill reaches its highest speed, it can generate a lot of heat. At this time, the AutoBreeze system will cool the engine of the 7.8 AT. Unfortunately, Horizon 7.0 AT does not have a cooling fan in this case!
Regarding the heart rate monitoring system, you only need to wear EKG Grip Pulse; these trainers will calculate your heart rate during exercise!
Let's continue to compare the dimensions of the two trainers! According to the manufacturer, the 7.8 AT measures 76 x 37 x 64 inches, while the Horizon 7.0 AT comes with a size of 78.74 x 29.92 x 11.81 inches.
What about the trainer's belt size? Horizon 7.0 AT belt dimensions are WxL (20"x60") while Horizon 7.8 AT belt is more adaptable to taller people, slightly 2″ larger in width.
You may wonder what to do if you want to move two machines, right? Luckily, both machines are supported with rollers up to 1.9 inches in size, helping you move the trainer with ease!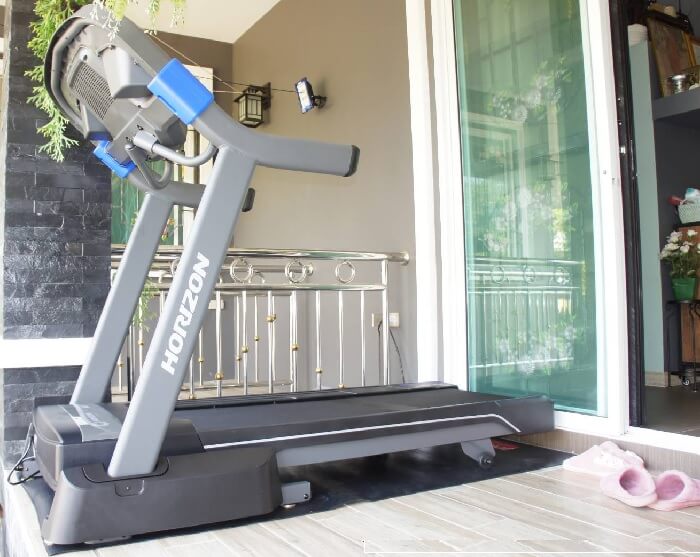 Features Comparison
Now comes to additional features of two trainers! Regarding display, the Horizon 7.0 AT comes with a 7" LCD screen, while the 7.8 AT is equipped with a 9.3" color screen. Both machines' screens play a permanent role in varying speed, tilt, and drop angle for practice.
To adjust the speed and range of incline, or any other machine-related operation, just press the "Speed" and "Tilt" buttons on the control panel, and you're done!
Both Horizon 7.0 AT and 7.8 AT do not have much difference in the speaker system. Specifically, two machines have a 2-inch digital amplifier dual speaker system to support user needs during workouts!
What about the ability to link with Android and iOS devices? Fortunately, both Horizon 7.0 AT and 7.8 AT are compatible with these devices.
And last but not least, these two trainers provide you with two pockets beside the console so that you can hold your belongings, like a bottle of water, smartphone, tablet, etc. Such a convenience, right?
Quick Rundown Of Horizon 7.0 AT
Horizon 7.0 AT Treadmill
Advanced Bluetooth connects to multiple devices to stream media through integrated speakers
Includes free app to control your workout and push data to favorite fitness Apps, plus device holder and rapid-charge USB port
Powerful, 3. 0 chap motor
60" 3-Zone cushioned deck for comfortable footfalls
Lifetime frame and motor; Power: 120v - 60Hz

---
Quick Rundown Of Horizon 7.8 AT
Horizon 7.8 AT Treadmill
CONNECT: Quick and easy app connectivity. Stream fitness classes, movies, and music via Bluetooth connection. Integrated device rest securely holds your phone or tablet. A rapid-charge USB port keeps your device powered. No subscription required!
BUILT FOR HOME WORKOUT PERFORMANCE: 22 x 60-inch XL belt deck with 3-zone cushioning offers variable response for flex and support in all cardio and stride types. Max user weight is 375 pounds, with assembled dimensions of 76" x 37" x 64".
PRECISION CONTROL: Experience fast, smooth transitions between intervals using QuickDial controls to simplify adjustments without breaking your stride. Speed range from 0.5 – 12 mph and an incline range from 0 – 15% so you can walk, jog, or run.
PROGRAM CHOICES: Custom Interval Keys, One-Touch Speed & Incline Quick Keys allow you to switch between programs, such as Sprint 8 HIIT, 5K, Calorie, Distance, Fat Burn, Hill Climb, Manual, and Max Heart Rate. Monitor it all with contact hand grips.
RESPONSIVE DRIVE SYSTEM: Highly responsive Rapid Sync performance drive system delivers faster speed and incline changes, perfect for interval training. Enjoy a smooth, efficient workout.

---
Product Videos
---
Conclusion
Have you found out the winner between Horizon 7.0 AT vs 7.8 AT after reading our post? If you put the two opponents side by side, it is not difficult to recognize that the 7.8 AT is superior to its rival in almost all aspects. Yet, Horizon 7.0 AT is also a suitable choice for those who have a tight budget!
Thank you for following this post! If you have any questions, don't hesitate to leave a comment below!
---