Further down the page, you'll find some explanations regarding the key similarities and differences between the Bowflex BXT116 and the Sole F80.
But before checking out explanations regarding their specs, features, and warranty, here's a table that summarizes the main technical summary sheet for these 2 treadmills:
Image
The Winner (#1)
The Runner-up (#2)
Heart Rate Monitor
EKG contact monitoring, chest strap
Pulse grip and chest strap heart rate monitoring
Display
7.5" full color, backlit LCD
7.5-inch LCD workout display 7.5" Blue Backlit LCD
Audio
MP3-compatible sound system
The Winner (#1)
Image
Heart Rate Monitor
EKG contact monitoring, chest strap
Display
7.5" full color, backlit LCD
The Runner-up (#2)
Image
Heart Rate Monitor
Pulse grip and chest strap heart rate monitoring
Display
7.5-inch LCD workout display 7.5" Blue Backlit LCD
Audio
MP3-compatible sound system
Specs Comparison
The first aspect we want to mention is price. In detail, the Sole F80 is more costly than Bowflex T116, which will be your first option if you are looking for an affordable one.
Both can withstand a weight of 350 lbs.
Once comparing the number of preset workout programs, we see that two models offer users the same number of programs. You can freely choose ten programs from Sole F80 and nine built-in programs from Bowflex T116. They give you all kinds of exercise from a manual, fat burn, calorie burn, heart rate, interval training.
Looking insight into roller size, Bowflex T116 is the winner with 2.75 inches rollers, which you can totally put your trust in about a durable machine. The roller size of Sole F80 is not bad, though. It comes with an industry roller size of 2.5 inches.
Bowflex T116 also features a powerful 3.75 CHP motor to enhance durability, while Sole F80 is equipped with a 3.5 CHP motor.
In terms of incline range, Bowflex T116 and Sole F80 are furnished with 0%-15% incline – the popular incline range of almost all treadmills.
Moreover, the 3.75 CHP motor of Bowflex T116 and 3.5 CHP motor of Sole F80 deliver the same max speed of 12 MPH.
When the treadmills reach their highest speed, there may be so much heat released. So, equipping a cooling fan is a must for any treadmills. The Bowflex T116 has two-3-speed- fans, while the Sole F80 has two fans.
Now, let's discuss their heart rate monitoring. Both treadmills come with a wireless chest strap. Furthermore, the additional heart rate EKG sensors on the handrails of Sole F80 and contact monitors of Bowflex T116 are built for the user's convenience.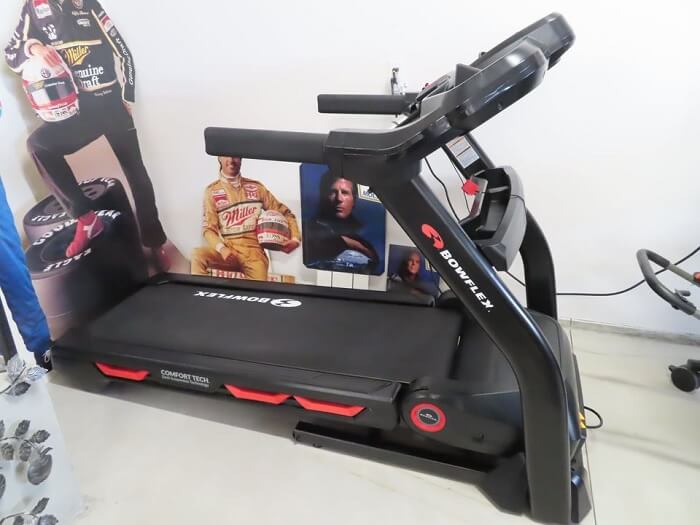 Next, we are looking at other important product details. These two machines are so-called two light-weight products handling high weight users. The Sole F80 weighs 265 pounds, which is lighter than the Bowflex T116 with 309 pounds.
The dimension at 85.43 x 37.01 x 17.32 inches (LxWxH) of Sole F80 makes it more compact than Bowflex T116, which measures 84.6 x 36.3 x 55.2 inches.
What about their belt sizes? Well, while Bowflex BXT116 has a running belt at 20 x 60 inches, Sole F80 is a bit wider at 22×60 inches. Not much difference between them, right?
Features Comparison
Button arrangement on the console and handlebar on Bowflex T116 makes it convenient for you to adjust the incline and speed. With the Sole F80, you only can do it on the quick control buttons arranged along the sides of the console.
Selecting a program on Sole F80 is easy by clicking on buttons on the lower part of the console. With Bowflex T116, you can choose programs on the handlebars.
In this comprehensive comparison between Bowflex T116 vs Sole F80, we can't miss the console display out. Specifically, the full-color backlit LCD on Bowflex T116 is not a touchscreen. Still, its Bluetooth connectivity allows you to sync data from your Burn Rate Console to other mobile apps like Bowflex Results, FitBit and MyFitnessPal. The Bowflex T116's console supports four users.
Sole F80 also uses a 9" LCD White Backlit screen to record any stats work-out. The console has two user profiles; however, it cannot save the user workout data. The machine can also transmit your workout data with Sole Fitness App or FitBit, Apple Health, etc. Bowflex T116 also has a built-in speaker, but you can't listen to music with treadmill speakers wirelessly.
In terms of extra accessories, Sole F80 is equipped with a built-in tablet holder, an accessory tray, and a USB charging port. The Bowflex T116 comes with four storage compartments, a tablet holder, and two USB charging ports.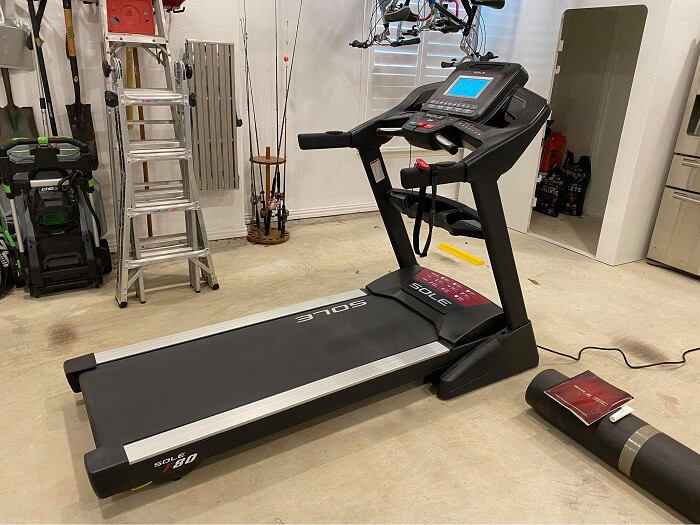 Warranty
Sole F80 makes users feel secure due to its warranties policy, as it offers a lifetime warranty on motor, deck, and frame. Furthermore, you would get a five-year guarantee on electronics, belts, rollers, other wear components, and two years on labor.
Bowflex T116 also offers a decent warranty policy with five-year parts and a five-year electronics warranty plus a two-year labor warranty.
Quick Rundown Of Bowflex BXT116
Bowflex BXT116 Treadmill
7. 5 inch color backlit LCD screen
Bluetooth connectivity for connecting to Bowflex JRNY the personalized coaching technology and other popular fitness apps
20" x 60" running surface
9 intuitive "push and go" workout programs
One-touch adjustments for speeds up to 12MPH and motorized incline up to 15%
---
Quick Rundown Of Sole F80
Sole F80 Treadmill
Folding treadmill with 3.0-horsepower continuous-duty motor
Vibrant 7.5-inch LCD display with integrated speakers and audio cable
6 standard workouts, 2 custom workouts, and 2 HR-controlled workouts
Easy Assist folding deck design; Cushion Flex shock-absorption system
350-pound capacity; measures 33 x 80 inches (W x D); weighs 250 pounds
Basic speakers
---
Product Videos
---
Conclusion
The concise comparison between Bowflex T116 Vs Sole F80 proves that these two machines are fantastic choices for a powerful motor and sturdy frame. The most decisive factors like motor, belt, roller size, and price make Bowflex T116 stand out even though there is no MP3 connectivity with Bluetooth, and the untouching screen is its only disadvantage.
However, if you put Bowflex T116 into a room with a TV or just place a tablet in front of its console, such disadvantages won't be a problem at all.
---
---