Milwaukee 2736-21HD and 2736-20? Which tool is your ultimate option? Let's check out the article below to find out more useful information.
Difference between Milwaukee 2736-21HD and 2736-20
Image
The Winner (#1)
The Runner-up (#2)
The Winner (#1)
Image
The Runner-up (#2)
Image
Design Comparison
When it comes to weight, which tool will win?
Well, both Milwaukee 2736-21HD and 2736-20 share the weight of about 55 pounds in common. However, they are designed in different sizes. To be more specific, the former has the dimensions of 15 x 27 x 24 inches, and its counterpart comes with 26 x 15 x 14 inches in size.
As a result, we cannot announce the winner in this regard, but you still find two of them convenient to move around your working area.
Power Comparison
Next, these machines are much identical in terms of engine power. They all generate a powerful 18V Lithium-Ion motor, which works the same as a 15-Amp corded table saw. Besides, you will be amazed at their ability to produce an awesome blade speed of 6300 RPM at a single charge of the 12AH battery.
We bet that you rarely notice a cordless operation in the table saw. However, both candidates today are worth a try for some remodelers, professional carpenters, and general contractors in their job sites.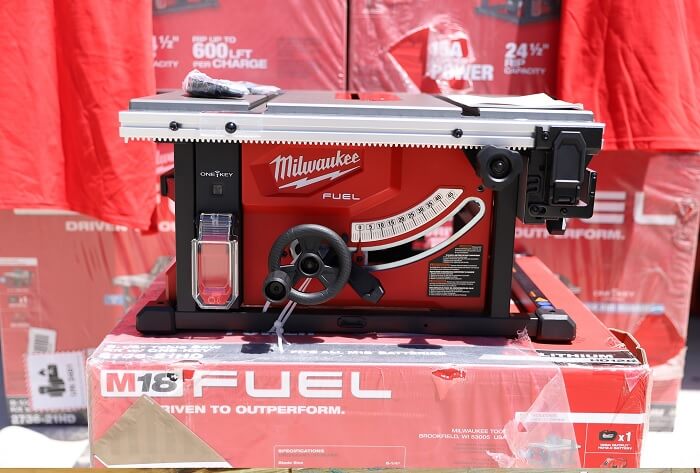 Features Comparison
Let's talk about some other stunning features of both Milwaukee 2736-21HD vs 2736-20.
They all offer an amazing rip capacity of 24-1/2 inches, enabling you to handle any 4×8 sheets of plywood for your projects. Rest assured that these tools will live up to the expectation of those who prefer the corded machine as they perform the same capacity.
On top of that, you may appreciate their performance of cutting up to 600 linear feet per charge. Thus, you can utilize these devices all day to work without recharging.
Also, we have to mention the Redlink plus intelligence equipped with both 2736-21HD vs 2736-20 models. It brings optimal performance and your tool and battery's protection from overloading, over-discharging, or overheating.
Simultaneously, the manufacturer has designed the REDLITHIUM high output HD12.0 battery pack for these two machines. You can benefit a lot from a table saw that generates up to 50% more power and runs 50% cooler than a standard pack. Sounds amazing, right?
Another exclusive feature you will find out from these Milwaukee table saws is the One-key technology. It can wirelessly connect your smartphone to help you track the performance and location of your tool. Additionally, it can shut your device off or hide it from other nearby devices' screens for higher theft protection.
It must be mentioned that the rack and pinion fence system, supporting efficiently for effortless adjustment and square cuts.
The only difference we notice here is their included accessories. For example, a whole package of Milwaukee 2746-21HD consists of an M18 battery pack, an M18 & M12 rapid charger, anti-kickback pawls, miter gauge, guard, blade, blade wrench, and riving knife. But you only receive anti-kickback pawls when buying Milwaukee 2736-20.
Quick Rundown Of Milwaukee 2736-21HD
Pros:
Quite easy to transport
Excellently powerful motor as the corded one
24-1/2 inches rip capacity
Up to 600 linear feet per charge
Redlink plus intelligence
Remarkable battery pack
Helps to track your device
Rack and pinion fence system
Cons:
No stand included
Needs additional battery for long-term works

Quick Rundown Of Milwaukee 2736-20
Milwaukee 2736-20 Table Saw
24-1/2 ft. Rip Capacity to rip 4x8 sheets of plywood or OSB. Maximum bevel of 47 degrees.
On board storage for guard, riving knife, push stick, fence and miter gauge.
Tool free guard and riving knife changes. Single wrench blade change.
Compatible with all M18 batteries. Higher capacity batteries will yield higher performance.
Battery and charger not included
Pros
Compact design
Robust engine, which works the same as a 15-Amp motor
Can cut 4×8 sheet goods well
Up to 600 linear feet per charge
Protects your tool well from damaging
Notable battery pack
One-key technology
Rack and pinion fence system
Cons
Exceptionally long warranty
Lacks stand
Requires extra battery for higher needs
Do not include battery and charger

Conclusion
Milwaukee 2736-21HD vs 2736-20 are excellent table saws on the market with various outstanding features. No matter which tool you select, it will promise to satisfy you. However, if we have to choose, our top pick is still the 2736-21HD unit because it comes with many essential accessories.
It's time to go shopping for the best table saw. We hope that you can make a wise choice at last.