Below I will compare the power, portability, and features of the Remington RM4218 and RM4618
Difference between Remington RM4218 and RM4618
The technical summary sheet for Remington RM4218 and RM4618
Image
Dimensions
19.19 x 12.44 x 12.5 inches
Image
Dimensions
19.19 x 12.44 x 12.5 inches
Design Comparison
About the weight, the Remington RM4618 weighs only 16.4 pounds while the Remington RM4218 is heavier (22 pounds).
The product dimension of both these devices is not deviant so much. The Remington RM4618 measures 34 x 12 x 12 inches and RM4218 measures 19.2 x 12.4 x 12.5 inches.
In terms of saw blade length, both devices have an equal saw blade length of 18 inches.
However, the RM4618 is designed with a back chain that makes it possible to cut more massive hardwoods. This is a plus for RM4618 when you look for a chainsaw that can cut all wood types from large to small.
Remington RM4218 vs RM4618 are almost identical in design. Still, in terms of convenience between the two devices, the RM4618 will dominate more because of the balance between weight and size, and its blade design allows you to cut any wood without any hesitation.
Power Comparison
Both models are using two-cycle two-cycle motors. However, the RM4618 is designed with the 46CC engine, more potent than the RM4218 (42CC).
From there, it can be seen that the RM4618 is more concentrated with more power and less vibration than the RM4218. Powered by a 46CC engine, the Remington RM4618 will deliver a ton of energy that makes it easy to cut through both hard and large logs as quickly as possible.
What's more, both of these models are designed with fast technology in mind so that you can get started quickly and easily. Without a doubt, the RM4618 model wins in this round.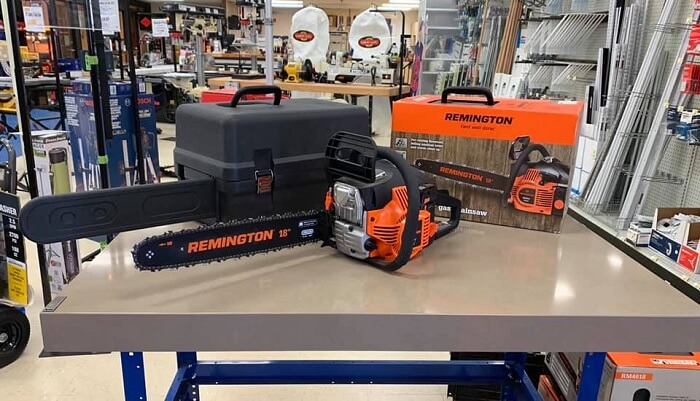 Features Comparison
Both chainsaws are nearly identical in terms of features except for the engine and the user's needs.
Since the Remington RM4618 is equipped with a 46CC engine, the machine will be more powerful, making it suitable for all types of trees or wood from large to small.
Meanwhile, the RM4218 with a 42CC engine is ideal for home use to mow lawns and small branches less than 12 inches in diameter.
Both models are equipped with two-cycle motors with a quick start system that will save you from spending too much time waiting for the machine to start. After pressing the start button, you can get to work immediately.
Moreover, the chainsaws have strong vibrations when you work, plus the weight of the machine will make your hands more tired, and you cannot work continuously for a long time. Understand this, both Remington RM4218 and RM4618 are equipped with an anti-vibration system and a cushioned handle that reduces fatigue during handling.
Besides, you fear that if you are not careful in the process of cutting, it will cause unexpected accidents. Don't worry about it because these machines come with a chain brake with inertia control to keep you safe.
Ultimately, Remington offers a limited warranty to customers who buy their products for the first two years.
With a long guarantee like this, you can be completely assured when purchasing the product, especially for those who don't use it regularly. So if the warranty is short, it will be a hindrance to you.
Quick Rundown Of Remington RM4618
No products found.
---
Quick Rundown Of Remington RM4218
Remington RM4218 Chainsaw
HIGH OUTPUT ENGINE WITH 18-INCH BAR & CHAIN: 42cc full crank 2 cycle engine provides greater power and less vibration. 18-Inch sprocket tipped bar and chain cut through small and medium trees with ease
QUICKSTART TECHNOLOGY: Designed for quicker, smoother and easier pull starts
DURABLE DIE-CAST CHASSIS: Lightweight, heavy duty and efficient. Engineered with pro-grade components to cut through even the toughest wood
AUTOMATIC OILER: Keeps the proper amount of lubricant on the chain to ensure the saw cuts smoothly and safely
COMFORTABLE USAGE: 5-point anti-vibration system and a cushioned full wrap handle makes this chainsaw more balanced, maneuverable and comfortable to operate
---
Conclusion
After reading our comparison above, we hope you can make the best and most suitable decision. Remington RM4218 vs RM4618 are almost identical in design, technology, engine, and way of operation that we have outlined above.
However, a difference should also be emphasized that Remington RM4218 comes with a 42CC engine while RM4618 is equipped with a 46CC engine. This is considered the biggest difference between these two models and is also the point that customers should keep in mind when choosing to buy a machine to suit their working purpose.
If you only need a chain saw for home use and only cut small trees, you should go for Remington RM4218. Conversely, if you are a professional looking for a product to cut buildings or large trees, the RM4618 is the most suitable choice.
As for us, we will choose the Remington RM4618 as our final choice. The Remington RM4618 has a reasonably powerful motor and superior functions, so we can diversify our saw operations.
We hope you enjoyed the reviews above. Stay tuned for more of our articles to date with the latest reviews about other useful products.