Below I will compare the power, portability, and features of the Ryobi RTS11 and RTS22
Difference between Ryobi RTS11 and RTS22
The technical summary sheet for Ryobi RTS11 and RTS22
Image
Dimensions
34.9 x 22.9 x 22.9 inches
34 x 27.36 x 13.98 inches
Depth of cut at 45-Degree
Depth of cut at 90-Degree
Image
Dimensions
34.9 x 22.9 x 22.9 inches
Depth of cut at 45-Degree
Depth of cut at 90-Degree
Image
Dimensions
34 x 27.36 x 13.98 inches
Depth of cut at 45-Degree
Depth of cut at 90-Degree
Design Comparison
When it comes to weight, both of these two devices are not much identical.
In more detail, Ryobi RTS11 weighs about 46.9 pounds and offers dimensions of 34.9 x 22.9 x 22.9 inches. Besides, the RTS22 model seems to be heavier than its counterpart with a weight of 50.8 pounds, and the sizes of 34 x 27.36 x 13.98 inches.
Although the difference is not significant, you will find the Ryobi RTS22 table saw a little bit more portable to move around.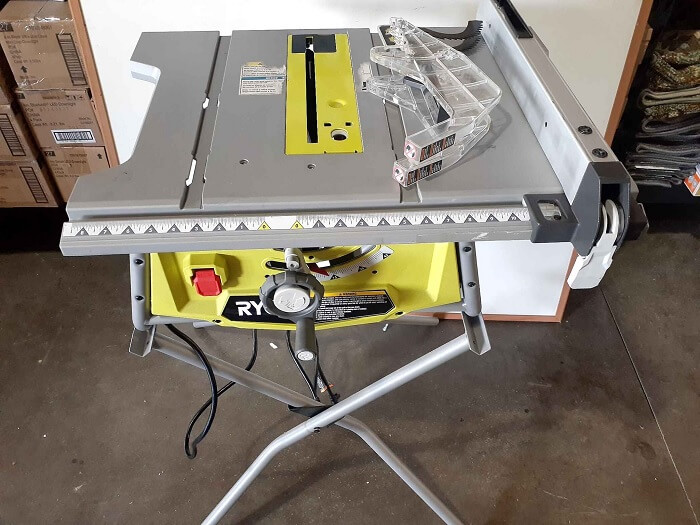 Power Comparison
Unlike their portability, both these table saws share the engine power in common. They feature a mighty 15 Amp motor, which can produce up to 5000 RPM at no-load speed. The combination of high torque and acceptable speed will serve you with a few cumbersome tasks.
And we cannot announce the winner here.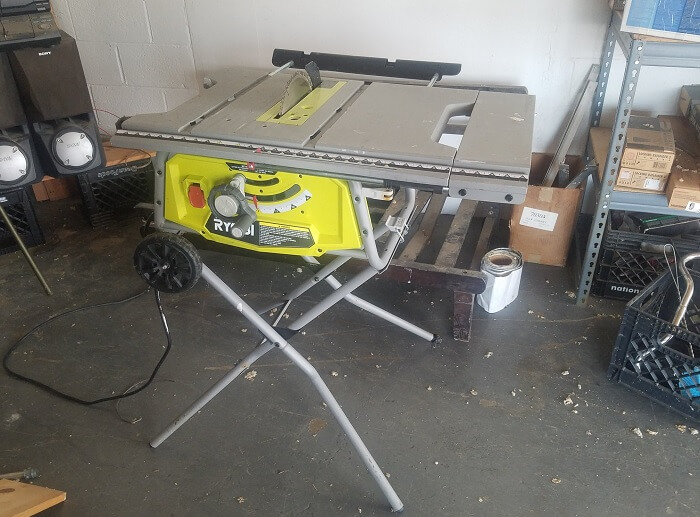 Features Comparison
It must be mentioned that you can notice a lot of similar features between the two Ryobi table saws. Most importantly, you must praise their creative design for helping you experience the convenience. Let us take an example.
A steel roll cage design comes with both devices to add more strength for the frame, leading to higher durability. Additionally, they include a cast-aluminum tabletop to provide a durable, flat, yet lightweight working surface.
Besides, the two machines have a remarkable maximum cut depth to work with. Specifically, they are claimed to reach a top cut of 3 inches when working at a 90-degree angle and 2 1/2 inches at a 45-degree angle.
On top of that, there is an integrated dust chute, which perfectly fits all the common hoses. As a result, there is no need to worry about debris and dust particles lying in the cutline and around the working environment.
Notably, we bet that beginners or less-experienced users will love these tables saw at the very first sight. It is all thanks to the tool-free guard that makes them effortless to use.
How much different is the Ryobi RTS11 vs RTS22?
Although having the same folding stand made for convenient storage and ease of use, there is still a small distinction. The RTS11 unit delivers a detachable stand, while the other one is integrated with wheels to add more comfort when transported.
Moreover, rest assured that you can easily deal with large materials thanks to a built-in extension table and outfeed support. Also, the large rip capacity on the right blade of the RTS22 model of up to 27 inches will not let you down.
When buying Ryobi RTS11, you will receive a table saw, a folding stand, mounting hardware, 10-inch blade, miter gauge, rip fence, push stick, anti-kickback pawls, guarding assembly, and operator's manual.
And a whole toolkit of Ryobi RTS22 often consists of a table saw, a folding stand, mounting hardware, 10-inch blade, miter gauge, push stick, side extension, rip fence, guarding assembly, anti-kickback pawls, outfeed support, and operator's manual.
Quick Rundown Of Ryobi RTS11
An integrated dust chute
Tool-free guard
Added durability [/i2pros][i2cons]Quite heavier
Hard to work with large materials
Lower RPM[/i2cons][/i2pc]
---
Quick Rundown Of Ryobi RTS22
Folding stand with wheels
Tool-free guard
A steel roll cage along with casting aluminum tabletop
Large rip capacity[/i2pros][i2cons]Lower RPM[/i2cons][/i2pc]
---
Conclusion
Can you decide which tool is your best pick between Ryobi RTS11 vs RTS22 after reading our comparison? We do hope that you can.
If you want to consult our opinion, we would like to opt for Ryobi RTS22. Of course, there are many factors for you to consider before making a purchasing decision.