Further down the page, you'll find some explanations regarding the key similarities and differences between the Spirit Fitness XT385 and the NordicTrack Commercial 1750.
Image
The Winner (#1)
The Runner-up (#2)
Model
NordicTrack Commercial 1750
The Winner (#1)
Image
Model
NordicTrack Commercial 1750
The Runner-up (#2)
Image
Specs Comparison
Pricing is frequently the first thing that comes to mind for consumers. NordicTrack Commercial 1750 takes the lead in this battle because it is $200 less expensive than the Spirit Fitness XT385.
Additionally, the Spirit Fitness XT385 treadmill has a total weight capacity of 375 pounds, whereas the 1750 treadmill can only support 300 pounds.
How many workout programs are available on each model? There is a significant difference between them. The NordicTrack Commercial 1750 includes almost 50 programs, whilst the Spirit Fitness XT385 has only ten exercises.
Both treadmills have the same tread belt. They're all equipped with a 2-ply belt with an excellent texture to prevent slippage.
Both trainers, on the other hand, have a distinct point in terms of motor power. The Spirit Fitness XT385 features a 3.5 CHP motor, but the NordicTrack 1750 has a slightly larger 3.75 CPH motor, making it significantly more effective in fat burning than its competition.
A bonus point is that users don't need to worry about noise complaints. According to consumers' feedback, both models are very quiet.
What about the tilt range of the product? The XT385 has a 15-level incline range, which adds variety to your workout. The NordicTrack 1750, on the other hand, offers an incline range of up to 15% and a rejection range of up to 3%, creating a real running feeling.
The maximum running speed of both machines is 12 MPH. However, the NordicTrack Commercial 1750 starts at 0 MPH to provide a good warm-up. This is in contrast to the XT385's 0.5 MPH. Thus, you can make incremental adjustments, which are great for beginners.
Regarding the fan system, the 1750 trainer uses Dual AutoBreezeTM Workout Fans for effective cooling during your exercise. Meanwhile, the XT385 treadmill comes with a swiveling cooling fan that keeps you cool while you run.
About their heart rate monitors, the XT385's heart rate systems offer built-in hand pulse grips and chest-strapped trackers to help monitor heart rate while you workout. Still, the 1750 trainer is also equipped with chest strap tracking, but it is not included in purchase, which may come off as a disadvantage.
Let's discuss how much both treadmills weigh. While the Spirit Fitness XT385 is 264 lbs, the 1750 model weighs 310 lbs, much lighter than XT385.
Furthermore, they both have 2.5-inch balanced rollers, which create smooth movement without too much tension.
Despite having wheels, they do little to help users. So, moving it anywhere without assistance is difficult.
Regarding dimensions, the NordicTrack Commercial 1750 measures 78,8″ L x 39,2″ W x 63″ H, while the XT385 is slightly smaller with 79.9″ L x 34.8″ W x 56.9″ H.
What about the trainer's running area size? Well, they are both 22″ W x 60″ L, large enough to ensure safety and comfort for users.
Needless to say, foldability is a big deal for such giant treadmills. Fortunately, both trainers have this ability thanks to their easy-lift support. That helps to reduce the space used.
Indeed, the dimension of 1750 after folding is 40.6" L x 39.25" W x 75.25" H with a manageable footprint. Meanwhile, the XT385's specs are 48" L x 34.8" W x 69.3" H, having a Safe Drop feature that gradually lowers the treadmill deck for enhanced safety.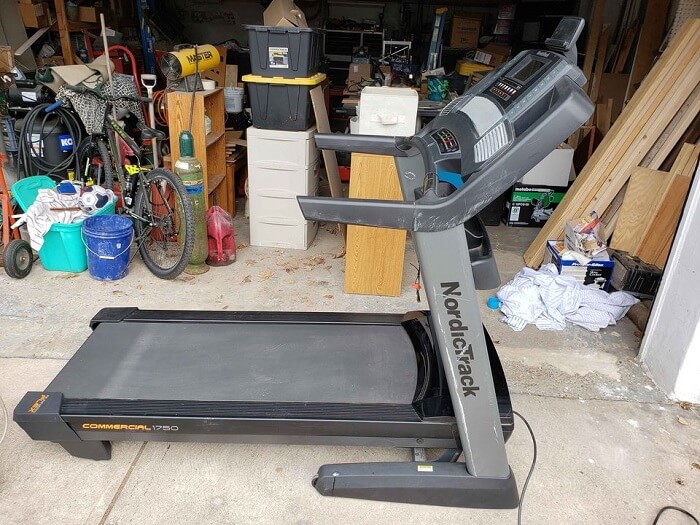 Features Comparison
When it comes to speed and handlebar, Nordictrack 1750 allows you to auto-adjust their speed and handlebar's tilt angle with a smart touch on the screen. For the XT385, you can control your speed and incline with one touch of a button either on the left or the right handlebar.
If you want to control the fan's function, the 1750 treadmill is equipped with four auto-cooling settings when you workout. So, you won't have to mess with any buttons. In comparison, the XT385 lacks this feature; thus, you must do it manually.
With Nordictrack 1750, picking your favorite program and workout is as simple as touching the cross-training option on the screen, whereas the XT385 does not.
Regarding the trainer's display, the 1750 trainer is designed with a 10 inches touchscreen, which is larger and more vivid than its competitors. Therefore, you can easily follow along with workout videos on the treadmill.
On the other hand, Spirit Fitness XT385 features a 7.5″ blue backlit LCD screen that can only display white and blue data. By displaying a lot of information at once, users may become eye-confused. However, it is easier to maintain your drive to practice when it is displayed on the screen.
Aside from being able to connect with smartphones, both machines have other features. Specifically, the 1750 treadmill allows phone pairing so you can project your music to play through the speakers via Bluetooth, and the XT385 includes an audio jack allowing attaching to an MP3 player.
Furthermore, both machines have built-in fitness applications compatible with each model. Nordictrack 1750 links to the iFit app through Bluetooth or WiFi, giving you access to interactive personal training wherever you are.
However, the XT385 uses built-in Bluetooth connected to the Spirit Fit App tracking and recording your workout.
Regarding the water bottle cubbies, both treadmills have two water bottle holders located on both sides of the console. However, if you need a larger holder, the NordicTrack Commercial 1750 is the only option.
The NordicTrack Commercial 1750 comes with a lifetime warranty for the chassis and motor, a one-year warranty for electronics parts and components, and a two-year labor warranty.
Meanwhile, the Spirit Fitness XT385 offers a lifetime warranty for the frame, deck, and motor, a ten-year spare part warranty, and a one-year labor warranty for the whole machine.
Quick Rundown Of Spirit Fitness XT385
Sale
Spirit Fitness XT385 Treadmill
7.5" Bright Blue Backlit LCD Screen
Direct Access Speed & Incline Buttons
Remote Handlebar Toggles – Speed & Incline
22 X 60" Running Belt with 3.5 HP Motor
Bluetooth Compatible with Spirit Fit App
[i2pc show_title="false" title="Pros & Cons" show_button="false" pros_title="Pros" cons_title="Cons" ][i2pros]Easy to fold up
Heart-rate monitor included
Well balanced
Higher maximum user capacity[/i2pros][i2cons]Slightly higher priced
Less built-in workout programs[/i2cons][/i2pc]

---
Quick Rundown Of NordicTrack Commercial 1750
NordicTrack Commercial 1750 Treadmill
30-Day iFIT Family Membership Included; Stream live & on-demand workouts on your equipment with Global Workouts & Studio Classes; Add up to 5 users; Elite trainers adjust your equipment ($39 value)
Immersive 10-inch interactive HD touchscreen streams on-demand iFIT workouts directly to your equipment and provides easy stats tracking; SMART-Response motor for effective running and cardio training
-3 to 15 % OneTouch incline control; 12 MPH SMART OneTouch speed control; Your iFIT Trainer auto-adjusts your speed and incline to meet trainer requirements and match real-world terrain
Innovative SpaceSaver design with EasyLift Assist means your treadmill can fold up after your run for compact, simple storage; 22" x 60" tread belt for leg and elbow space; Runners Flex cushioning
300-pound user capacity; Protected with a 10-year frame warranty, 2-year parts warranty, and 1-year labor warranty; 62.75" H x 39.25" W x 81.25" L
[i2pc show_title="false" title="Pros & Cons" show_button="false" pros_title="Pros" cons_title="Cons" ][i2pros]Reasonably priced
Impressive tilt range
Great durability
More built-in workout programs[/i2pros][i2cons]No chest strap tracking included
Lower maximum user capacity[/i2cons][/i2pc]

---
Product Videos
---
Conclusion
From our perspective, NordicTrack Commercial 1750 is the best option, thanks to its reasonable price tag, effective calorie burning, and modern design. For these reasons, this treadmill is more outstanding than the remaining one in this battle.
Thank you for spending your time reading this detailed comparison, "Spirit Fitness XT385 vs NordicTrack Commercial 1750"!
---