Sun Joe spx3000 vs. spx3001 are the two electric pressure washers coming to the market with incredible features and well-made details that can make cleaning cars much more accessible. Today, we'll give you an in-depth comparison of Sun Joe SPX3000 vs. SPX3001, as well as the pros and cons of each product.
Let's dive right in!
Differences Between Sun Joe SPX3000 vs SPX3001
Image
The Winner (#1)

The Runner-up (#2)

The Winner (#1)
Image

The Runner-up (#2)
Image

Sun Joe SPX3000 vs SPX3001: The "Convenient" Battle
Both products have similar features and specs, such as powerful and high-pressure water, that help you to get rid of all stain, dust, or mud. However, for a closer look, they do have a few distinctive factors.
The Sun Joe SPX3000 comes with a dimension measure of 37.44cm x 81.36cm x 32.4cm in terms of length x height x width. This size of the Sun Joe SPX3000 is quite acceptable compared to other washers of the same price point, which allows you to transfer it easily anywhere you want.
It even has detached pieces so you can load it on your car trunk and transport it places to places. And then you only need 10 to 15 minutes to attach them and start your cleaning process.
Meanwhile, the Sun Joe SPX3001 was manufactured later and has a few upgrades on the hose reel; therefore, its weight is up to 14.6 kg, while the Sun Joe 3000 is just 14.06 kg. In this case, the gap between the two products is minor, but it creates a huge difference when it comes to convenience.
The Sun Joe SPX3000 definitely has an advantage in terms of convenient and mobile features, so you should take this into consideration to pick out the best product for your needs.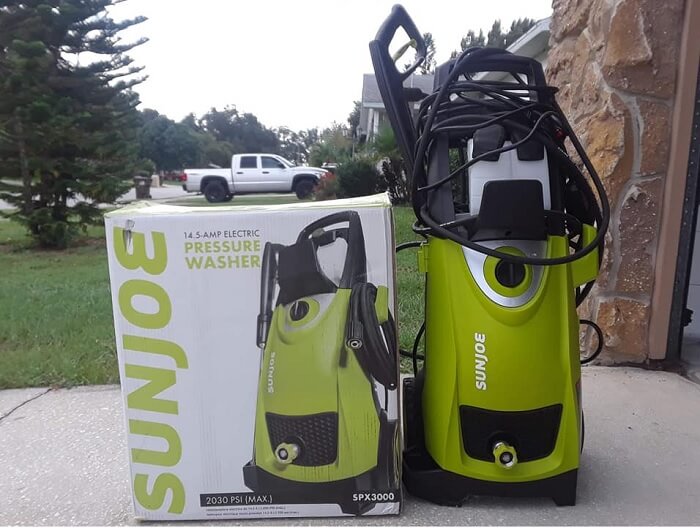 Sun Joe SPX3000 vs SPX3001: Performance battle
Of course, the most important spec to ponder when you decide to purchase an electric pressure washer is the engine's power. Both products are equipped with an electric motor but have the power that can compete with some of the best oil engines out there.
There is not much of a difference between these two because both Sun Joe SPX3001 and Sun Joe SPX3000 come into the washer market with a powerful 1800-Watt/14. 5-amp motor, generating up to 2030 PSI of water pressure and 1. 76 GPM of water flow. This gives you the ability to tackle any tough grease deposits from concrete, heavy mildew, oil, and stains.
They are fully equipped with an extra-large 1.2 litter detergent tank. This design is perfect for multiple purposes, not only car wash but also your boats, trailers, windows, or even your yard, providing a superb experience compared to any other product in the same price range.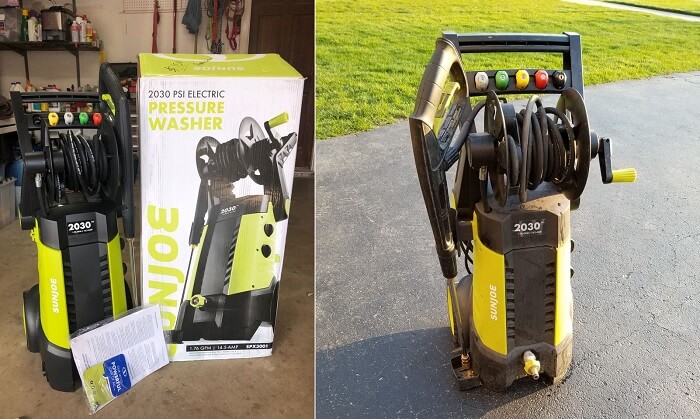 Sun Joe SPX3000 vs SPX3001: Special features
This is certainly a big win for the Sun Joe spx3001 because it includes a hose reel attached to the back of the machine.
This hose reel is a 20-foot high-pressure hose and 35-foot power cord, garden hose adaptor. This model has an advanced TSS (Total Stop System) trigger that automatically shuts off the pump to save energy and lengthen the trigger's life.
Moreover, both models have an 80cm high-pressure wand, which will be extremely useful when you are going to blast away any stubborn stains or oil splits in small areas such as a corner or the bottom of the car.
Quick Rundown of Sun Joe SPX3000
Sale
Pros:
More affordable compared to the Sun Joe SPX3001
Powerful and safe
Lightweight and easy to move
Has up to 4 colors option
Cons:
No hose reel
Comes in separate pieces so it takes time to assemble

Quick Rundown of Sun Joe SPX3001
Sale
Sun Joe SPX3001 Pressure Washer
POWERFUL MOTOR: Powerful 14. 5-amp/1800-Watt motor generates up to 2030 PSI/1. 76 GPM for maximum cleaning power
QUICK-CONNECT SPRAY TIPS: 5 Quick-Connect spray tips (0?, 15?, 25?, 40? and soap) tackle light, medium and heavy duty cleaning tasks
ONBOARD REEL: Onboard reel keeps 20 ft. (6m) high pressure hose organized for quick and easy clean-up and storage
TSS (Total Stop System): Automatically shuts off pump when trigger is not engaged to save energy and prolong pump life
DETERGENT TANK: Extra large onboard 40. 6 fl oz. (1. 2 l) detergent tank. Water inlet temperature (max) - 104 degrees farenheit
Pros:
Has a hose reel
Durable and has more advanced design
Cons:
Higher price but still have the same engine as the SPX3000
Heavier than the SPX3000
Only has one color option
Not versatile because it comes in fully installed

Conclusion
At the end of the day, Sun Joe SPX3000 vs. SPX3001 – Which one is better? It really depends on several factors, but it boils down to these points of convenience, performance, and special features mentioned above. Both of them have an identical powerful engine, so it is up to your preference to pick out the best model.
Thank you for reading, and don't forget to share this with your friends to spread the knowledge!