Below I will compare the power, portability, and features of the Delta 37-071 and Porter-Cable PC160JT
Difference between Delta 37-071 and Porter-Cable PC160JT
Image
The Winner (#1)
The Runner-up (#2)
The Winner (#1)
Image
The Runner-up (#2)
Image
Design Comparison
When taking a glance at these models, it is challenging to notice a significant difference between them. But you can quickly know through the specifications.
To be more specific, Delta 37-071 weighs around 76 pounds and has the sizes of 17 x 28.5 x 13 inches. Meanwhile, Porter-Cable PC160JT measures only 35 pounds of weight and 32.1 x 12.4 x 11.2 inches of dimensions.
Thanks to the lightweight design, you will find the Porter-Cable PC160JT unit remarkably easy-peasy to maneuver around wherever needed.
Power Comparison
As for engine power, Delta 37-071 vs Porter-Cable PC160JT are also not much identical.
The former runs on a 12 Amp motor which delivers up to 20000 cuts per minute (CPM). But the latter is on another level with a 1.4 HP engine varying power of up to 22000 CPM.
Rest assured that you can control these machines well and experience the desired finish as a result, but the Porter-Cable PC160JT unit still gets the crown in this game.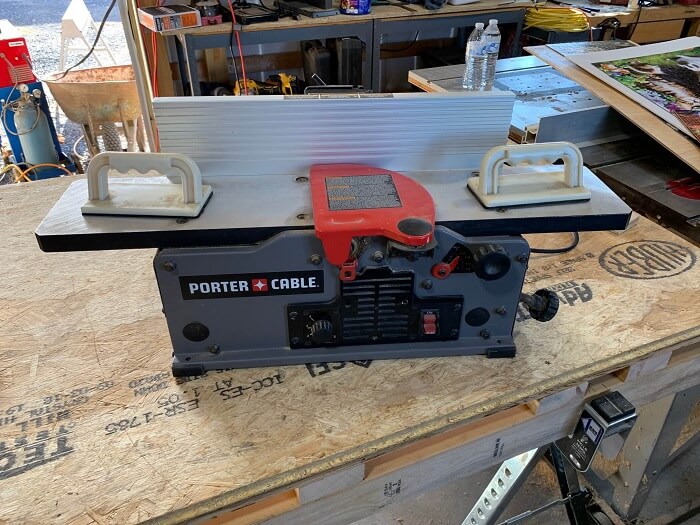 Features Comparison
Let's dive into some distinct features of each candidate today.
Delta 37-071 is built with durable cast iron construction, resulting in more strength, rigidity, and less vibration. And it is not an exaggeration to say that the manufacturer has truly paid attention to the maximum accuracy of this tool.
For example, you will appreciate the precision machining of all surfaces of the table and fence. Besides, it will be our mistake if we forget to mention the adjustable positives that stop at 90 degrees and 45 degrees on both in and outsides.
When it comes to Porter Cable PC160JT, the first noteworthy feature to be mentioned is a two-knife cutter head along with a built-in cutter headlock.
This feature supports you a lot about blade replacement and adjustment. Simultaneously, it guarantees you a smooth cutting efficiency, making it among the best wood jointers on the market.
Additionally, an adjustable extra-large table of up to 6-inch wide is equipped to help you handle a large piece of material without much of a hassle.
And we would like to mention that these jointers allow for variable speed control. Be glad that it will offer you smoother surfaces regardless of the material you are working on. Additionally, you can save a lot of time on sanding afterward.
Besides, you will receive the necessary support to get high edge jointing precision during cutting with the help of a center-mounted fence. Are these features stunning enough to attract you? We bet that they are!
Quick Rundown Of Delta 37-071
Sale
Delta 37-071 Bench Top Jointer
Durable cast iron construction increases weight providing stability and reducing vibration
Precision-machining of the table and fence ensures long term accuracy
Heavy duty, cast iron fence support system for accurate jointing
Simple fence adjust system with adjustable positive stops at 90˚ and 45˚ in and out
Up to 1/8" depth of cut and 20, 000 cuts per minute
[i2pc show_title="false" title="Pros & Cons" show_button="false" pros_title="Pros" cons_title="Cons" ][i2pros]Provides adjustable positive stops for versatility
Ensures long term accuracy
Durable cast iron construction[/i2pros][i2cons]Quite expensive
Heavy design
Poor dust port[/i2cons][/i2pc]

Quick Rundown Of Porter-Cable PC160JT
Sale
Porter-Cable PC160JT Bench Top Jointer
Variable 6,000 to 11,000 RPM speed range allows the user to select the right speed for the size and hardness of material being cut
Two knife cutter head with jack screw knife leveling arrangement for easy replacement and adjustment of knives
Built-in cutter head lock facilitates knife replacement and adjustment
Extra large table provides ample work support and Surfacing stock up to a full 6" wide
[i2pc show_title="false" title="Pros & Cons" show_button="false" pros_title="Pros" cons_title="Cons" ][i2pros]Lightweight enough for easy mobility
Comes with a two-knife cutter head
Extensive fence for better performance
Helpful center-mounted fence
Robust motor
Freely selects the right speed
Affordable price[/i2pros][i2cons]Not a sturdy aluminum fence[/i2cons][/i2pc]

Conclusion
Here is the wrap up of our review of Delta 37-071 vs Porter Cable PC160JT. We do hope that you've gotten all the information you need to make an informed decision at last.
If we have an option, we will go for Porter Cable PC160JT due to its lightweight yet robust machine. But do not get wrong that the other one is not as good as our top pick. Just consider carefully before deciding.