Below I will compare the power, portability, and features of the Dewalt‌ ‌DC390B‌ ‌and ‌DCS391B
Difference between Dewalt‌ ‌DC390B‌ ‌and ‌DCS391B
The technical summary sheet for Dewalt‌ ‌DC390B‌ ‌and ‌DCS391B
Image
Dimensions
8.88 x 15.94 x 10.5 inches
Depth of cut at 45-Degree
Depth of cut at 90-Degree
Image
Dimensions
8.88 x 15.94 x 10.5 inches
Depth of cut at 45-Degree
Depth of cut at 90-Degree
Image
Depth of cut at 45-Degree
Depth of cut at 90-Degree
Design Comparison
At 8 lbs, the DC390B is heavier than the DCS391B (7.1 lbs).
While the former has the dimensions of 8.88 x 15.94 x 10.50 inches, the dimensions of the latter are 8.50 x 15.50 x 10.50 inches.
It stands to reason that the Dewalt DCS391B circular saw appears slightly smaller and, therefore, more portable than the other.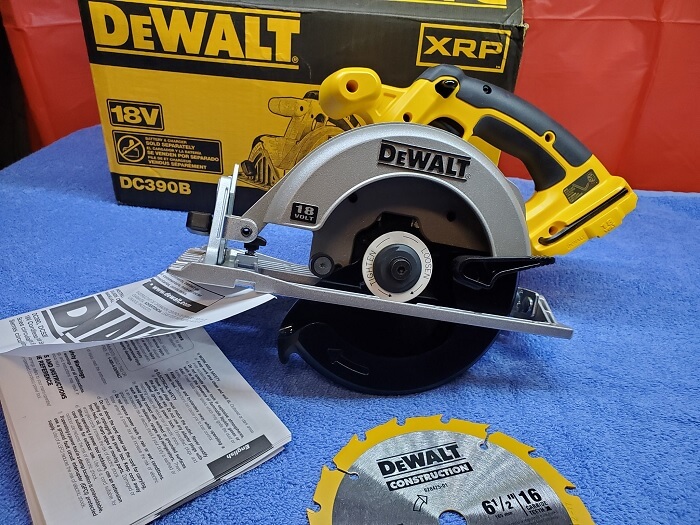 Power Comparison
Dewalt DC390B is a cordless cutting device with an innovative design that enables quick, effective deep cuts through any wooden objects. It is quite compact, lightweight, and has a smooth motor for foolproof operation. Its blade shape also promises easy and flexible applications.
Dewalt DCS391B is another remarkable construction tool that convinces many home users and even professionals. It gives fast and powerful performances without burning out batteries. You will not need to use up too much energy with this one.
The motion controls of Dewalt DC390B and DCS391B feature some similar features. Both are equipped with a 6-1/2-inch carbide tipped blade for 2x cutting capacity, along with the 0-50-degree bevel capacity for versatile usage and adjustments.
They also have a robust and lightweight magnesium shoe that facilitates long-term cut accuracy and provides job site durability.
The 6-½-inch carbide tipped blade of both items also allows for effortless cuts at 90° and 45°. Revolutions per minute of the Dewalt DC390B versus DCS391B are 3700 and 5150 correspondingly, which means both have great RPM for fast and powerful cuts. But, the DC390B model is a bit more time-saving.
Besides, you can slide through 2-by dimensional lumbers with these tools without much physical exertion, thanks to their cut depths of 2-1/4-inch and 1-5/8-inch at 90° and 45°, respectively.
Features Comparison
Although sharing many identical features, these items have their distinctive advantages: The Dewalt dc390b has an upper guard and a fan an-cooled motor that are helpful for increased durability, while
The Dewalt dcs391b comes with a rubber over-molded comfort grip for maximum balance and control.
Bear in mind that these are bare tools, so no batteries or charger are attached. The only thing we know is that the Dewalt dc390b can work with an 18-volt XRP battery pack and DW9117 15-minute charger.
Quick Rundown Of DEWALT DC390B
DEWALT DC390B Circular Saw
3,700 RPM for fast rip cuts and cross cuts
6-1/2-inch carbide tipped blade for 2x cutting capacity at 90 degrees and 45 degrees
High strength magnesium shoe and upper guard provides increased durability
0-50 degrees bevel capacity provides additional capacity for a multitude of applications
Fan-cooled motor with replaceable brushes for maximum power and durability; tool only, no battery
---
Quick Rundown Of DEWALT DCS391B
DEWALT DCS391B Circular Saw
5150 RPM motor of DEWALT circular saw delivers power and speed to make the most demanding cuts with ease
High strength and lightweight magnesium shoe of the corded circular saw provides jobsite durability for long-term cut accuracy
Optimized rubber overmolded comfort grip of the compact circular saw delivers optimal balance and control
0-50 degree bevel capacity allows for aggressive bevel cuts for a multitude of applications
6-1/2-inch carbide-tipped blade for cutting 2 times material at 90 degree and 45 degree and more cuts per charge
---
Conclusion
Above are details of two top-notch circular saws: Dewalt dc390b vs dcs391b. Those descriptions indicate that if you search for a female-friendly product made for household repairs, the Dewalt dc390b would be the perfect option.
On the other hand, if you prefer a more professional product with newer technology (20 Volt) from the same brand, the Dewalt dcs391b is definitely top-tier!
Whatever decision you are going to make, we believe you have found your best circular saw.