Below I will compare the power, portability, and features of the Hitachi C7SB2 and C7SB3
Difference between Hitachi C7SB2 and C7SB3
The technical summary sheet for Hitachi C7SB2 and C7SB3
Image
Depth of cut at 45-Degree
Depth of cut at 90-Degree
Image
Depth of cut at 45-Degree
Depth of cut at 90-Degree
Image
Depth of cut at 45-Degree
Depth of cut at 90-Degree
Design Comparison
We all know that you want to buy a compact and lightweight model to bring it around many job sites without breaking a sweat. Let's find out which tool between Hitachi C7SB2 vs C7SB3 is what you are seeking?
The former is claimed to weigh about 17.76 pounds, which is relatively bulky compared to other saws out there. On the contrary, the latter only has a weight of 9.5 pounds.
As such, Hitachi C7SB3 surely brings optimum comfort for you in terms of mobility.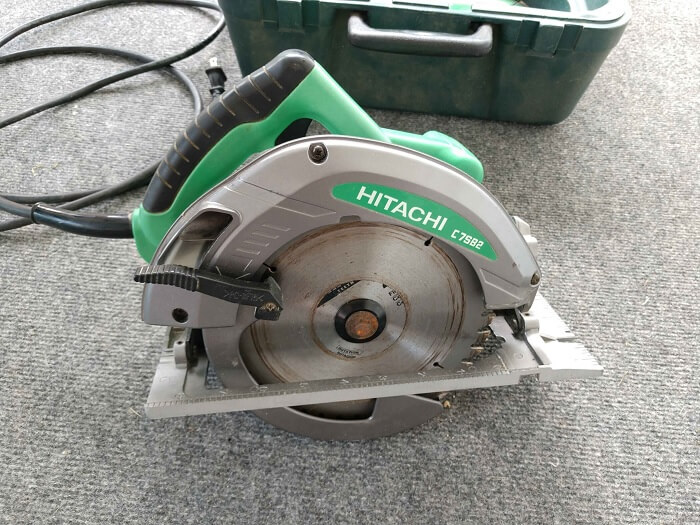 Power Comparison
Speaking of engine power, who are you expecting to be the winner?
The manufacturer has added the powerful 15 Amp motor spinning at 5800 RPM of no-load speed. It is quite impressive for a saw to chew through thick lumber in seconds with ease.
But it is too soon to decide on everything. The C7SB3 engine is even beyond your expectation, with 6000 RPM higher than the previous tool. Therefore, you achieve much faster, smoother, and burn-free cuts thanks to its combination of fast speed and high torque, making it win in this regard.
Features Comparison
In fact, these two devices share many stunning features in common.
For example, they all provide users with a bevel capacity of 0-55 degrees for most any material. Also, an adjustable lever offers a wide range of beveling stops at 0, 45, and 55 degrees.
Plus, it is worth mentioning that both of them adds more convenience through the bevel and depth adjustment. No doubt, you can ensure the cutting precision at the desired angle without any difficulty.
Furthermore, you can experience an improved control and a secure grip thanks to a non-slip slim handle. It is incredibly beneficial whenever you need to make lots of bevel cuts.
Besides, you will benefit a lot from a one-piece heavy-duty die-cast aluminum alloy base along with an easy-to-read font and side scales. It contributes greatly to good durability and accurate measurements of cutting. How wonderful it is!
The notable dissimilarity in the two candidates lies in the cut capacity. The C7SB2 model can make 45-degree cuts at 1-7/8-inches and 90-degree cuts at 2-7/16 inches.
Meanwhile, its opponent, in turn, delivers a 1-27/32 inches depth of cut and a 2-3/8 inches depth of cut.
On top of that, Hitachi C7SB2 is highly rated for its safety. You can protect your hands with the help of a blade guard and a spindle lock. The box of Hitachi C7SB2 often consists of a circular saw, a 24-tooth carbide-tipped blade, a 10mm wrench, and a carrying case.
In addition, Hitachi C7SB3 is equipped with an integrated dust blower to make the work surface clean. Notably, it does have a cord holder to minimize accidental cord-cutting that you can find from the other machine. And you will receive a circular saw, a Hex bar wrench, a saw blade, and a tool bag.
Quick Rundown Of Hitachi C7SB2
Hitachi C7SB2 Circular Saw
Hitachi Power Tools has renamed to Metabo HPT. Same great tools, with only a new name.
Bevel capacity from 0-55 degrees, adjustable lever stops at 0,45 and 55 degrees presenting a wide range of beveling applications
Heavy-duty die-cast aluminum alloy, one-piece base, offers easy to read front and side scales for accurate measurement
Cutting depth lever, adds convenience and facilitates ease of use
Non-slip Elastomer grip handle, maximizes user comfort and control
---
Quick Rundown Of Hitachi C7SB3
Hitachi C7SB3 Circular Saw
Hitachi Power Tools has renamed to Metabo HPT. Same great tools, with only a new name.
Blade speed of 6,000 RPM for smoother, faster, burn-free cuts
Integrated dust blower for a clear line of sight and clean work surface while cutting
Heavy duty aluminum base with scales on front and side for accurate cuts
Cut capacity at 45 Degrees is 1-7/8" and at 90 Degrees is 2-7/16"
---
Conclusion
It cannot be denied that both Hitachi C7SB2 vs C7SB3 seem to be the perfect circular saws with various stunning features. If we have to pick one out of two, the C7SB3 unit is our recommendation.
However, there are many factors for you to consider before making an informed decision. Good luck with your ultimate choice!