In this article, we will show the Dewalt DCS570B vs DCS575B showdown. What are the contrasts between the two saws? Which one should you get?
Let's make it clear right now!
Dewalt DCS570B vs DCS575B  – Which is Better?
So you have a comparison between the two models.
The former model, Dewalt DCS570B, features a high potential but slightly lesser power. It is very lightweight and easy to handle.
The latter, Dewalt DCS575B, comes with a more substantial power surge with over 60 volts. It is one of the most comfortable saws to use, though it is a little bit heavier than the DCS570B.
Besides, it has some other convenient features, including LED light and a visible bevel scale.
Image
The Winner (#1)
The Runner-up (#2)
The Winner (#1)
Image
The Runner-up (#2)
Image
Dewalt DCS570B vs DCS575B Review details
1. Dewalt DCS570B 7-1/4-Inch Circular Saw Review.
The DEWALT 20V MAX 7-1/4-inch circular saw is a very common choice on the high-end range. Some popular alternatives to this model in the same price range are Hitachi C18DBALP4 and Dewalt DCS570.
*** Design.
This model is for those who are seeking for ergonomics in regards to cutting circular saws. It is a cordless model, thus support you in handling your tasks quickly.
You will also find it comfy to grip along with the machine because the tool contours the hand.
*** Brushless motor.
Dewalt DCS570B features a brushless motor to spin the blade up to 5200 RPM and maintain a superload.
The power packs an extreme strength and durability that you will need during the cutting. This motor will propel the blade through hardwood without any trouble.
Also, the four-pole brushless motor is what you need if you go for a head to head comparison with other cordless models.
*** Blade brake
The 7-¼-inch blade of this saw will provide 2-9/16 inches depth of cuts.
This brake, which acts on the motorized brushless power is entirely electronic. Therefore, you will find it simpler to bring about a solution that can stop all the quick brakes of the saw.
It also helps to decrease the risk of potential damage or injury while you are working.
One of the highlights of this model is the blade changing system. The saw uses a blade changing wrench as opposed to an Allen key, which is more forceful and convenient.
What's more, the wrench is located below the battery port. To access it, you must remove the battery. This feature will keep you safe.
*** Bevel capacity.
For ease of use and more versatility, the bevel capacity is up to 57 degrees.
*** Battery.
Although it has a five amp-hour rating, the battery life longevity is disappointing. While similars model can cut about 300 linear feet of ¾-inch plywood per charge, this model falls short of our expectations just 242 inches per charge.
Sale
DEWALT DCS570B
Power - Brushless motor provides 5200Rpm and maintains speed under load
Runtime - 100 cross cuts in a 2x4 (Pine)
Capacity - 7-1/4" blade provides 2-9/16" depth of cut
Ease of use - bevel capacity up to 57 degrees
Battery not included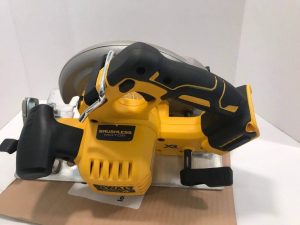 *** Pros:
Very lightweight (3.4 kilograms) and easy to use.
Ability to power through perfect and accurate cuts from the blade.
The blade featuring a good-quality brake.
Complete management and comfortable grip with necessary dynamics.
*** Cons:
The brake handle sometimes stopping functioning.
Low battery life (at 242 feet per charge).

2. Dewalt DCS575B  7 1/4-Inch Circular Saw Review.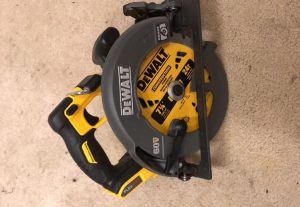 *** Design.
The DEWALT DCS575B FLEXVOLT 60V MAX Circular Saw is undoubtedly one of the most comfortable models you can find.
All the saws may feel the same at first sight. By making a few cuts, you will determine if it is comfortable for you or not.
A powerful cordless saw may come with a heavy load, but this one is not. The handle is angled to help you easily grasp it and manage this cordless saw without fatigue. There is no need to turn your wrist or overly twist.
*** Brushless motor.
The Dewalt DCS575B model owns a much more powerful brushless motor with 5800 RPM for quality cuts.
The brushless motor will help to decrease the overall weight of the saw so that you can manage it more efficiently.
You can also enjoy the flexibility and freedom that the cordless power brings.
*** Brake
The electric brake can stop the blade when you let go of the trigger. That is why it is an excellent safety feature.
It also ensures that you will not mess up your project.
*** Bevel capacity.
Like the DCS570B model, this model has a bevel cut capacity of 57 degrees with stops at 22.5 and 45.
What makes the bevel scale of the DCS575b outstanding is its legibility – it is easy to read so that there is no need for guesswork from your cuts.
What's more, you can set standard presets that have already been clearly labeled and get to cutting them.
*** Battery.
The Dewalt DCS575b is powered by a 60V Flexvolt battery. You will love this level type of cell – it brings you both the versatility of a cordless saw and the necessary power that you desire from a corded one.
So, if you are seeking for a circular saw that can run for a long time, you need to consider this model. The one power that you can expect from a cordless function.
Notably, this FLEXVOLT battery is the first battery in the world that can change between two voltages automatically, thus giving you the advantage when you need to change tools. You can easily slide it into a lineup of 60V and 120V MAX tools.
DEWALT DCS575B
Flexible - power of corded. Freedom of cordless. The world's first battery that automatically...
7-1/4" full size blade for corded capacity. Batteries are not included
Electronic brake stops the blade after trigger is released
Bevel cut capacity up to 57 degrees with stops at 22.5 and 45
Brushless motor is maximized for run time and durability; 5800 RPM for quality cuts with speed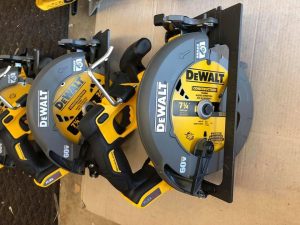 *** Pros:
Easy to grip and control the saw.
Fantastic power surge.
Excellent power cuts.
Carefully located LED lights for making cuts easy to see, even in low light conditions.
Reasonable price.
*** Cons:
Shoes may get caught up on rough materials.

Popular Alternatives Worth Considering:
Have you chosen the desired circular saw?
We hope that our Dewalt DCS570B vs. DCS575B comparison is handy.
Thank you for reading.
More: