Further down the page, you'll find some explanations regarding the key similarities and differences between the Dewalt D24000 and the MK-101.
Image
The Winner (#1)
The Runner-up (#2)
The Winner (#1)
Image
The Runner-up (#2)
Image
Power Comparison
The Dewalt has a voltage of 120 Volts with a cutting speed of 4200 RPM, and its peak horsepower is 1.5 HP.
The same kind of power goes with MK-101 since it has the source from Corded Electric with the voltage of 120 Volts and cutting speed of 4200RPM.
Design Comparison
Move on to the exterior part, Dewalt's design is calculated precisely with the ⅝ inch arbor size, 10-inch blade diameter, the diagonal cut capacity of 18 inches x 18 inches; the 3 ⅛ inch max depth cut; the max rip capacity with a plunge of 28 inches; and finally the bevel capacity of 45ᵒ.
MK-101 is also designed exactly with the cut of 24 inches long, 3 inches deep, and 18 inches diagonally; blade capacity of 10 inches.
Moreover, this MK has one plus point is that users can break the machine into three pieces. This is extremely helpful for users who want to take the saw somewhere.
In terms of dimensions, Dewalt is 36″ L x 29.25″ W x 20.38″ H and weighs 69 lbs, equivalent to 5.09 kilograms.
On the other hand, the MK 101 measures 42 x 22 x 23 inches. Also, with a weight of 118.7 pounds, it is nearly double the Dewalt's.
From these above figures, it is clear that Dewalt will be a perfect option if you do not move your saw too much or put it in a fixed place.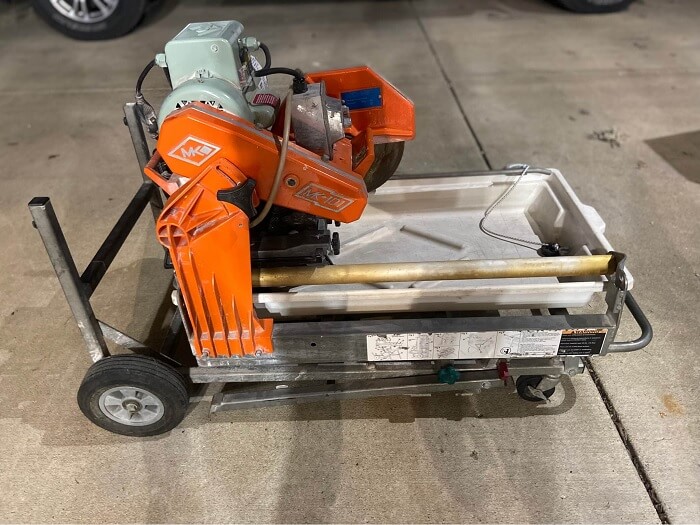 Features Comparison
One characteristic of Dewalt's style is the wet tile saw type. The plunge feature of this machine lets users make quick plunge cuts.
For fast angled cuts, Dewalt has an integrated 45/22.5-degree miter feature.
Besides, Dewalt's stainless steel rollers and cutline indicators can provide accurate and stable cuts.
In another context, we use MK-101 to cut marble, tile, as well as porcelain and a system distributing water to both sides of the blade.
The plunge cuts and blades which are less than 10 inches in diameter are possible with the variable height cutting head.
MK-101 also has a non-slip neoprene base, as well as a cutting table and head.
Quick Rundown Of DEWALT D24000
DEWALT D24000 Wet Tile Saw
Your purchase includes One Dewalt 10-Inch Wet Tile Saw, 10-Inch XP4 Porcelain Tile Blade, Submersible Pump, Water Pan, Side Water Tray, Rear Water Tray, Cutting Cart Side Extension, Angle/Rip Guide, Blade Wrench & Hex Wrench
Tool dimensions: 36" L x 29" W x 24" H. Tool weight: 69 lbs. Voltage – 120V. Peak Horsepower – 1.5 HP
Other specifications: Arbor Size – 5/8". Blade Diameter – 10". Diagonal Cut Capacity 18" x 18". Max depth cut – 3 1/8". Max Rip Capacity with Plunge – 28". Bevel Capacity – 45ᵒ
Cutline indicator and stainless steel rollers provide stable, accurate cutting to within 1/32 inch over 18 inch cuts
Compact saw frame allows for easy transport and storage in vehicle

---
Quick Rundown Of MK-101
MK-101 Wet Tile Saw
Engineered for cutting tile, marble, as well as porcelain and water distribution system supplies water to both sides of blade
Fully enclosed thermally protected, high torque, fan-cooled new 1-1/2 horsepower Baldor motor
Multi-position motor post and cutting head for convenient cutting of various tile sizes
Variable height cutting head allows for plunge cuts and use of blades smaller than 10 inches in diameter
Cast aluminum guards, cutting head and table with non-slip neoprene surface

---
Product Videos
---
Conclusion
From our perspective and after all the consideration, the winner in this battle is Dewalt D24000.
However, the choice is up to you. We hope you can choose the right saw after reading this Dewalt D24000 vs MK 101 review!