Below I will compare the power, portability, and features of the Echo CS-400 and Husqvarna 440E
Difference between Echo CS-400 and Husqvarna 440E
The technical summary sheet for Echo CS-400 and Husqvarna 440E
Image
Image
Image
Design Comparison
This is the most important thing to consider when shopping for a chainsaw. The easier a particular chainsaw is to operate, the safer your entire experience with it.
The first impression you will get when lifting the Echo cs-400 is how balanced the whole contraption feels. The standard 18'' bar prevents the saw from tilting forward or backward, which greatly reduces the chance of accidents.
This saw comes with a fully-enclosed rear handle and a stable step place on which you can position your foot while starting up the saw. All the switches and access mouths for gasoline, oil, etc. are very basic, easy-to-use, and clearly arranged. The i-30 system installed in this device also supports a more stable and easier start-up.
On the other hand, the Husqvarna 440 is one of the most favorite among professional woodchoppers thanks to its ergonomic handles, which facilitates working on objects of various shapes and sizes.
The Husqvarna 440 weighs just about 9.7 lbs, making it slightly lighter than the echo cs-400 model (10.1 lbs). Starting up this powerful tool, especially in more severe environments, is fairly easier than the Echo product.
To sum up, I believe that Husqvarna 440 is easier to use, particularly for beginners.
The level of craftsmanship that goes into the production of the echo cs-400 is phenomenal. This device possesses a solid build that can please even the most demanding customer.
The casing is fully plastic, yet the assembling quality is so splendid that the hole saw does not give out a cheap feel, normally with plastic-casing tools.
The design and build-quality of the Husqvarna 440 are comparable to those of the echo cs-400. Despite having a plastic casing, the manufacturing on the Husqvarna 440 is done perfectly, allowing this machine to look professional.
One thing that bothers me about this powerful tool's design is the plastic fuel and oil caps. They can easily get too tightly sealed, which forces me to open them up with a screwdriver or a knife. This slowly wears out the rear of the caps and causes them to crack eventually.
In terms of build quality, the result is even in the battle of echo cs-400 vs Husqvarna 440.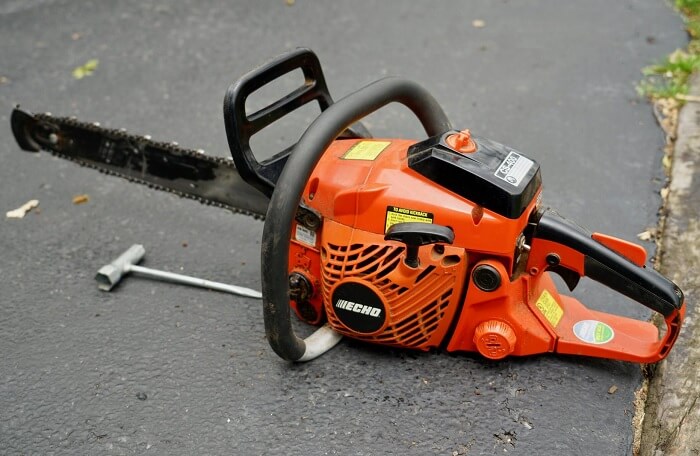 Power Comparison
The echo cs-400 comes with a 40.2 cc, 2-stroke engine that generates a staggering 12,000 rpm and is equipped with a diaphragm carburetor that can carry close to 14 ounces of fluid, making it suitable for extended jobs.
This chainsaw is powered by Husqvarna's infamous x-torq engine, which is well-known for its longevity. This engine also complies with various environmental agreements, most notably the CARB Agency's standards by cutting down fuel consumption and reducing harmful exhaust fumes.
This particular engine model is 40.99cc and generates a top cutting speed of 9,000 rpm, which is quite powerful for a small-sized chainsaw.
Speaking of power, it is clear to see that the echo cs-440 is the winner.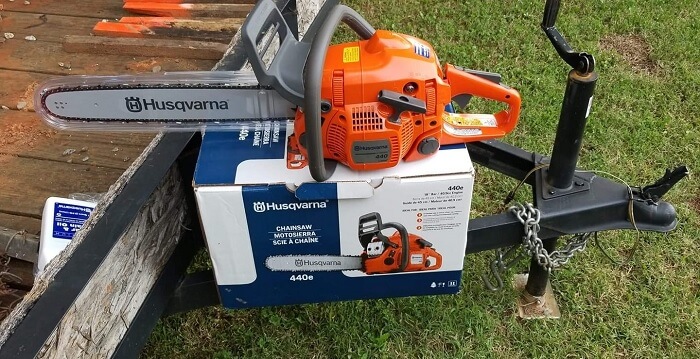 Features Comparison
Echo cs-400 uses rubber bushings, a more optimal choice than the usually coiled springs, to reduce vibration. Hence, working with this model is significantly less tiring than many other products in the same price range.
Contrary to its moderate vibration level, the echo cs-400 is extremely loud. The throttling period generates noise at 82dB SPL (Sound Pressure Level), which is agreeable. However, as you crank it up, the chainsaw starts to get extremely loud, putting out approximately 107 dB SPL.
The constant exposure to such an intense noise level can seriously damage your hearing. Therefore, earplugs and more intensive hearing protection tools are recommended.
The Husqvarna 440 is very easy for the arm even if you have been working a long time with the saw thanks to the exclusive LowVib technology installed. The vibration level at the front handle and the rear handle is calculated at 3.8 m/s² and 4.2 m/s², respectively.
The noise level affecting the users' ears is calculated at around 102 dB SPL, a little less severe than echo cs-400. Still, timbermen and women using this tool are advised to wear ears protection.
It is possible to say that the Husqvarna is the more convenient chainsaw to work with. However, the differences in vibration and noise level between these two tools are extremely minimal.
Quick Rundown Of Echo CS-400
Echo CS-400 Chainsaw
40.2cc Engine
18" Bar & Chain Included
Engine Oil Included
Fully Assembled
Easy Start Engine
[i2pc show_title="false" title="Pros & Cons" show_button="false" pros_title="Pros" cons_title="Cons" ][i2pros]This chainsaw is extremely balanced
Top-notch anti-vibration system
Great price-for-value
Suitable for professionals as well as beginners.
[/i2pros][i2cons]The warranty service
Very loud[/i2cons][/i2pc]
---
Quick Rundown Of Husqvarna 440E
Husqvarna 440E Chainsaw
440E II chainsaw with the new x-cut chain and x-force chainsaw Bar is a lightweight and efficient all-round chainsaw, ideal for the homeowner who wants a reliable workhorse that's simple to use.
40. 9cc 16 inch gas chainsaw with guide bar and chain; Idling speed: 2900 rpm
2 cycle engine with inertia activated chain brake for safety while operating
Orange Husqvarna chainsaw Bar cover and 2. 6 ounce 2 cycle fuel Included, Bar and chain oil must be purchased Separately
Automatic chain oiler delivers a steady supply of bar and chain oil for safe and effective use
[i2pc show_title="false" title="Pros & Cons" show_button="false" pros_title="Pros" cons_title="Cons" ][i2pros]Lightweight and compact size.
User-friendly design and switches arrangement
Suitable for beginners, especially women.
Powerful and not very fuel-consuming.[/i2pros][i2cons]Can not handle large sawing jobs
Very loud[/i2cons][/i2pc]
---
Conclusion
It cannot be denied that the echo cs-400 vs Husqvarna 440 dilemma is extremely hard to solve. Both products are highly rated by professional and novice timber workers, thanks to their smart design, impressive functionality, and reliable power.
Nevertheless, I believe that Husqvarna 440 is the better choice for me as it is better suited for those with little experience handling power tools. Additionally, the compact design and adequate power make it the perfect tool for small home-based projects.