Further down the page, you'll find some explanations regarding the key similarities and differences between the Horizon Fitness T202 and the LifeSpan Fitness TR1200i.
But before checking out explanations regarding their specs and features here's a table that summarizes the main technical summary sheet for these 2 treadmills:
Image
The Winner (#1)
The Runner-up (#2)
Display
3" LED, backlit LCD screen
The Winner (#1)
Image
Display
3" LED, backlit LCD screen
The Runner-up (#2)
Image
Specs Comparison
First of all, let's see the price variation between the two machines. Horizon introduces its model T202 at the rate of roughly 800 dollars, while the Lifespan brand sells the model TR1200i to the market at a higher rate- 1200 dollars. Hence, we would say the Lifespan TR1200i is suitable for you if you have many budgets to spend on a treadmill. Otherwise, the Horizon T202 is not a bad choice to go for.
Now, let's compare the two models to see which one is a bigger machine. To do that, we need to compare the dimensions and the weight of both to choose the better treadmill. In general, Lifespan TR1200i is a bit smaller and lighter compared to the Horizon T202.
In particular, Lifespan TR1200i has the dimensions of 70 inches long, 33 inches wide, 55 inches high, and weighs about 197 lbs- 89 kg, while the dimensions of Horizon T202 are 75 inches long, 34 inches wide, 58 inches high, and 215 lbs heavy- 97 kg. So, you can see a slight discrepancy between the two running machines when it is about the size and weight. You can surely compare these factors of both models to choose the exact treadmill best suit you.
Between Horizon T202 and Lifespan TR1200i, there is a huge difference in the maximum weight carrying capacity. The model T202 from Horizon can carry a maximum of 325 lbs- 147 kg users, while its counterpart can only take a humble amount of users' weight- 300 lbs. So, the Horizon T202 stands out from its partner in this rivalry.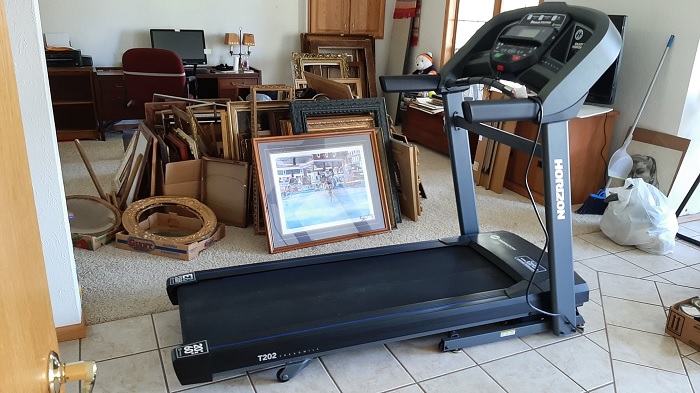 Now, let's talk about the treadmill's incline level. Generally speaking, the Lifespan TR1200i model overshadows the model T202 in the wider incline level. To illustrate, the Lifespan TR1200i treadmill can tilt in the range of 0%-15%, while Horizon T202 can only adjust the incline within the range from 0%-12%. Hence, a more advanced level comes with the Lifespan TR1200i model.
Let's change the topic to the number of pre-programmed workouts. In detail, Horizon T202 loses the rivalry against Lifespan because it only has 8 pre-installed training programs- 20 less than those of Lifespan TR1200i. Hence, if you favor switching to different training programs, go for the Lifespan model.
Regarding the engine power, being integrated with a 2.5 HP and 2.75 HP motor, respectively, the Lifespan TR1200i and Horizon T202 model can quickly alter the speed from 0 to over 12 miles per hour in just a few seconds.
Finally, we can not go without comparing the size of the machine's tread belt. In detail, Horizon T202 is in a package with an ample 20-by-60 inch tread belt, while the Lifespan model offers shorter running path-20-by-56 inches. Anyway, both tread belt sizes can give users exclusive comfort in each take.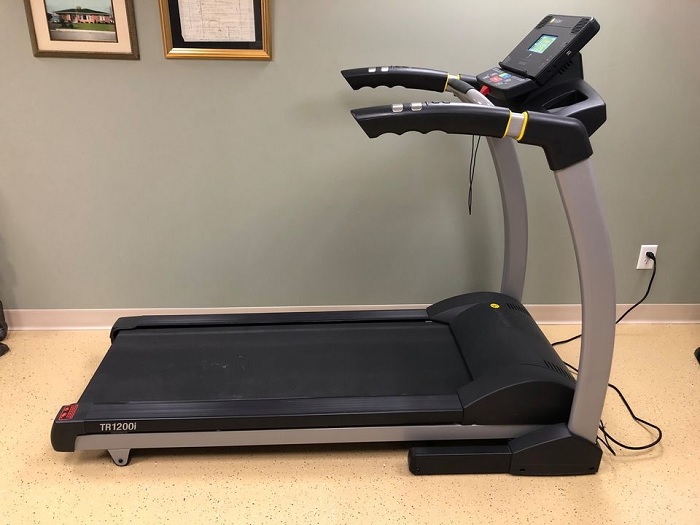 Features Comparison
Firstly, we need to compare the wireless connection feature in Horizon T202 and Lifespan TR1200i. Luckily, both machines support BlueTooth connectivity. Hence, users can easily sync the training data with mobile devices, such as phones, tablets, and fitness apps. For music entertainment, speaker & sound systems are available in the machines.
Lifespan TR1200i possesses a 7-inch full-color display in terms of the display screen, while its counterpart comes with three small back-bit LEDs. So, if you do not like to look at different screens, Lifespan is a good deal.
Speaking of fitness app compatibility, most treadmills nowadays often have broad connections with training apps. Both Horizon T202 and Lifespan TR1200i models are fitted with various downloadable fitness apps on Apple Store and Google Play.
While training, your body generates a great heat, causing you to sweat and lose water, leading to thirst. To solve this problem, an integrated cooling fan and dual water bottle holders are there on the consoles of the treadmills to provide users with the most convenience.
Finally, both machines support Heart Rate Monitoring technology to measure the user's heart rate. In the Lifespan and Horizon model, there are handlebar grips to measure heart rate. Moreover, Lifespan TR1200i supports Heart Telemetry with chest straps.
Quick Rundown Of Horizon Fitness T202
Horizon Fitness T202 Treadmill
Includes free app to control your workout and push data to favorite fitness Apps, plus device holder and rapid-charge USB port
Assembled Dimensions: 75" L x 34" W x 58" H | Folded Dimensions: 47" L x 34" W x 65" H | Running Area: 20" x 60" | Weight: 187 lbs
Max User Weight: 325 lbs
Quickly shift speed and incline with one-touch keys, quick-rotating Dial and handle bar controls
Powerful, 2. 75 chap motor
[i2pc show_title="false" title="Pros & Cons" show_button="false" pros_title="Pros" cons_title="Cons" ][i2pros]High Weight Carrying Capacity
Affordable
Ample Running Path[/i2pros][i2cons]Limited Incline Range
Limited Pre-installed Programs[/i2cons][/i2pc]

---
Quick Rundown Of LifeSpan Fitness TR1200i
LifeSpan Fitness TR1200i Treadmill
BRING THE GYM HOME: Start getting or keep fit by adding cardio to your exercise routine and work up a sweat anytime in the comfort of your own home with the TR1200i treadmill.
POWERFUL YET QUIET: Equipped with a quiet 2.5 HP high torque continuous-duty (DC) motor to keep up with your most demanding workouts and a noise-dampening belt allows you to get your daily dose of aerobic exercise without disturbing others nearby.
LIMITLESS WORKOUTS: Includes over 50+ exercise programs designed by physiologists to accelerate your fitness progress and offers 15 levels of incline for all of your workout needs.
BUILT TO LAST FOR PEACE OF MIND: Durable, all-steel folding frame was engineered to keep you exercising for years to come even after 10 hours of daily use.
WITH OVER 20 YEARS OF EXPERIENCE, LifeSpan Fitness is a market leader in fitness equipment and is dedicated to promoting healthier, active lifestyles for home and work.
[i2pc show_title="false" title="Pros & Cons" show_button="false" pros_title="Pros" cons_title="Cons" ][i2pros]Wide Incline Range
Various Workouts
Wide Display Screen[/i2pros][i2cons]Limited Warranty Policy
Pricey ( compared to Horizon T202)[/i2cons][/i2pc]

---
Product Videos
---
Conclusion
Hopefully, the differences between Horizon T202 vs Lifespan TR1200i are transparent via this article. After weighing all the pros and cons of the two treadmills, Horizon T202, despite being cheaper, deserves the first position compared to its counterpart.
---