Jackery 160 and 240 are among the best power stations for low-budget customers. In the Jackery 160 vs 240 competition, if leaving out the price, the 240 is the winner with larger battery capacity. However, is it worth the extra money? Below is thorough comparison between Jackery 160 vs 240. Read on!
Differences Between Jackery 160 Vs 240
Generally, Jackery 240 is the bigger, better version of Jackery 160.
Portability
With their compact design, the two models are convenient to use and easily transported. With a handle on the top, they can be carried around easily and also packed up effortlessly as they do not take up much space.
Price
As Jackery's power stations are known for their affordability, it is no surprise that the 160 and 240's reasonable price makes the device one of the best options for low-budget customers. Both Jackery 160 and 240 have a fair price for their features, but the 240 costs about $100 more.
Utilities
Jackery 160 and 240 have a lot in common, including their usage. Both suitable for indoor and outdoor use, they are often used to charge small appliances and provide energy for outdoor activities such as recreational camping. Especially, as sine wave inverters, they are safe for delicate electronics such as laptops, smartphones, or AirPods.
To be specific, a fully-charged 240 can power a smartphone up to 19 times, a laptop 4 times, a tablet 8 times. For a 160, the numbers are 15, 3, and 6 times respectively.
However, as Jackery 240 has a battery capacity of about 25% more than that of Jackery 160 (240 watts vs 167 watts), it is more versatile and can be used even in case of emergency.
In terms of port diversity, Jackery 160 is the winner, for this model has multi-ports to charge different types of gadgets at the same time. To be exact, while the 160 and 240 have the same number of DC ports (one), AC ports (one), USB-A ports (two), the 160 have an additional USB-C port.
Quick Rundown Of Jackery 160
Pros:
Light, portable: Jackery 160 weights less than 4 pounds.
Diverse pot: The model has an AC port, a DC port, two USB-A ports, and a USB-C port.
Powerful with its size: Jackery 160 offers energy storage of 167 watt-hours.
Affordable: Its function and portability seem to be too good to be achieved at a cost of less than $200.
Cons:
Small-sized, low battery capacity

Quick Rundown Of Jackery 240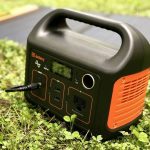 Pros:
More powerful with higher battery capacity (240 watt-hours)
Compact and portable: As a better version, Jackery 240 has almost every advantage of Jackery 160, including its compactness and portability.
Cons:
Higher price: 25% larger battery storage and all the extras come with a cost of $100 more.
It does not have many port types: Compared to the 160, Jackery 240 does not have any USB-C port.

Conclusion
Comparing Jackery 160 vs 240 seems like a daunting task. We would say the key to the question is how you plan to use your power station. If your budget is limited and storage of about 160 watts-hour is just fine for your use, Jackery 160 may be the optimum choice. If it's not your case, head for Jackery 240 because its superiority is absolutely worth the extra money!
Popular Alternatives Worth Considering: