Jackery 240 vs 500 are two powerful portable power stations from the renounced Jackery manufacturer. Their standout features are indisputable. But the question is: which one is truly your companion for the out-door adventures?
Seems a tough question, right? Stay calm, we are here to give you more insights through a comparison between the two models for your consideration. Pros and cons, differences, none will be missed. So let's hop right in!
Differences Between Jackery 240 vs 500
Despite coming from the same brand, Jackery 240 vs 500 still differ from each other in more than one way. What are they? Find out right below.
Power capacity
Power capacity is a crucial aspect of many people's consideration to buy new power stations. With different prices come different capacities.
As the middle variant of the line, Jackery 240 has a decent storage capacity of 240Wh. Further, it has a surge capacity of 200W that could peak up to 400 watts, letting you run your essential AC appliances in an emergency.
Compared to its sibling, Jackery 500 has a 518Wh battery capacity, double that of Jackery 240. The pure sine wave inverter provides a continuous output of 500 watts. Its surge capacity can peak up to 1000 watts, which is a considerable leap in contrast with Jackery 240.
This allows Jackery 500 to recharge and power up more electronic gadgets at the same time than its middle-line counterpart.
Keep in mind that both models are not recommended for things like hairdryers, microwaves, heaters, induction burners, or power tools.
Design
Due to its capacity, Jackery 500 features three USB ports, two 12V DC sockets, and a standard 120V AC socket. Jackery 240 was also designed with the same types of port, but with one less USB port.
In terms of size, Jackery 240 weighs just 6.6 lbs and has got the dimensions of 9.0' x 7.8 x 5.2 inches. Meanwhile, Jackery 500 weighs two times heavier at 13.32 lbs. The dimensions are also a bit larger (11.84 x 7.59 x 9.2 inches).
Quick Rundown of Jackery 240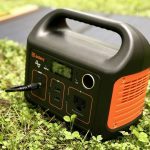 Pros:
Lightweight and ultra-portable
Moderately powerful, offering enough power to run your electronics.
Totally silent with no vibration and zero fumes
Affordable price
Cons:
Not waterproof
Only suitable for short trips with small numbers of electronic devices or act as an emergency power source.
Can only charge/power devices that operate at less than 200-Watt

Quick Rundown of Jackery 500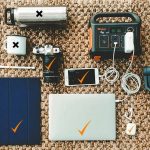 Pros:
Splash-proof, protect the unit from accidental splashes like rain or tea.
Powerful with a high storage capacity
Suitable for longer adventures and work with a larger number of devices.
Solid built and easy to carry
Has a LED flashlight with SOS modes in case of emergency
Cons:
Can be bulky and cumbersome
Noise from the fan when charging many electronics at once
Expensive

Conclusion
Between Jackery 240 vs 500, both portable power stations are brilliant, especially if you are an out-door freak who loves to travel and all.
However, if you don't have much need for a powerhouse, then Jackery 240 is an awesome pick for short journeys with less electronic stuff.
When you want to go on for a much longer time and with more gadgets, Jackery 500 is for you. No matter what model you pick, we hope our review is helpful. See you again!
Popular Alternatives Worth Considering: