Further down the page, you'll find some explanations regarding the key similarities and differences between the LifeSpan TR3000i and the Sole F80.
Image
The Winner (#1)
The Runner-up (#2)
The Winner (#1)
Image
The Runner-up (#2)
Image
Specs Comparison
Price is always the first concern in the buying process. In this battle, the victory is in favor of the Sole F80 because this product is about $ 400 cheaper than the Lifespan Tr3000i.
Let's continue with the maximum weight these treadmills can handle. Both of them can support a weight of up to 350 lbs, which brings an ideal experience to the users.
In terms of the number of exercises built into each machine, the advantage is once again in favor of the Tr3000i series because it offers a total of 21 workouts. Meanwhile, the Sole F80 has only ten exercises, much less than its rival.
The engine is also an issue that attracts the attention of buyers because the stronger it is, the better the experience it brings. With a powerful 3.0 CHP engine, the F80 beat the 2.75 CHP engine of Lifespan TR3000i.
So are there any differences in their tilting ability? The answer is that the practitioner can adjust their incline from 0% to 15%. Unfortunately, there is no gap between the cheap and the expensive here.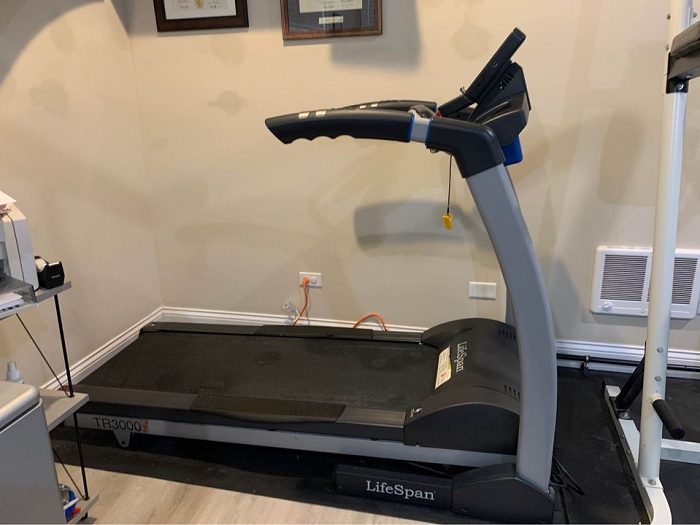 If you wonder about the maximum speed each of the above treadmills can reach, the winner is the Lifespan Tr3000i. This product can reach speeds of 12mph, while rival Sole F80 can only allow users to run at the speed of 11mph.
Heart rate monitoring is an important feature every trainer should have. Fortunately, both are integrated by the manufacturer. In addition, they also have a cooling fan system to operate in case the engine of the machine generates heat.
Here, let's learn about an important factor that helps attract buyers – dimension. In this regard, the F80 has the advantage of measuring 82" x 36" x 16.5". Meanwhile, the Tr3000i seems more bulky with a size of 71" x 33" x 56".
What about their weights? In stark contrast to the size, the Lifespan Tr3000i offers a better experience at just 220.46 lbs. Its rival Sole F80 is heavier at 250 lbs.
The running surface area greatly affects the training experience of the users. The larger its area is, the better it will be. That's the reason why F80 with 20" x 60" running area once again beat the Tr3000i (20" x 56").
Are you wondering if these trainers can be folded to save area? The answer is yes! When not in use or during transport, you can fold the device to minimize space.
When folded, the F80 measures 48" x 37" x 72". Meanwhile, the Tr3000i is much more compact with dimensions of 42" x 33" x 60".
To make transportation easier, they are equipped with a roller system at the bottom of the tripod. These wheels are all 2.5", which helps a lot in moving and minimizing noise.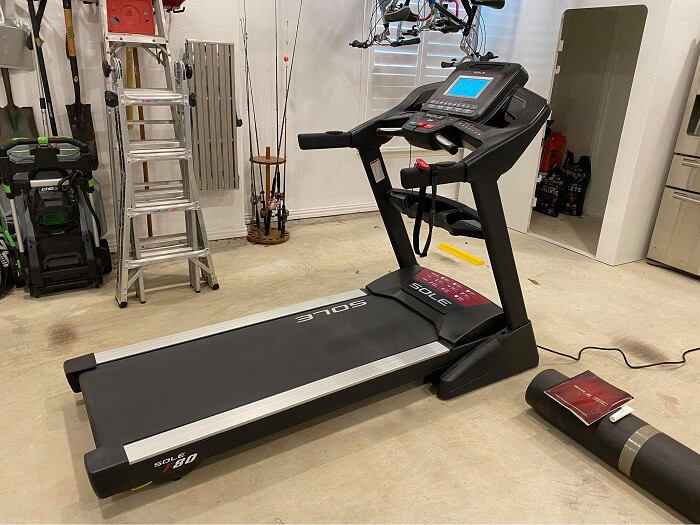 Features Comparison
When there is a need to change the speed, incline, and drop angle, you can completely adjust through the control panel of each treadmill during exercise.
According to the manual of each product, Lifespan offers a 7" full-color touchscreen. All the while, the F80 has a 7.5" backlit blue LCD screen. So the victory is in favor of the F80.
For a better product experience, manufacturers have integrated a speaker system for each treadmill. These speakers can connect to any mp3 device via Bluetooth or plug. However, neither the Sole F80 nor the Lifespan Tr3000i has Internet connectivity.
Regarding the training application built into each treadmill, neither of the above products uses the iFit exercise program. Instead, they use available exercises from the manufacturers of Sole and Lifespan.
Do you have a habit of drinking water during exercise? Both Sole and Lifespan can satisfy you! They are all designed to hold water bottles, and more specifically, a small area is used for storing items such as newspapers or phones. So convenient, isn't it?
The Sole F80 has warranties of two years on labor, five years on electronics, belts, rollers, and other wear components, and a lifetime on motor, deck, and frame. On the other hand, Lifespan Tr3000i is protected with the cover of one year on labor, five years on equipment parts, and a lifetime on frame and motor.
Quick Rundown Of LifeSpan TR3000i
LifeSpan TR3000i Treadmill
Comes with dual speaker Bluetooth outputs that conveniently let you connect your device to the treadmill while the USB charging port keeps in at full battery
Easy storage with the hydraulic shock and 4 wheels to assist in folding and transporting; Measures 71 inches long, 33 inches wide, and 56 inches high with a weight of 225 pounds
Equipped with a touchscreen dashboard lets you view progress on a vibrant 7-inch display with 3 unique dashboards while exercising on your folding treadmill
Have a walking good time at home with a folding 2.75HP treadmill that provides you with an intense cardio workout while keeping you comfortable throughout the steps
Includes 38 workouts to make a robust workout experience, including 2 heart rate programs, 2 customized user programs, and 17 preset programs that you can activate at your own leisure
[i2pc show_title="false" title="Pros & Cons" show_button="false" pros_title="Pros" cons_title="Cons" ][i2pros]Three-speed fan system
Compact folding dimension
Various exercise programs
Fast speed
[/i2pros][i2cons]Unreasonable price
Poor engine[/i2cons][/i2pc]

---
Quick Rundown Of Sole F80
Sole F80 Treadmill
Folding treadmill with 3.0-horsepower continuous-duty motor
Vibrant 7.5-inch LCD display with integrated speakers and audio cable
6 standard workouts, 2 custom workouts, and 2 HR-controlled workouts
Easy Assist folding deck design; Cushion Flex shock-absorption system
350-pound capacity; measures 33 x 80 inches (W x D); weighs 250 pounds
[i2pc show_title="false" title="Pros & Cons" show_button="false" pros_title="Pros" cons_title="Cons" ][i2pros]Ideal price
Powerful motor
Compact design
7,5'' backlit blue LCD screen[/i2pros][i2cons]Limited training programs
Only can handle 300 lbs[/i2cons][/i2pc]

---
Product Videos
---
Conclusion
Both the Sole F80 and Lifespan Tr3000i treadmills are good products that everyone should consider. However, after this Lifespan Tr3000i Vs Sole F80 article, a Sole F80 seems to be the better option because of its reasonable price, powerful engine, and other outstanding features. Anyway, the choice is in your hand, so just pick out for yourself a trainer that you think is most suitable.
---