Below I will compare the power, portability, and features of the Milwaukee 2456-20 and 2556-20
Difference between Milwaukee 2456-20 and 2556-20
Image
The Winner (#1)
The Runner-up (#2)
The Winner (#1)
Image
The Runner-up (#2)
Image
Power Comparison
The key difference between the two models is the motor. The MILWAUKEE 2556-20 owns a brushless motor while its counterpart doesn't.
The brushless motor offers higher torque with 40-foot pounds at maximum, while the old model's motor can deliver up to 30-foot pounds only. Therefore, the new tool can work more efficiently and save more time.
Another perk of the brushless motor is the noise. In comparison, the new model MILWAUKEE 2556-20 can work smoothly without creating any inconvenient noise. Although the 2456-20 M12 is highly considered a quiet engine tool, it still makes a louder noise than its competitor.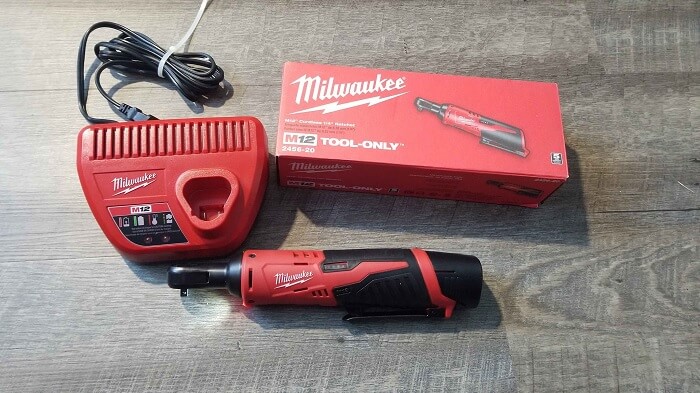 Design Comparison
The Milwaukee 2456-20 owns a dimension of 9.47 x 2.94 x 1.76 with 1.55 pounds. At the same time, its counterpart has a figure of 12 x 4 x 3 and a weight of 1.93 pounds.
Look at the statistics above; we can say they are both light-weighted, compact, and portable. Wherefore, you can handle the tools without any hand fatigue and work for hours. However, if you put these tools side-by-side, you can point out the differences easily.
With 12 inches tall, the Milwaukee 2556-20 version is higher than Milwaukee 2456-20 due to its long head. The thin and slender head is a significant perk in the new model because it allows more working space.
Also, 2556-20 has more metal parts, making the product more durable and longer-lasting. Additionally, this material creates a tough outlook and a secured feeling when holding.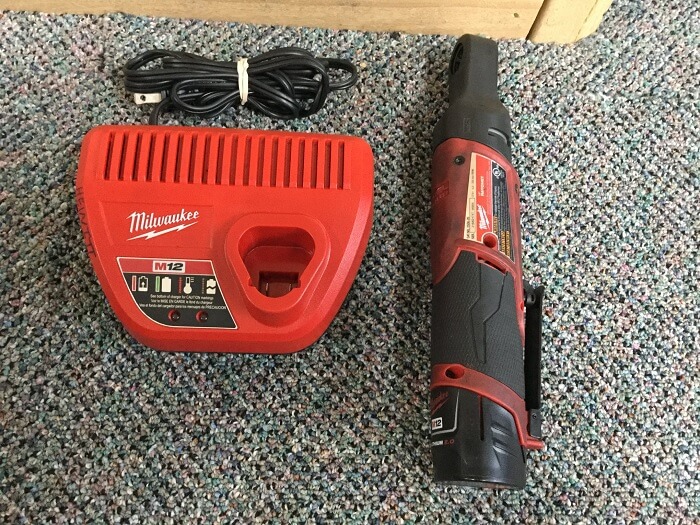 Features Comparison
These tools have many common features.
Both of them have a low profile and cordless design for compact size. The recessed knob makes the low profile head unbreakable during the operation time and prevents unexpected accidents in narrow spaces. The REDLink intelligence system will flash and stop so you can know the screws are tight enough.
They have a built-in LED light of increasing visibility when working in small and dark places. A variable speed trigger can also deliver a maximum speed of 250 rpm (revolutions per minute). There is a trigger lock that allows you to put the tools inside your bag without accidentally turning it on and draining the battery.
It would be best to have a 12V Lithium-Ion battery to run these products, but since it is not included in the tool package, you will have to buy it separately. The battery capacity is so amazing that it can last for days, even when you use it daily with high intensity. Especially, you can know how much energy the battery has left by checking the precise battery gauge.
When you purchase a 2456-20 model, you will receive the tool and a combination wrench. Meanwhile, by adding a 2556-20 ratchet to your cart, you will get an automotive air tool, a power ratchet replacement part, and pneumatics as well.
Quick Rundown Of Milwaukee 2456-20
Sale
Milwaukee 2456-20 Ratchet
Produces 250 RPM, with variable-speed trigger for greater control
Provides optimized performance and overload protection using total system communication between tool, battery and charger. Batteries Sold separately
Helps you monitor the charge precisely for less downtime on the job
Built-in LED light: Illuminates work surfaces in dark locations
12-volt motor: Delivers up to 30 ft-lbs of torque
[i2pc show_title="false" title="Pros & Cons" show_button="false" pros_title="Pros" cons_title="Cons" ][i2pros]Favorable torque for a portable tool
Combination wrench
Reasonable price
[/i2pros][i2cons]Not many accessories[/i2cons][/i2pc]

Quick Rundown Of Milwaukee 2556-20
Milwaukee 2556-20 Ratchet
Most Powerful: industry leading torque output at 40ft-lbs
Most Compact: Up to 20% smaller head size
Greater Durability: Premium metal components and overmold for longer durability
World's First brushless Ratchet: Over 2X longer motor life than brushed Ratchets
[i2pc show_title="false" title="Pros & Cons" show_button="false" pros_title="Pros" cons_title="Cons" ][i2pros]Powerful motor
Powerful torque output
Well-designed for any working space
Cast steel yoke housing for a durable and long-lasting product[/i2pros][i2cons]No battery included[/i2cons][/i2pc]

Product Videos
Conclusion
No matter what you opt for, both the Milwaukee 2456-20 vs 2556-20 bring 100% satisfaction to you. If you require a strong and powerful tool with full-time job site wear and tear, you should purchase 2556-20. In case you are a family's handyman only, the Milwaukee 2456-20 with 30-foot-pounds torque is enough for you.