Below I will compare the power, portability, and features of the Milwaukee 2558-20 and 2557-20
Difference between Milwaukee 2558-20 and 2557-20
Image
The Winner (#1)
The Runner-up (#2)
The Winner (#1)
Image
The Runner-up (#2)
Image
Power Comparison
Although both of the tools include a brushless motor, they have differences in power.
The Milwaukee 2558-20 delivers 175 rpm (revolution per minute) with maximum torque at 60 foot-pounds. Meanwhile, the Milwaukee 2557-20 can create a speed of 200 rpm, but the maximum torque is 55 foot-pounds only.
It may be difficult to understand the meanings of these numbers, especially for beginners. In short, Milwaukee 2558-20 can make less revolution per minute than Milwaukee 2557-20, but it can create a bigger force in installing or uninstalling bolts and nuts for shorter work time.
Design Comparison
Like other ratchet models of Milwaukee, the 2558-20 and 2557-20 also have a compact size with outstanding portability.
For the 2558-20 ratchet, it is 12.5 inches in height and 3.1 lbs with battery included. Its competitor – 2557-20 weighs 2.8 lbs and has a height of 11.8 inches. In comparison, the latter is just a little smaller than the former.
Besides, an interesting fact is that Milwaukee 2558-20 has one version with ½" ratchet only, and Milwaukee 2557-20 also appears with 3/8" ratchet solely.
In general, they have the same design with a low profile and cordless head. Compared with ratchets from other brands, Milwaukee products are 20% thinner. Hence, they can handle tasks in small spaces well.
Besides, you don't need to worry about the slip of oil or sweat as the premium rubber over-mold can deal with them.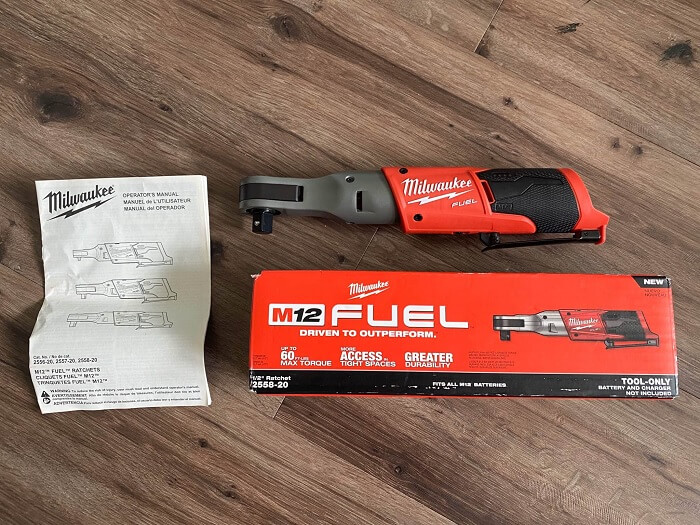 Features Comparison
An outstanding and impressive feature of Milwaukee fuel ratchets is the material. They are all structured by premium metal for durable and long-lasting products, and the Milwaukee 2558-20 vs 2557-20 are no exception.
Also, these tools are built-in with many awesome features such as REDLink technology and LED lights.
The REDLink technology will notify and stop working on time, so you will never go too tight. While LED lights are intact in the collar of both models. They will turn on when you trigger the tools to remove the darkness or any shadows.
The trigger is sensitive and easy to control. If you want to prevent the device from working and draining your battery accidentally, you can lock its trigger. So, no need for any protection; just throw them into your bag!
For both the Milwaukee 2558-20 and 2557-20, they don't include any accessories. Battery excludes as well. However, it's advisable to purchase an extra 12V Lithium-Ion battery to work all day long.
On the side of the two tools, there is a light gauge that shows the battery's energy. Thanks to this add-on, you can know when your battery needs recharging.
Quick Rundown Of Milwaukee 2558-20
Sale
Milwaukee 2558-20 Ratchet
Product is manufactured in China
This product meets customer requirement
5 year warranty on material and workmanship
[i2pc show_title="false" title="Pros & Cons" show_button="false" pros_title="Pros" cons_title="Cons" ][i2pros]Powerful motor with higher productivity
More economical
[/i2pros][i2cons]Limit in the driver's size
[/i2cons][/i2pc]

Quick Rundown Of Milwaukee 2557-20
Sale
Milwaukee 2557-20 Ratchet
Most powerful: provides an industry leading torque output at 55ft-lbs
Most compact: up to 20% smaller head size
Greater durability: Premium metal components and overmold for longer durability
Worlds 1ST Brushless ratchet: over 2x more motor life than brushed ratchets
[i2pc show_title="false" title="Pros & Cons" show_button="false" pros_title="Pros" cons_title="Cons" ][i2pros]Compact and portable
Suitable for daily use[/i2pros][i2cons]The motor could have been improved
No battery included
The size of the driver is not variable[/i2cons][/i2pc]

Product Videos
Conclusion
After all of our analytics, you can see the differences between Milwaukee 2558-20 vs 2557-20. In our opinion, they don't have any big dissimilarities apart from size. No matter what you buy, you will receive a 5-year limited warranty on material and artistry.
If you love the Milwaukee FUEL, you can find more information about other products of this line in our blog. Have a nice day!