One of the most well-known companies for hammer drills must be Milwaukee. The company is famous for manufacturing good quality heavy-duty tools suitable for both commercial and residential use. Among their tools, the top hammer drill version includes Milwaukee 2607-20 Vs. 2704-20 Vs. 2804.20.
After the trials of all three options, we will review and compare the strengths, features, and technical index of three hammer drills from Milwaukee.
1. Milwaukee 2607-20 Review
In the 2607-20 model, Milwaukee offers three different drilling modes: including a hammer, driving, and drilling. That means you can use this tool on whatever surfaces, ranging from metals, hardwoods, masonry, and softwoods. The LED light under the keyless chuck helps prevent shadow and illuminate the place you are working on.
With the gear casing in Metal, Milwaukee 2607-20 is strong and durable to the point that even when you accidentally drop the machine, it will still work well.
Equipped with an ambidextrous belt clip, this Milwaukee drill harmer allows you to screw on the side. Hence, it will be convenient to store the drill on the belt and access it whenever you need it.

---
2. Milwaukee 2704-20 Review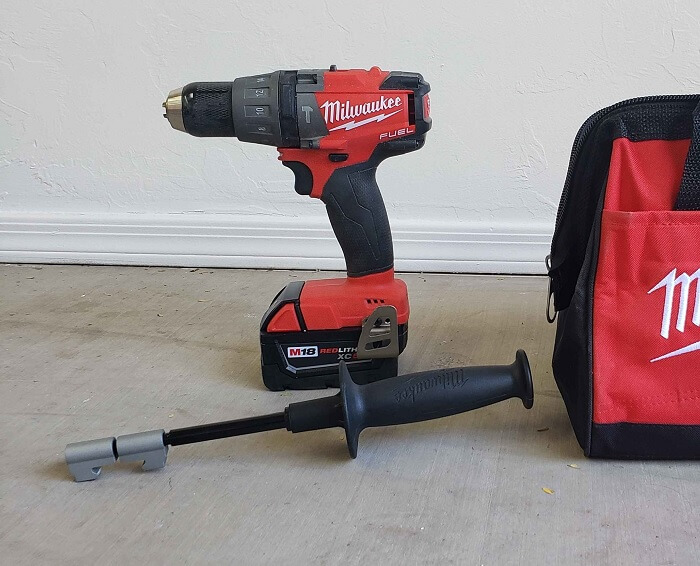 With a two-variable setting, Milwaukee 2704-20 also goes with a belt holder clip. This hammer drill is designed in a very light material with its weight of 3.5 pounds. As a result, it will not bring you any fatigue.
Powered by red lithium battery sources, 2704-20 performs a great drilling function with torque maximum being 1,200 lbs and 32,000 in BPM. Besides, you can choose the 0-2,000 or 0-550 options based on the need due to the two-speed option. On the other hand, the various clutch settings can manage the torque number for different tasks.
One of the most important features of Milwaukee 2704-20 is the intelligence of redlink+. This will prevent any damage to the Battery and machine's parts from overloading or overheating.
Sale
Milwaukee 2704-20 Hammer Drill
Power state Brushless motor: purposely built for the M18 Fuel 1/2" Drill driver to provide up to 60% more power than the competitive set
Redlink Plus Intelligence: ensures optimal performance and provides overload protection to prevent damage to the tool and battery during heavy applications while still maintaining compatibility across the entire M18 system.
Red Lithium XC5.0 battery pack: delivers more work per charge and more work over the life of the pack than competitors
Up to 60% more power: 1, 200 in-lbs of torque

---
3. Milwaukee 2804-20 Review
This drill length is 6.9″, allowing you to access any tight spaces. This compact hammer drill also has LED lights on tool pins for better illumination in dark spaces. With a great design, it is compatible with all M18 batteries & tools.
Milwaukee 2804-20 is suitable explicitly with M18 1/2″ fuel drill driver, which is the strongest drill in the industry. It delivers 60% more pressure, 1.5 times shorter, and about 2 times faster for any weighty load. Moreover, the motor with brushless Power state creates 1,200 lbs in torque, and 2,000 in RPM provides a quick drilling process in any applications.
An outstanding feature of Milwaukee 2804-20 is the powerful RedLithium XC5.0 battery. The intelligence of Redlink+ assists you in the greatest performance and keeping your tool from overload, overheating, or over-discharging.
The XC5.0 battery with red lithium helps you to work more for each charger and during the lifecycle of your tool. All metal chucks are the best within the line by enhancing their grip and resistance to corrosion.

---
Which One's Best?
If you consider the performance, 2607-20 must be the best drill within the three models. The reason is that this model offers three options of drilling modes and is suitable for almost all types of materials, including metal.
However, as both 2704-20 and 2804-20 drills have a torque of 1,200 in/lbs on maximum, they can drill fast and work quite well for household construction and repair.
Regarding the design, Milwaukee 2607-29 must be a great option with the lightest weight, at 3.4 pounds, allowing you to carry around easily. On the contrary, 2804-20 is the heaviest option at 5 pounds.
Regarding the design, Milwaukee 2607-29 must be a great option with the lightest weight, at 3.4 pounds, allowing you to carry around easily. On the contrary, 2804-20 is the heaviest option at 5 pounds.
All three hammer drills have rubberized handles and belt clips to ensure a strong grip and are convenient to store.
From the above reviews and information, you might have a clear view of which one is the best hammer drill for you among Milwaukee 2607-20 vs 2804-20 vs 2704-20, right? It also depends on the task you must complete; you should choose the hammer drill worthy of any investment. We wish you the best time ever. Cheer!