Choosing one of three different rotary hammer drills: Milwaukee 2712-20 vs 2715-20 vs 2713-20, which all come from a reputable brand, may take you a long time. We understood your issue; hence we decided to release this paper for you to read before purchasing your right one.
But if you still hesitate, we guarantee the validity of the following information. Just kick in and embrace your "soulmate."
1. Milwaukee 2712-20 Rotary Hammer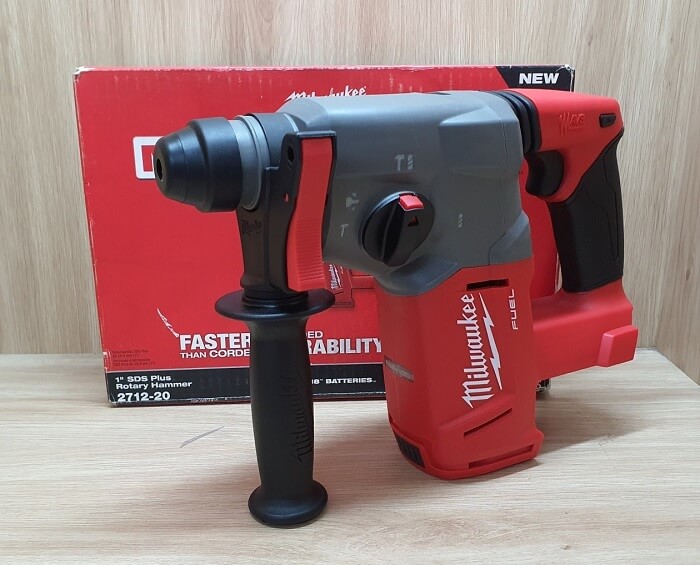 Milwaukee 2712-20 demolishes masonry, stucco, concrete, and other building materials with powerful impact energy at 1.7 feet per pound. Besides, this tool belongs to the Milwaukee M18 series, which are energy-efficient and long-running. The internal parts of Milwaukee 2712-20 endure less wear and tear thanks to its POWERSTATE brushless motor that gives extra power and durability.
Alongside the REDLINK PLUS Intelligence, REDLITHIUM battery technology provides a higher class in runtime and performance of Milwaukee 2712-20.
These integrated technologies enable the hammer drill to operate at maximum levels of power while inhibiting overloads. To transfer power directly to the bit so that the drill can operate more effectively, Milwaukee manufacturer designed a Chuck Type SDS Plus.
And lastly, with its versatility, Milwaukee 2712-20 also works very well for driving bolts or drilling screws and holes into wood, concrete, metal, and more.
Milwaukee 2712-20 Rotary Hammer
Power Tools and Accessories
Country of manufacture: China
Delivers faster than corded speed; corded durability, and all day work on one charge
Integrates full-circle communication between tool, battery and charger to protect from overloading, overheating, and over-discharging
---
2. Milwaukee 2715-20 Rotary Hammer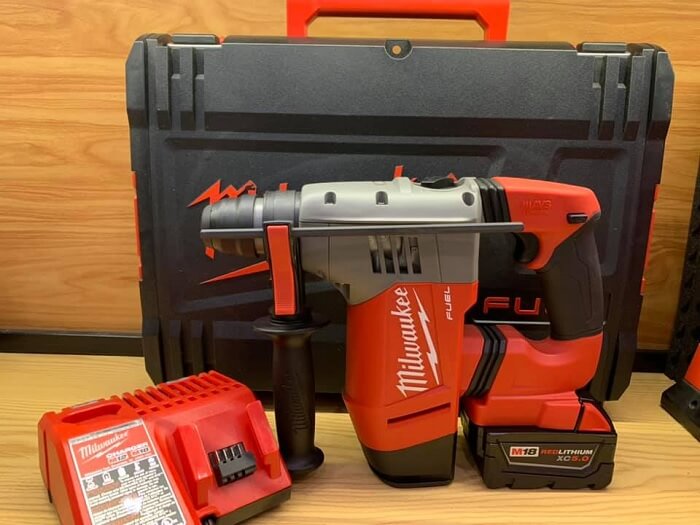 Milwaukee 2715-20 hammer's fuel technology's trademark helps the unit work better and faster than the corded drills. Furthermore, with just one charging from trademark REDLITHIUM XC4.0 battery packs, the tool can work through the day.
This new technology also releases more power output by 20% and two times recharges than the regular li-on batteries. But it is crucial to note that there is no battery included.
Via the POWERSTATE brushless motor, Milwaukee 2715-20 can give 0 to 4,900 blows per minute, 0 to 1,400 no-load rotation per minute, and 3.3 feet per pound of impact energy.
Last but not least, the REDLINK Plus Intelligence unites 360-degree linkage among the battery, charger, and the whole unit to preclude overloading, overheating, and over-discharging.
Sale
Milwaukee 2715-20 Rotary Hammer
M18 Fuel 1-1/8" Sds Plus Rotary Hammer
The product is easy to use and easy to handle
The product is highly durable
Voltage: 18.0
---
3. Milwaukee 2713-20 Rotary Hammer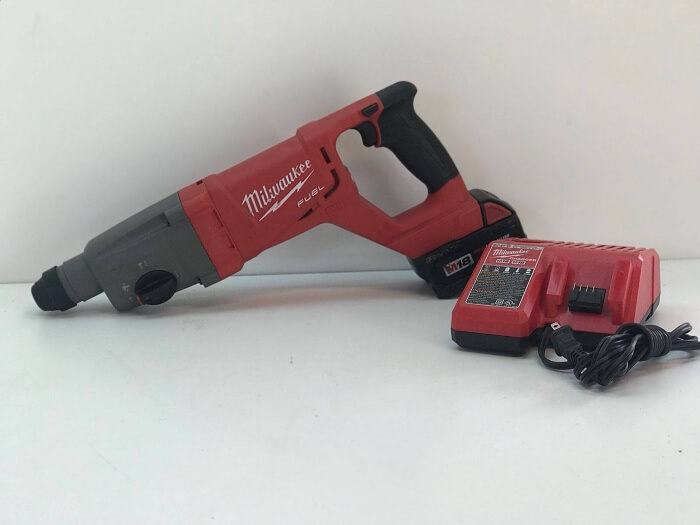 Like the two Milwaukee models mentioned previously, this Milwaukee 2713-20 gets powered through the Fuel technology, which helps create a faster performance. The POWERSTATE brushless motor also produces 0 to 4,400 blows per minute and 2.1 feet per pound of impact energy, and 0 to 1,500 rotation per minute.
Moreover, the Red Lithium XC 5.0 battery packs of Milwaukee 2713-20 give two times recharges and extra output of power at 20% efficiency compared to the standard li-ion batteries.
Besides, the REDLINK Plus Intelligence functions as a protector of the battery, charger, and the whole unit from the potential situations of overloading, overheating and overcharging.
Lastly, the LED light from Milwaukee 2713-20 helps illuminate dark areas for getting tasks done much better.
Sale
Milwaukee 2713-20 Rotary Hammer
This refurbished product is tested and certified to look and work like new. The refurbishing process includes functionality testing, basic cleaning, inspection, and repackaging. The product ships with all relevant accessories, and may arrive in a generic box
---
Milwaukee 2712-20, 2715-20, and 2713-20: Which One's Best?
When it comes to Milwaukee 2715-20 and 2712-20 and 2713-20 rotary hammer drills, there is not much difference among them. The 2715-20 model is ideal for light to the medium heaviness of tasks. Meanwhile, the 2713-20 model is entirely suitable for highly demanding projects. And, 2712-20 is good enough for lighter tasks.
So it is pretty hard to honor one of the top three Milwaukee rotary hammer drills with a glorious crown. In other words, one model being a winner depends on the different demands of different users for their various projects.
Below is a summary of the specifications
Image
Image
Image
Image