Further down the page, you'll find some explanations regarding the key similarities and differences between the NordicTrack Commercial X22i and the NordicTrack Commercial X32i.
Specs Comparison
Firstly, let's discuss the price of each product. We believe that this is the most concerning problem for everyone, right?
Well, in terms of pricing, the X32i is much more expensive than X22i. Both products take more than $2000 to buy, but the X22i wins this "battle" for its lower cost.
Given that fact, you may wonder whether the X32i is harder to move with a heavier weight than X22i? Compared to the manufacturer's manual, both trainers have the same maximum weight of 300 pounds.
Another important feature to think about is built-in workouts. The NordicTrack Commercial X22i provides 44 exercises, while the NordicTrack Commercial X32i offers more – 50 workouts.
The X22i is a bit weaker than X32i since it only has the 4.0 HP motor, while the later version gives you a 4.25HP motor regarding the power. So the x32i trainers can handle the heavyweight better.
One of the Nordictrack treadmill's strengths is its incline workouts. Specifically, X22i and X32i remain in the signature range: -6% live decline, 40% live incline.
Similarly, the same maximum speed available is 12 MPH for both versions.
They are also equipped with cooling fans, which inherit the copyrighted Dual AutoBreeze technique of Nordictrack.
One of the rare features that X22i has overshadowed its competitor is its heart monitoring system.
In the X22i version, there are EKG handlebar grips and a chest strap. In contrast, the X32i only has a chest strap to monitor heart rate.
The Nordictrack X22i's dimension is 70″ long x 39″ wide x 72.5″ high, while the X32i takes up a space up to 76″ long x 40″ wide x 73″ high. Hence, the X32i is bigger and bulkier than its predecessor.
About the two products' weight, the X32i (462 pounds) is also much heavier than the X22i of 417 pounds.
Given these facts, there is a question popping up in my mind "Is there a wheel system to move the machine?" Well, yes. The 2.5 inches wheel system under these two is similarly quite thin and weak.
What about the treadmill's belt size? Well, the X22i, again, loses over its "junior" X32i. While the X32i is equipped with a 65 inches belt, the X22i only has a 60 inches one.
The two trainers have the same features of speed changing, incline, decline range, and the quiet "drive incline and decline technique" button.
You may also wonder if it is possible to fold these machines into smaller sizes for easier portability. Unfortunately, they cannot be folded or disassembled.
Features Comparison
The most distinguished point between X22i and X32i is the console size. The X22i is equipped with a 22 inches screen, while the X32i has a 32 inches one.
Hence, it's clear that the NordicTrack Commercial X32i provides a wider interaction space.
Besides, both trainers contain two 3-inches digital amplified speakers, providing users the best training experience.
Users can also connect to the Internet by using the dual 2.4 GHz and 5 GHz Wi-fi connectivity features in both machines.
There is no information available about USB connectivity. However, the manufacturer confirms that Nordictrack X22i and X32i can connect to other devices via Bluetooth features.
Despite having different sizes, both consoles still offer the same services: tilt up and back available, auxiliary music ports with speakers, a one-touch reactive system with built-in cooling fans.
If you are searching for the applications applicable to these treadmills, we advise you to download iFit. Right after you buy the Nordictrack trainer, you will obtain a premium iFit account.
Another similar feature is that they are compatible with Android 9 OS phones. Therefore, users must check whether these trainers can connect with their devices or not before purchasing them.
Both machines are also equipped with water bottle cubbies, allowing users to place their bottles there for more convenience.
Nordictrack X22i allows its users to get back their money if the product has post-production errors within 30 days after purchase.
Meanwhile, the X32i only offers a 30-day return policy if the product cannot work because of post-production errors.
Quick Rundown Of NordicTrack Commercial X22i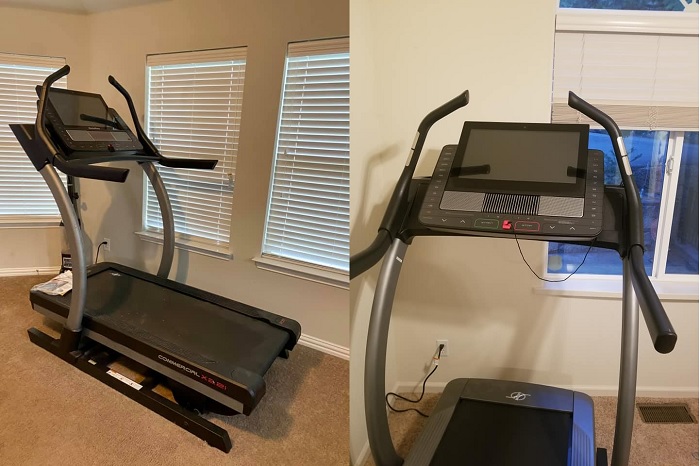 [i2pc show_title="false" title="Pros & Cons" show_button="false" pros_title="Pros" cons_title="Cons" ][i2pros]Wide incline and decline range
Big belt
Powerful motor
Affordable than the X32i
High weight capacity
Better heart monitor system than X32i[/i2pros][i2cons]Smaller screen compared to the Nordictrack X32i[/i2cons][/i2pc]

---
Quick Rundown Of NordicTrack Commercial X32i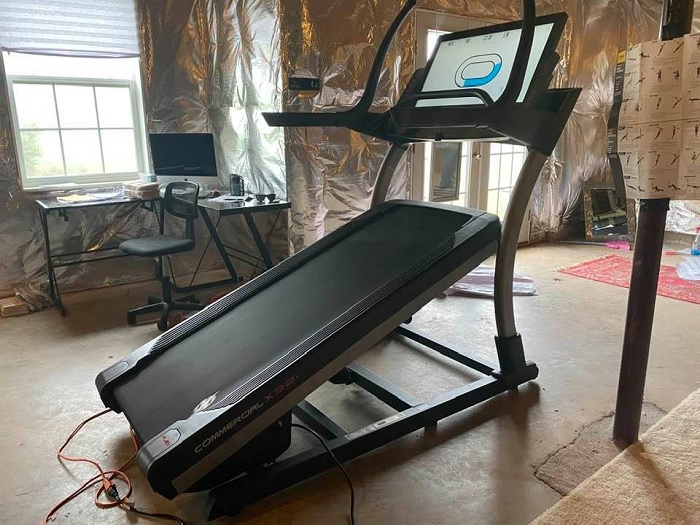 [i2pc show_title="false" title="Pros & Cons" show_button="false" pros_title="Pros" cons_title="Cons" ][i2pros]Bigger screen
More powerful engine
Wide incline and decline range
High weight capacity
Wide belt
[/i2pros][i2cons]More pricey than X22i
It cannot be folded[/i2cons][/i2pc]

---
Product Videos
---
Conclusion
Through this article, we have compared the Nordictrack X22i vs X32i. Based on our viewpoint, the Nordictrack X32i overshadows its competitor in many features, especially power and efficiency. However, we consider that both machines are all worth your money due to their smart and convenient features.
---