Buying a power tool has never been easy, especially when you are wavering between some choices in the same category. And now you have to pick a better planer between Ridgid R4330 vs R4331.
If you lack some useful information about their stunning features, let's consider our today's review as a reference. We have summarized the differences and pros and cons for you to make a wise buying decision. Let's dive right in!
Differences between Ridgid R4330 and R4331
Coming from the Ridgid brand, do Ridgid R4330 and Ridgid R4331 have any differences? To clarify this matter, we will take a deeper dive into the price, size, weight, and utilities.
Image
The Winner (#1)
The Runner-up (#2)
The Winner (#1)
Image
The Runner-up (#2)
Image
Size And Weight
When it comes to a compact and lightweight planer, Ridgid R4330 is definitely the winner. Its weight is only 73.9 pounds, much lighter than several planers in the same class, and its dimensions are 25.19 x 15.75 x 20.5 inches. Thus, moving this item around is not a big deal at all.
On the contrary, the R4331 unit weighs 114.8 pounds and has the 26 x 16 x 20 inches of dimensions. However, it still looks firm and sturdy indeed.
Utilities
Actually, both Ridgid R4330 vs R4331 share a common purpose of delivering excellent cutting performance. That's why they feature lots of stunning specs, including a dual-edge, quick-change blade; a three-knife cutter head; a robust motor, and so on.
All these things have contributed significantly to the clean, sharp, accurate, and smooth cuts in the end. Most notably, they are possible to utilize for both personal and professional use. It is not an exaggeration to say that these two products are of good value for money to everyone no matter how skillful they are.
When it comes to the specific motor, R4330 and R4331 planers show a few dissimilarities. Ridgid R4330 is equipped with a 120V and 15 Amp engine with a maximum power of overload protection for continuous operation, along with 10.000 RPM as well as 30.000 CPM.
Yet with the R4331, it delivers a maximum speed of 9.000 RPM and 27.000 CPM. As a result, we can conclude that the R4330 model will never let you down with its robust motor and fast pace.
However, it does not mean that the Ridgid R4331 does not work well as the improved version of R4330. This unit also has a sure-cut carriage lock that helps you to reduce snipe when finishing your workpiece thanks to the locked cutter head.
Quick Rundown Of Ridgid R4330
Ridgid R4330 Planer
Three-Blade Cutterhead – leaves a smooth, blemish free surface to make final finishing easier
Dual-Edge, Quick Change Blades – self-indexing blades are self-aligning and reversible for extended life
Precision Lead-Screw System – eliminates the need for a cutterhead locking system and provides consistent cut thickness across the full width of the workpiece
Large Infeed/Outfeed Table Extensions – provides extra workpiece support to help eliminate snipe
On-Board Blade/Tool Storage – keeps blades and blade changing tools conveniently stored for quick and easy access
Pros:
Powerful and fast engine
Exceptionally portable thanks to its lightweight design
Affordable price
Easy to use
Extended life blade
Cons:
Causes depression at the end of the workpiece

Quick Rundown Of Ridgid R4331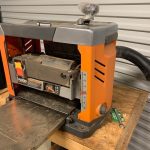 Ridgid R4331 Planer
This item is PLANER, R4331 13" 3 BLADE 27263
This product is used for woodworking-project-kits
This product manufacture by China
Pros:
Firm and sturdy build
Robust engine at a fast pace
Comes with a sure-cut carriage lock
Long-lasting blade
Manageable
Cons:
Quite heavier to transport around
Quite expensive

Conclusion
It is not an exaggeration to say that these feature-rich Ridgid R4330 vs R4331 planers will never disappoint you. We do expect that you can make up your mind to buy a suitable product for your demand through our comprehensive review. It's time to opt for your dream planner!
Popular Alternatives Worth Considering: