It can be difficult to decide what oscillating tool you should purchase among hundreds of options on the market. If you are interested in Ryobi tools, especially Ryobi P340 and P570, then this is the article for you.
Stay tuned to find out our selection between Ryobi P340 vs P570.
1. Ryobi P340 One+ 18V Lithium-Ion JobPlus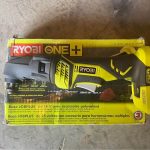 Ryobi P340 is a powerful tool that can process most of the typical household repair/improvement applications by having 12 compartments in one tool total, including sanding, sawing, woodcutting. Whatever repair you are about to do, this tool can pull everything off.
Its power and efficiency in cutting achieve up to 20,000 RPM no-load speed, which makes handling things easier and faster compared to using different power tools, especially for DIY or home projects. Cutting through woods, metals, sheetrocks can feel like butter!
Another great thing about Ryobi P340 is that it is compatible with wide ranges of batteries: P100, P108, P107, P105, P104, P103, P102. Purchasing Ryobi P340 means that you won't have to worry much about the battery and charger that you have already had.
Ryobi also offers compatibility with different brand's chargers and heads, which is why it is entirely up to you to choose the components that suit your needs. Compared to Ryobi P570, P340 provides a greater span of universal fit.
Without paying attention to the price, Ryobi P340 is an all-around made machine that accompanies an ergonomic structure. It is compatible with a variety of batteries and connectors, so it won't be a difficult task to connect the tool to others.
This power tool is robust enough to cut through rough materials and especially last for a long time. You will have no problem using this tool even if you have it left in the store for months.
Sale
Ryobi P340 One+ 18V...
3 INCLUDED ATTACHMENTS: 1 x Sanding Accessory, 1 x Crescent Saw Attachment, 1 x Straight Woodcutting Saw Attachment
ALL IN ONE: The P340 consists of two parts with separate model numbers. The power base goes by the model number P246, while the accessory attachment is the P570
CROSS COMPATIBLE: The base of this tool is compatible with attachments from other companies, like the Ridgid JobMax line. Now you have the freedom to pick the tool most tailored to your job, so you can get it done right
HEX RUBBER MOLDING: Keep an easy grip, even in slippery conditions. With the special overgrip designed to maximize contact points with your hand, giving you improved control when you're digging around in hard-to-reach places
ONE+ COMPATIBLE: Use Ryobi 18 Volt lithium ion batteries with this system. If you have batteries from the Ryobi One+ family, you'll be able to get to work as soon as you take this out of the box. Compatible with P100, P101, P102, P103, P104, P105, P107, and P108 (batteries not included)
Pros:
A multi-function device for sanding, woodcutting, and sawing
Compatible with attachments from different companies
Work efficiently
Cons:
Unexpected shutdown detected

2. Ryobi P570 JobPLUS ONE+ 18V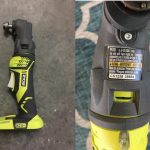 The Ryobi P570 is a perfect oscillating multi-task tool. It is a simple yet effective solution for anybody who is in search of a DIY oscillating tool.
Being a shortsighted and lightweight oscillating tool, Ryobi P570 includes a pair of 1.5-degree oscillating wheels (per side) along with the cutting efficiency reaching up to 20000 RPM at no speed.
These two characteristics make the tool decent enough to suffer from harsh sanding and cutting. The amount of power compared to Ryobi P340 is equivalent, it is less versatile than P340.
As for the kind of batteries that can be used for this tool, including from P101 to P108 (except P106), and P100. There is a certain limitation on what batteries and chargers can be used with this tool, so compared to Ryobi P340, this tool doesn't provide a universal fit.
Though there are limitations in the batteries that can be used, this tool provides efficient power and decent measure for work to be done, such as scratching, or cutting, or sanding. Ryobi P570 is an extraordinary multi-apparatus. If you are doing light tile work or redecorating, grab this apparatus, and the expense of section is sufficiently low to spill you the edge.
No products found.
Pros:
Part of the Ryobi 18-Volt ONE+ system
Multiple-position tool head
LED light included
Ergonomic GripZone over mold for maximum comfort
Cons:

Which one is the better one?
Despite the fact that these two cordless oscillating tools both perform magnificently in every job, we must say that Ryobi P340 is the better power tool compared to P570 for these reasons:
It includes three attachments in one cordless tool: a sanding accessory, a crescent saw attachment and a woodcutting attachment. In contrast, the P570 only includes a head accessory attachment for a cordless oscillating tool.
The P340 can include the P570 as an accessory attachment, which makes purchasing P570 alone can be odd.
The base of this Ryobi P340 is a universal fit for other companies' tools. All you have to do is pick the tool that suits you most, and we sure every job can get done right with the help of P340. P570, on the other hand, is not entirely compatible with every component it is attached to.
Ryobi P340 is compatible with more batteries and chargers compared to P570.
If you like to renovate and improve things around the house, the chances are that you've already considered the acquisition of a multi-tool. Such a machine will save you from having to purchase multiple individual items.
The good news is that a multi-tool can be affordable and functional at the same time, and Ryobi Multi-Tool P340 is an example of such an appliance. As for that, we can say that Ryobi P340 clearly has more advantages compared to its component, Ryobi P570.
Other than a few design shortcomings, Ryobi P340 does what the manufacturer promises it would by being compatible, easy-to-work-with, and lightweight. Of the two candidates in the battle today, these are reasons why Ryobi P340 has a larger number of devoted fans, making it the winner between the two tools.
Image
The Winner (#1)
The Winner (#1)
Image
Conclusion
We have revealed the winner of the fight between Ryobi P340 vs P570. It is the Ryobi P340 that has an overall better performance and we believe that it will not let you down.
We hope that you can make the best decision on purchasing a cordless oscillating tool from Ryobi. Have fun with your tool, and we will see you again!