The Bosch PS41-2A VS Bosch PS42-02 is what you are considering? You have no idea what makes these two drivers different from each other. We will solve your problem in this post.
Image
The Winner (#1)
The Runner-up (#2)
The Winner (#1)
Image
The Runner-up (#2)
Image
Power Comparison
The Bosch PS42 driver can provide a maximum torque of 975 inches. It is a great assistant for repeatedly driving tasks. Meanwhile, the Bosch PS41-2A driver's maximum torque is 930 inches.
You could see that the PS42 model has a longer torque than the PS41-2A's ones. This feature could help you finish your task quicker. However, the driving speed of the two models is very similar.
The Bosch PS42 driver can produce fast-driving no-load RPM ratings and includes an optimized impact system with no-load impacts per minute.
The PS41-2A's maximum driving speed is very alike. It compacts with a no-load BPM of 0-3,100 and a maximum RPM of 2,600. It is your ideal driver for tight corners and small working spaces.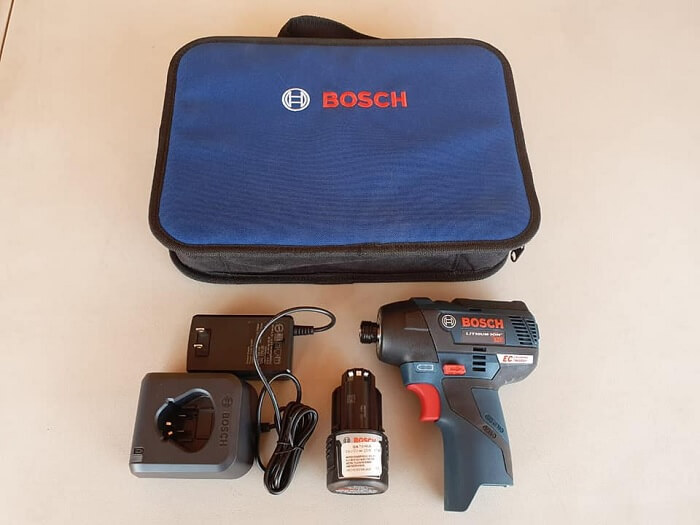 Portability Comparison
The Bosch PS41-2A driver is a lightweight driver with a weight of 2.13 pounds. It helps reduce your fatigue for longer periods and during overhead work. Bosch equips the PS41-2A driver a 5.4" head length. You will find it perfect for tight applications, for example, cabinet installation.
If you look for a super lightweight driver, you should consider the Bosch PS42 driver. It has a head length of 5.5 inches and a weight of 1.6 pounds.
So, in terms of design, it's clear that the Bosch PS41 driver takes the lead over its competitor in this battle.
Features Comparison
The PS41-2A is equipped with three LED lights, but the PS41 design has no light on it. You should find great support from the LED light while driving in a dark workspace.
However, a belt clip in the PS42 set is essential when you are too handful. It is a very light and strong belt clip, so you can keep your driver by your side comfortably.
The two model sets are slightly different in their design and accessories. We could say that the two models' power and design features make them suitable for many purposes. You should consider the pros and cons of the two drivers as follows.
Quick Rundown Of Bosch PS42-02
Bosch PS42-02 impact Driver Kit
Compact: The PS42-02 Features an Ultra-Compact Head Length of 5.5 Inches and Weighs Only 1.6 Lbs.. the Driver Is Lightweight and Ideal for All-Day Use.
TORQUE: The Bosch PS42-02 12 Volt Driver provides 975 inches --pounds of max torque, making it ideal for repeat driving tasks and about 85 percent of fastening tasks.
SPEED: The driver offers fast driving no-load RPM ratings of 0-1,200 and 0-2,600 and an optimized impact system with no-load impact per minute ratings of 0-2,700 and 0-3,100.
EFFICIENT: With a 12V EC Brushless motor, the PS42-02 provides unmatched efficiency with greater runtime and a longer tool life.
CONVENIENT: The PS42-02 driver comes complete with three LED lights for improved illumination in dark work spaces and a belt clip for quick and easy storage.
---
Quick Rundown Of Bosch PS41-2A
Sale
Bosch PS41-2A Impact Driver Kit
COMPACT: The Bosch PS41-2A 12V impact driver offers the shortest head-length of its class at 5.4 in, making it the ideal driver for tight corners and small working spaces
LIGHTWEIGHT: At only 2.1 lbs the PS41-2A reduces user fatigue for longer periods of time and during overhead work
POWER: Despite its small size, the PS41-2A driver delivers 930 in.-lbs. of max torque. The tool can also produce a no-load BPM of 0-3,100 and a max 2,600 RPM
LONGEVITY: With a built-in fuel gauge the Bosch PS41-2A allows for easier battery management for continued work and longer use
CONVENIENT: The Bosch PS41-2A hex impact driver kit comes complete with 2 lithium-ion batteries, a BC330 charger, 2 screwdriver bits, and a carrying bag. It also has an LED light ring to help illuminate dark working areas
---
Product Videos
---
Conclusion
We show you the similarity and the difference between Bosch PS41 Vs PS41-2a. These two drivers are not completely distinguished; thus, you should consider your demand and their characteristics.