In the battle among California Air Tools 10020C vs 10020 vs 10020CAD, which one is the most worthy of your money? Quickly dive into our post to find out!
1. California Air Tools 10020C Air Compressor Review.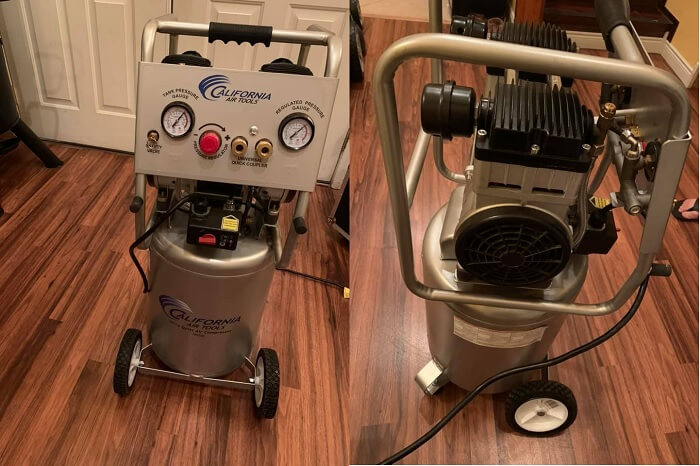 The California Air Tools 10020C is one of the most competent air tools that are available today. With the maneuverable and compact design, this tool is a must-have for the shop, garage workers, whose major tasks have to do with portability.
With regard to the mechanic operation, this unit is packed with a powerful 2.0 HP motor and a low-amp draw of 7.0A. For those who don't know, the low-amp draw can be connected with smaller cords and wirings for stronger power sources in the motor.
That, together with its well-designed oil-free dual-piston pump, will provide users with continuous run times and enhanced life cycle.
As opposed to the fairly skeptical longevity of other comparable air compressors (500 hours or less), the 10020C provides a life cycle before wear of 3000 plus hours.
Additionally, this oil-free pump will allow you to activate the tool at ease even in the coldest, frostiest weather, and uneven terrains. You can eventually leave all the annoyances and inconveniences of cold starts and oil-less pumps behind.
However, the built-in connectors of the unit can be unscrewed and broken off easily, so it would be best if you prepared to replace fittings in advance and tried not to overwork it.
Sale
California Air Tools 10020C Air Compressor Review
Ultra Quiet, only 70 Decibels
Oil-Free Pump for Less Maintenance & Costs
Powerful 2.0 Hp with Low amp draw - 7.0 Amps
6.40 CFM at 40 PSI & 5.30 CFM at 90 PSI. Dedicated 15 amp outlet -14 gauge 25ft cord - Min. 5500 Watt Generator. Maximum continuous running 30-60 min. (Depending PSI & CFM)
10 Gallon Air Tank with Wheels.125 PSI maximum pressure
Pros:
Fast recovery time
Two pressure control gauges
Easy to use
Overheating protection
Cons:

2. California Air Tools CAT-10020 Air Compressor Review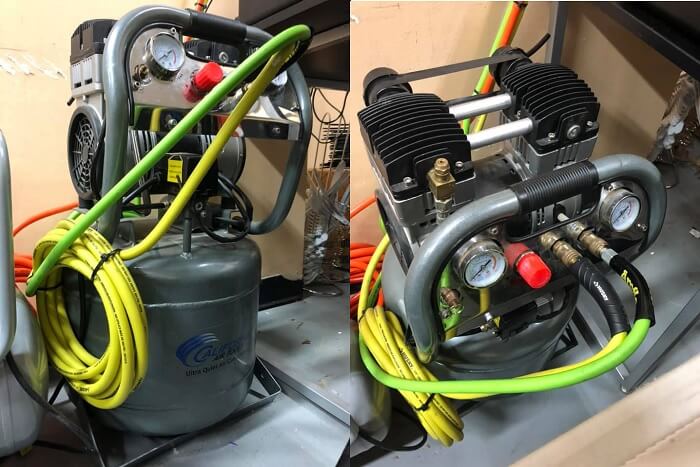 The CAT-10020 is another highly sought-after compressor coming from the brand California Air Tools. Designed specifically for industrial purposes, this device is such a workhorse when dealing with heavy-duty and long-shifted works.
Operation wise, this product bears a lot of resemblances to the 10020C in terms of motor power, volumetric flow, and gauge pressure. Specifically, they are both operated on a 2.0HP-7.0A engine, have a tank capacity of 10 gallons, and 70 decibels of motor sound.
Nevertheless, the CAT-10020 still has some distinctive properties to its name that the 10020C doesn't possess.
The most distinguishing feature of this product is the power source. Unlike the corded-powered motor of the 10020C, it is an electric cordless device.
Allow us to go into more detail. In comparison to corded compressors, the cordless ones provide users with more simplicity and fewer equipment requirements. Therefore, it is an ideal option for novice users who don't have lots of mechanical experiences.
The only drawback of the CAT-10020 is related to its weight. It is about 10 pounds heavier than the 10020C, which might cause some inconveniences when it comes to transporting and moving the unit around.
No products found.
Pros:
High-quality steel material
Ultra-quiet
Low amp draw
Beginner-friendly
Cons:

3. California Air Tools 10020CAD Air Compressor Review
The last air compressor that is well-deserved to be mentioned on our list is the California Air Tools 10020CAD. With its top-notch performance and durability, it comes as no surprise that this buddy has been favored by even the most fastidious purchasers.
Judging at first glance, the 10020CAD has a remarkably similar appearance compared to the 10020C. They are identical in size, weight, overall construction, and exterior coating. Also, their motor power, sound levels, and tank capacities have no noticeable differences.
However, the 10020CAD still has its own unique feature to set it apart from the two previous air compressors.
Particularly, it is designed with an auto drain valve to remove accumulated water in the receiver tank after long uses. An auto drain system can automatically empty out every sprinkler line without your intervention to prevent future oxidation and rust.
On the downside, due to the small amperage capacity, the overall performance of the 10020CAD can not be as competent and time-saving as the 10020C. You should consider purchasing it at your own discretion.
Pros:
Quite an engine
Long-running time
Oil-free pump
Easy start-up in cold weather
Cons:

Which One Is The Best?
In terms of utility, operation, and price range, each of the three products deserves appreciation and trust from users. However, if we must choose only one out of the three, then we must go with the California Air Tools 10020C.
To explain further, the 10020C is fully packed with everything you ask for in a versatile industrial air compressor. It provides you with maximum performance and a surprisingly long running time.
Apart from that, with such high maintenance and premium design at a fairly reasonable price, this air compressor is a perfect choice for any budget-focused purchaser out there.
Image
Rank #1
Rank #3
Model
California Air Tools 10020C
California Air Tools 10020CAD
Rank #1
Image
Model
California Air Tools 10020C
Rank #3
Image
Model
California Air Tools 10020CAD
Final Words
We hope that with this insightful comparison among the California Air Tools 10020C vs 10020 vs 10020CAD, we have provided you with a clearer picture of all the essential factors to look into before purchasing an air compressor.
After all, which one is your final option? If you have any questions related to this topic, feel free to drop a comment down below and we will answer them as soon as possible!