All considered decent air compressors on the market, Senco PC1010, PC1010N, and Makita AC001 share the one-gallon oil-less tank in common. Nevertheless, not all are suitable for your needs. So, which should you choose? Senco PC1010 vs PC1010N vs Makita AC001?
Keep reading our article to find out!
Image
Rank #1
Rank #2
Rank #3
Rank #1
Image
Rank #2
Image
Rank #3
Image
Which Tool Is The Most Convenient?
When it comes to weight and size, Senco PC1010, PC1010N, and Makita AC001 show a little inconsiderable difference.
Specifically, PC1010 from Senco weighs about 20 pounds and has the dimensions of 14 x 13 x 10 inches, making it the lightest air compressors on the current market. Meanwhile, another unit from this brand called PC1010N is 21 pounds in weight and 11 x 14 x 12 inches in total measurements.
Compared to these two opponents above, the Makita AC001 is considered somewhat heavier. The whole machine is around 14 x 15 x 15 inches and weighs 23.1 pounds.
As a result, if you expect a lightweight, portable air compressor to work with, Senco PC1010 surely win your heart. You will find it effortless to transport anywhere around your house to get the job done.
Engine Power
Regarding engine power, the Senco PC1010 boasts 1 horsepower when on-peak and 1/2 horsepower while running. Besides, this machine produces up to 120 PSI, which is the lowest motor on the list. But do not worry as this machine is still of great assistance to use a variety of pneumatic tools.
On the other hand, "its relative" truly shines in its power. The PC1010N is powered by a similar engine as the previous model. However, it has the maximum PSI of 135 that perfectly tackles the finishing and trimming works.
The Makita AC001 air compressor is another powerful machine with 1/6 horsepower output motor. Its engine is capable of providing up to 125 PSI in terms of compressed air that is still acceptable to run many kinds of power tools.
As a result, we can confidently conclude that Senco PC1010N is the most robust beast in this field.
Stunning Features And Attached Items
The Senco PC1010 air compressor is highly praised for its compact design. You can move it around to handle different job sites with ease. Primarily, its reasonable price tag is a massive plus for you to consider.
What makes Senco PC1010N stand out more than other opponents is its robust engine and low noise level. You can get plenty of power to deal with many small-to-medium size jobs. Moreover, the 68dB of operational noise makes this tool ideal for indoor uses where silence is preferred.
The notable feature of the Makita AC001 must be its durability owing to the cast iron pump along with the Big Bore cylinder and the piston. Besides, the roll cage construction is engineered to keep both the motor and the pump under protection.
How about Senco PC1010N? Within its robust engine, quietest operation, and portability, the Senco PC1010N is no doubt at the very top of the three products' list. It has successfully showcased its superior performance of undertaking small jobs and hobbies.
Quick Rundown Of Senco PC1010
What are the pros and cons of the Senco PC1010 air compressor? Scroll down to find more.
Sale
Senco PC1010 Air Compressor
Lightweight and portable--easy to carry from site to site as you work
One horsepower peak ,1/2 horsepower runningand one-gallon capacity
Ideal for a range of renovation and home improvement jobs, as well as for hobbies and crafts
Delivers 20 to 44 drives per minute
Backed by a one-year warranty
Pros:
The lightest and most compact air compressor for home use
Oil-free tank
Affordable price
Cons:
Only has the one-gallon tank to serve limited works
Does not operate quietly at all

Quick Rundown Of Senco PC1010N
Although Senco PC1010N is the most brilliant candidate today with several stunning features, it does have a downside. Take a quick look at this product now.
Sale
Senco PC1010N Air Compressor
1-GALLON TANK & MAX PRESSURE OF 135 PSI - less than 2 minutes to pump up and less than 30 seconds of recovery. Perfect for finish & trim work on the job and hobbies & crafts at home
OIL-FREE - requires virtually no maintenance and lets you work in a cleaner air environment compared to legacy cast iron, belt driven, oil lubricated compressors
QUIET MOTOR - provides all the power you need for finish jobs, with significantly less noise than traditional gas compressors
COMPACT DESIGN - 14"x13"x10" makes it easy to hand carry and load onto a truckbed or back seat for any number of finish jobs
Pros:
Delivers tranquil operation
Robust machine to tackle many small-to-medium-size projects
Easy to move around
Cons:

Quick Rundown Of Makita AC001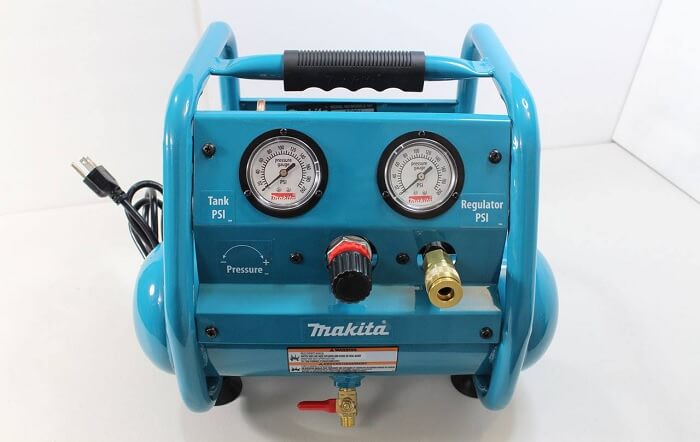 Lastly, let's find out whether Makita AC001 has any advantages and disadvantages below.
Makita AC001 Air Compressor
Powerful 1/6 maximum horsepower induction motor provides up to 125 PSI
Lightweight design (23.1 lbs.) for increased job site portability
Low noise for operator comfort; ideal for indoor use
Low AMP draw reduces incidents of tripped breakers at start-up. Lever-handle ball valve tank drain improves easier maintenance and air tank release
Roll cage construction for extra protection of pump and motor assembly
Pros:
Sturdy, durable construction
Built with a roll cage instruction to protect the machine
Transportable without any difficulty
Cons:
A little pricier than other previous models
Produces louder level of noise
Limited air capacity

In Conclusion
Senco PC1010 vs PC1010N vs Makita AC001 all gain their recognition as the impressive small air compressors in the market with many superior features. Each model will be a perfect fit for each user depending on their requirement.
Hopefully, you can make an informed decision on the right tool to satisfy your demanding work. If there is any confusing problem, leave in the comment section below to let us know.