In the recent market, DeWALT D55146, MAKITA MAC2400, and MAKITA MAC5200 are three popular models because of their outstanding features.
However, there are some differences among them which help us to compare and figure out which one is more proper for your tasks. By this post, let's find out which is the best option.
DeWALT D55146 vs MAKITA MAC2400 vs MAKITA MAC5200
Image
Rank #1
Rank #2
Rank #3
Rank #1
Image
Rank #2
Image
Rank #3
Image
Portability
In terms of sizing, the MAKITA MAC5200 is a heavy and bulky machine whose dimension ranges are 29.00 x 19.50 x 19.00 inches and 75 pounds in weight.
The MAKITA MAC2400's dimension is 20 x 18 x 18.75 inches and 80.8 pounds.
Meanwhile, the DeWALT D55146's dimension ranges 33.5 x 23 x 15 inches and weighs only 80 pounds.
In brief, it's obvious that the smallest item is the MAKITA MAC2400 while the lightest model belongs to MAKITA MAC5200. However, if we need to choose the most comfortable model to carry around, the winner will be the MAKITA MAC2400 because the weight distance between it and the lightest MAC5200 version isn't significant.
Power engine
MAKITA MAC5200 is equipped with a powerful 3.0HP motor which can compress air up to 140 PSI. For amateur users or beginners, this item is a great product that can support them in compressing air for their tools efficiently.
Besides, the MAKITA MAC2400, whose motor runs at 2.5HP, can constrain air at maximum 130 PSI, which is considered quite high in the portable air compressor spectrum.
On the other hand, the DeWALT D55146 is designed with a 4.5 gallons tank and 1.6HP motor. With that being said, the D55146 can pressurize air at maximum 225 PSI which overly reaches the requirement for casual-standard usage.
Generally, we can see that the DeWALT D55146 can create the highest air pressure among three which leads to the conclusion that the DeWALT D55146 model has the most powerful motor among these items.
Significant features
The MAKITA MAC5200 has gained many positive feedbacks from customers because of its significant big bore cylinder and iron cast. Both features guarantee that the compressor is able to endure heavy usage for a good long time.
Besides, this model has been equipped with an oil-lubricated heat sinking system to avoid overheating, which will contribute to the long-lasting feature. With a folding handle, the user can also easily lift it up and move the machine around.
Then, what is the distinctive point of MAKITA MAC2400? This compact device is equipped with a super convenient water drain mechanism. With that built-in feature, the machine can drain out the dirt at ease.
Moreover, the MAC2400 can run quietly at only 79 decibels which is convenient for users living in a packed neighborhood and worry about annoying others. Similar to the MAKITA product above, this MAC2400 is also oil-lubricated to avoid overheating.
In contrast, the DeWALT D55146, which has been called as the best choice for non-professional DIYers, doesn't have the water drain system. So, it's quite irritating to use the D55146 in water-related environments. The DeWALT model vibrates lightly and makes a 78 decibels noise which is a plus point when using in a crowded neighborhood. However, the D55146 is oil-free and powered by air, so it is more environmentally-friendly.
To be brief, it's subjective to point out the best product in terms of special features. According to your needs and requirements, the choice is up to you. The oil-lubricated air compressor as MAKITA MAC2400 and MAC5200 can handle heavy tools, meanwhile, the DeWALT D55146 is more suitable for lighter tools.
Quick Rundown Of DeWALT D55146
DeWALT D55146 Air Compressor
225 PSI max tank storage pressure provides a user with 80% more usable air than the industry leader;...
5.0 SCFM at 90 PSI allows the compressor to recover quickly after its initial tank charge is...
vertical stand feature and collapsible handle allows a user to save space by transporting or storing...
78 dBA operational noise level for a quieter work environment
HORSEPOWER: 1.6 HP
Pros:
Durable
The most powerful engine among these three
Quiet operation
The oil-free mechanism, which is environmental-friendly
Cons:
Cannot work well in water
Quite big, so it's hard to carry around

Quick Rundown Of MAKITA MAC2400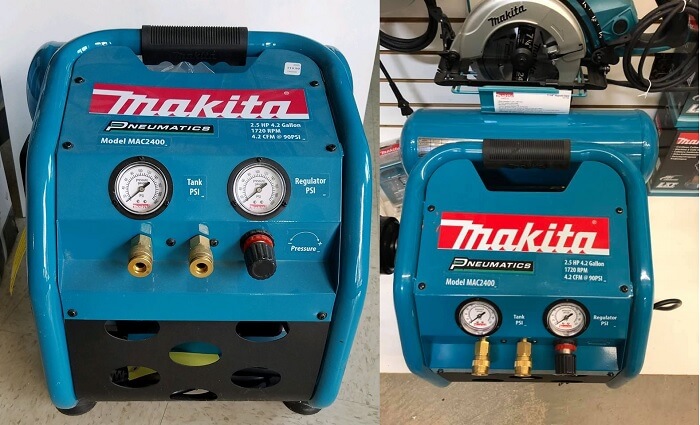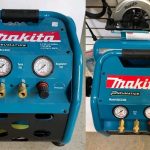 Sale
MAKITA MAC2400 Air Compressor
Cast iron pump with Big Bore cylinder and piston is engineered to provide faster recovery time for...
Low AMP draw reduces incidences of tripped breakers at start up. The 4.2 gallon twin stacked tank...
Pump is oil lubricated for cooler running temperatures and reduced wear. Built in thermal overload...
Roll cage construction provides complete protection to withstand extreme jobsite environments. Lever...
Large automotive style industrial air filter for increased air intake and greater efficiency....
Pros:
Can handle heavy tools
High performance
Quiet operating process
Easiest to carry around among three products
Cons:
Average powerful motor
Demand constant recharging

Quick Rundown Of MAKITA MAC5200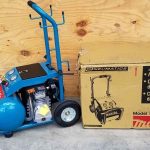 MAKITA MAC5200 Air Compressor
Cast iron pump with Big Bore cylinder and piston is engineered to provide faster recovery time for...
Powerful 3.0 HP* motor produces 6.5 CFM at 90 PSI for increased productivity
Pump is oil lubricated for cooler running temperatures and reduced wear
Durable cast iron cylinder reduces wear and increases pump life; removable for easy maintenance
Folding handle with low profile design for easy storage with handle folded
Pros:
Can handle heavy tools
More powerful engine than MAKITA MAC2400 but less than DeWALT D55146
Cast iron and big cylinder
Foldable handle
Easy to carry around
Cons:
Inappropriate for non-professionals DIY-ers
Oil-lubricated, which is not environmental-friendly

Final decision
By this post, we could go into detail of the three most popular air compressors in the market: DeWALT D55146 vs MAKITA MAC2400 vs MAKITA MAC5200.
Each product has its own advantages and disadvantages, so, it's objective to choose which is the best among the three. We believe that, according to your needs and requirements, you have already made your own decision now, right?
Personally, if we are about to choose one, we will go for DeWALT D55146 because it has the most powerful motor which is suitable for most air compressing tasks in casual needs. This model works quietly and oil-free, mess-free, so your working process will be much convenient and efficient.
Hope this article has given you much useful information before shopping.