Best greeting! The topic of today is about the comparison of the three best 120 Volts air compressors on the market – Makita Mac700 vs Mac2400 vs Rolair Jc10. Each device is designed with unique features. So, which one is the best option to buy?
Image
Rank #1
Rank #2
Rank #3
Rank #1
Image
Rank #2
Image
Rank #3
Image
1. Which One Is More Convenient To Use?
Right under below, we have made a board that displays the size of all three air compressors, including their dimensions and weights.
Makita Mac700: 18 x 22 x 10 inches – 59.6 pounds.
Makita Mac2400: 20 x 18 x 18.75 inches – 80.7 pounds.
Rolair Jc10: 17 x 16 x 15 inches – 42.9 pounds.
As you can see, the Mac2400 stands on the top with the biggest size. Especially, with a weight of 80.7 pounds, this model is nearly two times as heavy as the smallest machine – Rolair Jc10 (42.9 pounds). Besides, although the Mac700 is about 20 pounds less than the Mac2400, it still belongs to the group of heavy machines.
So if you require an air compressor that is convenient to use, we advise you to get the Rolair Jc10. With the smallest size and weight, it will be easy to hold and move from place to place.
The power of the engine
Is all that you care about in this comparison of Makita Mac700 vs Mac2400 vs Rolair Jc10 the power of the engine? Alright! Check out our following board!
Makita Mac700: 120 Volts – 2 HP
Makita Mac2400: 120 Volts – 2.5 HP
Rolair Jc10: 120 Volts – 1 HP
In spite of the fact that all three devices require 120 Volts of Voltage to run, their horsepowers are quite different. The Mac2400 seems to take the lead, as its engine can work strongly at 2.5 HP.
Due to this reason, it should be the best choice to work with big projects or heavy tasks. On the other hand, lying at the bottom place is the Rolair Jc10, as its motor power is just 1 HP. However, this low horsepower is understandable because the Jc10 model is only a small size air compressor.
Best Features and Included Items
Makita Mac700 Air compressor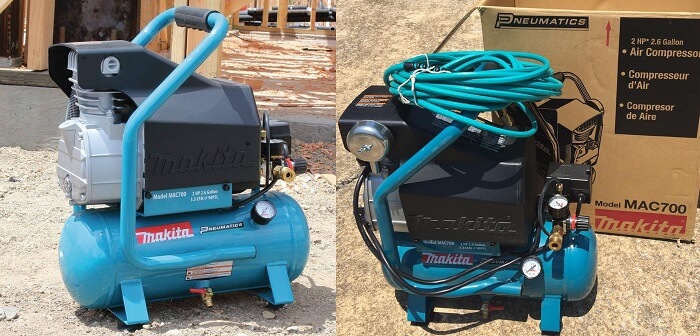 Because this Mac700 has high engine power (2HP), it will impress you with a high output. In detail, the cast iron pump of the device is equipped with a large-bore cylinder plus a durable piston. Hence, the machine can release much power to support working at big site projects without tearing or scratching itself after time.
Additionally, the machine is also designed with a big 1720 RPM pump. Thanks to this feature, you will not have to worry about loud noise while working.
When buying this product, you will receive:
Compressor oil x1
1/4 inches Universal quick coupler x2
Makita Mac700 Air compressor
Cast iron pump with big bore cylinder and piston, combined with greater bore and stroke, delivers maximum performance
Substantially lower noise levels with a large 1,720 RPM pump, enabling greater displacement at lower RPM
Low amp draw reduces incidences of tripped breakers and voltage drop that can cause premature motor failure
Oil lubricated provides cooler running pump, minimizes wear
One-year manufacturer's warranty
Pros:
Strong horsepower (2HP)
High output
Durability
Reducing noise while operating
Cons:

Makita Mac2400 Air Compressor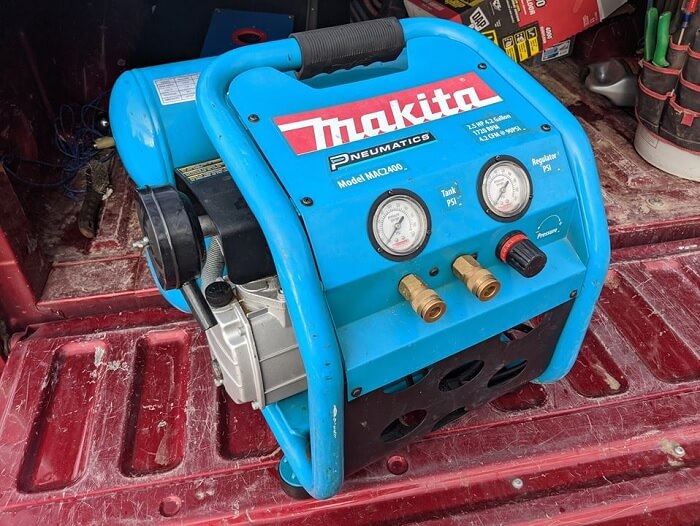 In case you require a machine that can last long, this Mac2400 will serve your needs the most.
As the pump of the device is oil lubricated, it can avoid overheating and tearing due to hard work. On another side, the Makita manufacturer has also added a durable cast cylinder made of iron to the machine for extra protection. With all these features, surely the Mac2400 will be the best partner for you to do heavy tasks.
When bringing the product home, you will have:
Air compressor oil (type 181122-A) x1
1/4 inches Universal quick coupler x2
Male (type 447013-E) x1
Makita Mac2400 Air compressor
Cast iron pump with Big Bore cylinder and piston is engineered to provide faster recovery time for improved performance
Powerful 2.5 HP 4-Pole motor produces 4.2 CFM at 90 PSI for increased productivity and lower noise
Roll-cage construction provides complete protection to withstand extreme jobsite environments
Low AMP draw reduces incidences of tripped breakers at start-up
Pump is oil-lubricated for cooler running temperatures and reduced wear
Pros:
Powerful engine (2.5 HP)
Sturdy cast cylinder made of iron
No pump overheating
Cons:

Rolair Jc10 Air Compressor
Besides the lightweight, this oil-less Rolair Jc10 also attracts its buyers by the silent operation. Just like the advertisement mentioned, the sound coming out from this machine is just 60 dB. Therefore, feel free to talk or listen to music while standing next to it!
In addition, this product is very durable as well. The casting cylinder made of Aluminium will protect the device from tearing and scratching itself after time.
Of course, when you purchase this Rolair Jc10, you also get some extra pieces of equipment such as:
Large tank x1
Roll-cage x1
Integrated cord wrap x1
Rolair Jc10 Air Compressor
2.35 CFM at 90 psi
1725 RPM motor
Oil-less design reduces maintenance and downtime
2.5 Gallon tank capacity
Cast Aluminum Cylinder
Pros:
Lightweight
Low noise while working
Oil-less design
Solid cast cylinder made of aluminum
Cons:

Final Verdict
And now, after our comparison of Makita Mac700 vs Mac2400 vs Rolair Jc10, we will give you our final verdict!
In our opinion, the Makita Mac700 is the best air compressor among the three products today. Its weight of 59.6 LBS is enough for carrying around, unlike the heaviest Mac2400 with 80.7 LBS.
Also, the machine can still provide strong horsepower (2HP) to support you in completing big tasks. In case you have other thoughts, there is no problem because the three products above are all good to help your work!
And that is the end of today's article. Many thanks to you for having read!