DEWALT Circular Saw Blade Review
Via this Circular Saw Blades Dewalt review, we confirm these blades support more straight and accurate cuts thanks to several advanced features. Check now!
You might already be well aware of Dewalt's reputation for their power tools and equipment.
But today, instead of mentioning its great grinders, saws, or composers, we will review a small-but-necessary accessory – the circular cutting saw blade.
In this post, we will cover all features in brief, explain how the blades work, and our practical test results.
Let's check!
Features of DWA171424 Circular Saw Blade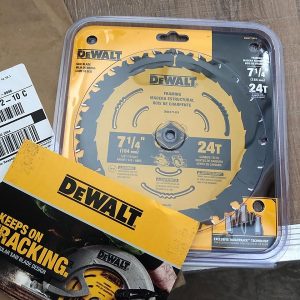 The 7-1/4 in. Saw blades are ideal for framing, cross-cutting and fine finish applications. The Patented body slots reduce vibration, which works with the blade's thin kerf design to deliver exceptional user feel. High-density tungsten carbide teeth are tough, wear-resistant, and provide long life. The reinforced shoulder design gives it strength and durability by providing impact resistance against nail-embedded wood. These blades come with tough coat™ Anti-stick coating to reduce friction and resistance on the cutting and it is optimized for use on both corded and cordless circular saws. The reviewed 2 Tooth counts that we have tested provide different levels of comfort and utility. The 24T and the 60T, higher count provides a finer finish and less vibrations.
Features in Brief:
Patented ToughTrack ATB+R teeth

High-density tough Tungsten Carbide

Vibration-absorption Body Slots

Thin kerf design and reinforced shoulder

ToughCoat anti-stick coating

Optimized design for both cordless and corded saws
ToughTrack ATB+R Teeth
For your reference, ToughTrack™ is one of the latest technology of Dewalt, known as the alternate bevel-plus raker.
To be specific, the blade teeth are placed between left- and right-hand slope to form a knife-like edge.
It is a tell-worthy mention that raker tooth of Dewalt's blades is often higher than that of others. Hence, the blade helps clear debris from the cutting path to improve the accurate tracking and lengthen the life of the blade.
You can expect smoother cut surfaces and straight cuts cross natural woods and plywood.
High-density Tungsten Carbide
High-quality small components together make a perfect part.
When it comes to Circular Saw Blades, Dewalt uses the premium Tungsten Carbide.
This material is proved to increase the life of cutting tools by ten times compared to the heat-treated steel.
The toughness of Tungsten Carbide allows clearing ceramics and abrasive materials quickly and aggressively. Moreover, Dewalt blades are wear-resistant.
Vibration-absorption Body Slots
Vibration is a common issue of the saw blade, which causes unseat curved-cut marks.
Thankfully, the patented expansion body slots of Circular Saw Blades Dewalt helps reduce the vibration and ensure the blade to run truer.
Accordingly, the slots are connected to anti-shock holes of the blade to distribute vibrations over the plate.
Even better, these body slots dissipate the extreme heat during cutting shots to extend the life of the blade.
Thin kerf design
What is "kerf" of the saw blade and why it matters?
For your information, "kerf" is used to define the thickness of cutting slots. It is usually more substantial than the plate because the teeth are directly welded into the plate.
Generally, we recommend the thin kerf blades like DWA171424 Circular Saw Blade to save materials per cut.
Also, the thinner the kerf is, the more lightweight it is to mount on circular saws. As a result, you can control the lade more easily.
Anti-stick ToughCoat and reinforced shoulder
Some thoughtfully additional features, making Dewalt Circular Saw Blades more worthy.
First is the anti-stick ToughCoat coating to minimize gumming and friction.
Secondly, the shoulder of the blade is reinforced to tackle hard nails and knots in the wood so that the carbide teeth will not be torn off the saw blade.
These two features are designed to improve durability and strength.
For both cordless and corded saws
More excitingly, Circular Saw Blades Dewalt DWA171424 are versatile for both cordless and corded saws.
Invest one for two usages!
With all features mentioned above, the blade will fit firmly to your powerful corded saw at work, as well as to your lightweight household cordless tools.
It means you can save a lot of money on buying new saw blades for various saw types. Also, you do not need to learn how to change new blades so many times.
How Do Dewalt Circular Saw Blades Work?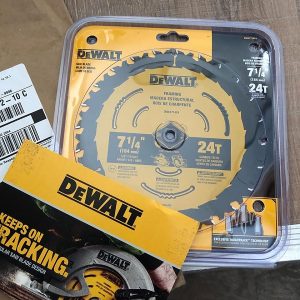 Thanks, Honest Carpenter for this useful tutorial.
If you are in a hurry to check the video, please follow these steps to change and run the DWA171424:
Ensure the saw is stopped. Unplug the corded saw or remove the battery when it comes to cordless saws.

Press the arbor-lock button of the saw while rotating the blade to the locking-engaged point.

Switch the wrench to loosen and remove the arbor nut.

Remove the existing blade after retracting the upper blade guard.

Slip the Dewalt Circular Saw Blades onto the arbor. Please ensure that the teeth have the same direction as the rotation.

Tighten the arbor nut with the blade wrench. Try to keep it snug rather than over-tighten.
You've done it!
Please be careful not to cut yourself. The saw blades of Dewalt are sharp like a knife.
Plug the saw and test how the blade works on your saw.
Our Experience with DWA171424 Circular Saw Blade
We test the saw blade in the Metal Folding Saw of DeWalt.
The cutting shots are great – smooth and clean like a knife on butter.
It feels faster than many other saw blades. The teeth are almost wear-resistant after a continuous hour of cutting. Even when it is to cut over nail-embedded wood, the blade works excellently.
The only complain is about the vibration level. We had expected there was no vibration thanks to their patented body slots. However, we still felt it shaking a bit at the highest settings of the saw.
Still acceptable, but the blade had better be anti-vibration as advertised.
Brief Review on Circular Saw Blades Dewalt
We have given a detailed review all above, but to sum up, some information about the DWA17124 so that you can take away when choosing the circular saw blades.
What we like about this blade:
Built-to-last material and construction

Comfortable cutting effort because the blade is effective

Smooth and clean cutting shots thanks to many thoughtful features

Anti-stick coating and reinforced shoulder to prevent kickback
What we want Dewalt to improve:
Good anti-vibration but not very excellent
It Is Time To Make A Decision
This Circular Saw Blades Dewalt review brings all you need to know about the DWA17124 at your fingertips.
Please feel free to refer to our experience and be considerate when making your purchase.
A good saw is not perfect without a suitable blade!
From our test, the Dewalt saw blades are reliable to fasten the cutting process, save materials, and guarantee your safety.