A sanding machine is a device used to smooth surfaces from various materials and help increase the aesthetics of the product. However, not everyone knows which model to choose. Therefore, in this article, we will review and compare the strengths, features of Dewalt DWE6423K vs D26453K vs DCW210B vs DWE6401DS.
Stay tuned!
1. Dewalt DWE6423K Random Orbit Sander
Design
The DWE6423K is a compact device with technical measurements of only 10.38 x 7.25 x 6.2 inches and weighing 4 pounds. This model has a circular base with a diameter of 5 inches and a dynamic design to minimize noise. Also, the rubber handle gives us a solid, neat, and secure feeling. Therefore, it is suitable for home use or small-scale timber mills.
Power
DEWALT DWE6423K is usually equipped with high power output with a 3.0 Amp motor and operates on a vibration mechanism. This product is capable of extremely polishing with a maximum speed of up to 8,000 – 12,000 OPM. These parameters are quite high compared to other models in the same segment, providing high working efficiency for users.
Features
This model uses an electric cord to supply electricity, providing high stability for users. You can use it all day without worrying about running out of battery like other battery-powered devices.
The manufacturer also equipped DWE6423K with a ziplock dust filter bag. This bag will prevent any external factors that can affect the machine, making it more durable.
Sale
Dewalt DWE6423K Random Orbit Sander
3.0-amp motor of the orbital sander spins the pad at 8,000 - 12,000 OPM
Shorter height of the hand sander allows the user to get closer to work piece
Separate counterweight design reduces vibration for improved comfort of the electric sander
Rubber over-mold in all of the critical areas of the sander
Improved dust-sealed switch to protect against dust ingestion for longer switch life
[i2pc show_title="false" title="Pros & Cons" show_button="false" pros_title="Pros" cons_title="Cons" ][i2pros]Powerful engine
Quiet operation
Long usage time[/i2pros][i2cons]Hard to remove the router from the base[/i2cons][/i2pc]
---
2. Dewalt D26453K Random Orbit Sander Kit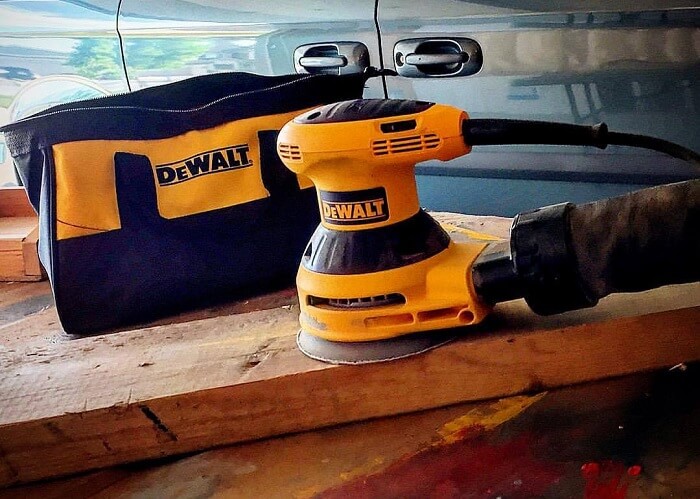 Design
This machine has a compact design; the handle feels solid, neat, and safe. 9.5 x 13 x 6.75 inches and 3.5 pounds are the manufacturer's specifications for the DEWALT D26453K.
This model is combined with two distinctive colors of the Dewalt brand and black, giving it a modern feel. It can also be used for small spaces and can be drilled in a variety of materials such as steel or wood.
Power
The 2-speed box optimizes the screwdriver with high completion speeds and high torque. The manufacturer equips 3A engines with torque up to 7000 to 12000 rpm. This is a bit less than DEWALT DWE6423K, but still completely enough to meet your needs.
Features
The DEWALT D26453K has up to 3 adjustment modes along with the 5-inch polishing disc that will give you a high degree of autonomy to your work.
The manufacturer especially likes to equip the Controlled Finishing System technology to control the polishing disc's speed, helping the product achieve the desired quality.
The set has all the accessories and tools attached, durable life, and support for high-quality outcomes.
Dewalt D26453K Random Orbit Sander Kit
The product is 5" VS Orbit Sander Kit
Easy to use
The product is manufactured in China
3.0 Amp electronic variable speed motor adjusts from 7,000-12,000 opm providing ideal sanding speed for smooth finish
Textured anti-slip top and body grip provides ultimate comfort and control during use
[i2pc show_title="false" title="Pros & Cons" show_button="false" pros_title="Pros" cons_title="Cons" ][i2pros]Lightweight
Three operate mode
Friendly and easy to use[/i2pros][i2cons]Powered by electric wired[/i2cons][/i2pc]
---
3. Dewalt DCW210B 20V MAX Orbital Sander
Design
DEWALT DCW210B has a high-strength, heat-resistant, and high-quality composite outer shell. This model comes with a set of 33 components made by a high-tech European-German transfer line, which can bring peace of mind and long-term durability when used.
The product is very portable in size and weighs only 2.5 pounds and 8.8 x 5.7 x 6.3 inches measurements, making it easy to carry with you. It will always be ready whether you need to use it at home or anywhere else.
Power
With its high idle rotation speed of 120000 rpm, it will help you get your job done in no time. This product of Dewalt came with a capacity of 20V and a no-load speed of up to 11000 rpm, helping it work strongly and efficiently. This allows DEWALT DCW210B to polish many hard material surfaces such as aluminum, wood, steel, and concrete easily.
This model has the ability to integrate with the popular 8-hole sandpaper, helping you proactively complete the job anywhere.
Features
DEWALT DCW210B is powered by the exclusive Lithium battery technology of the manufacturer Dewalt. The 20V battery can be used all day long without worrying about the power cord. When the battery runs out, you can immediately replace it with a new battery and continue using it without fear of interrupted work.
The machine also has a variety of speed adjustable capacity to help suit a variety of user needs.
Sale
Dewalt DCW210B 20V MAX Orbital Sander
Orbital sander with brushless motor provides runtime and efficiency to get the job done
Variable-speed control of the hand sander from 8,000 to 12,000 OPM to match the speed to the application.
Low-profile height of the power sander allows user to get close to work surface for precise sanding.
Replaceable 8-hole hook-and-loop sanding pad (DWE64233) for quick, easy paper changing.
Dust-sealed switch to protect against dust ingestion for long switch life.Texturized rubber overmold grip for comfortable sanding.One-handed locking dust bag..Dust port is designed to fit directly to the DWV010 or DWV012 dust collectors (sold separately).To attach dust port to other vacuum systems with 1-1/4-inch hoses, use DWV9000 Universal Quick Connector (sold separately)..PSA replacement pad available as service part number N373679 (Sold Separately)
[i2pc show_title="false" title="Pros & Cons" show_button="false" pros_title="Pros" cons_title="Cons" ][i2pros]Powered by battery
Powerful engine
Lightweight
Comes with an extra battery[/i2pros][i2cons]Loud operation
Battery life decreases after uses[/i2cons][/i2pc]
---
4. Dewalt DWE6401DS Rotary Sander
Design
DWE6401DS still came with a familiar design of gold and black color from the Dewalt manufacturer. However, in this version, the yellow color takes up more proportion, creating a strong feeling for the user.
The machine weighs 4.81 pounds with dimensions of 9.9 x 8.2 x 4.6 inches. The weight is definitely the biggest weakness of this sander because it is the heaviest of the four machines mentioned today.
Power
The DEWALT DWE6401DS grinder comes standard with a powerful 120V capacity and a no-load speed of about 4000 rpm, helping you get the job done quickly with maximum efficiency. This Dewalt unit also features a 6 amp motor with a 5-inch drill disc so you can efficiently polish all different hard materials.
Features
The grip is covered with rubber that creates good friction for a comfortable feeling and does not slip. The abrasive section is also made of stainless steel to limit rust when used and create stability.
The machine bag is also dustproof, reducing the possibility of damage and prolonging the machine's life.
Sale
Dewalt DWE6401DS Rotary Sander
6-amp motor of the orbital sander delivers performance in high torque sanding applications to speed up the sanding process
0 - 3,700 OPM variable speed trigger dial of the hand sander provides versitility in a wide array of sanding applications
Adjustable dust shroud of electric sander can be connected to vacuum to provide improved working environment
Mid-handle design with soft grip and side handle provides increased balance and relieves user fatigue
Accepts 5-inch 8-hole hook and loop paper, allowing for readily available paper to be changed quickly and easily
[i2pc show_title="false" title="Pros & Cons" show_button="false" pros_title="Pros" cons_title="Cons" ][i2pros]Easy to use and maneuver
Affordable price
Modern design
Dustproof[/i2pros][i2cons]Heavy
Loud operation[/i2cons][/i2pc]
---
Dewalt DWE6423K, D26453K, DCW210B, and DWE6401DS: Which One's Best?
After careful consideration, we conclude that all four models are formidable competitors in their segment.
Through the manufacturer's parameters as well as experimentation, we find the DEWALT DWE6401DS is the most worth buying device if you are looking for a product with a powerful engine and can handle heavy tasks. If, on the contrary, your needs are only for home use, the DEWALT DCW210B is the perfect choice for you because of its compactness and mobility.
Below is a summary of the specifications
Image
Image
Image
Image
Image
There you go, a full comprehension of Dewalt DWE6423K vs D26453K vs DCW210B vs DWE6401DS. All four mini sanding machines are compact in size and light in weight, so they can be used easily and cause waste of space.