Sander plays a vital role in many home DIY projects. But it is quite challenging to choose the right one suiting your demands, especially among three well-known products, DEWALT DWE6423K vs Bosch ROS20VSC vs Makita BO5041.
If you are in this case, do not hesitate to read our detailed comparison below to gain further information. Let's get started!
1. DEWALT DWE6423K Random Orbit Sander
Sale
DEWALT DWE6423K Random Orbit Sander
3.0-amp motor of the orbital sander spins the pad at 8,000 - 12,000 OPM
Shorter height of the hand sander allows the user to get closer to work piece
Separate counterweight design reduces vibration for improved comfort of the electric sander
Rubber over-mold in all of the critical areas of the sander
Improved dust-sealed switch to protect against dust ingestion for longer switch life
Design
At first glance, you can easily notice that Dewalt DWE6423K is relatively compact and lightweight. It measures 4 pounds of weight and 10.38 x 7.25 x 6.2 inches of dimensions.
You will find it comfortable to hold this sander around your working space.
Power
Power is always what you pay much attention to while choosing a sander as it decides mostly the performance and efficiency. As for DEWALT DWE6423K, it generates a relatively powerful engine of 3 Amp, along with variable speed between 8000 to 12000 OPM.
Thanks to the fair amount of power and the variable speed control system, this tool performs well in many lights and medium sanding work.
Stunning Features
Three products today come with lots of remarkable features that will serve you well in many tasks. Let's jump right into the DEWALT DWE6423K's part.
The first remarkable feature that this unit delivers is its ability to reduce vibration during use thanks to the separate counterweight design. Simultaneously, you can get closer to the workpiece because the DWE6423K sander is equipped with a shorter height.
What is more, you will find this tool more durable than some other models. DEWALT has designed it with rubber over-mold in all the important areas and a dust-sealed switch.
Of course, these features help to prevent dust from getting into the machine. Also, it brings you optimal comfort during the sanding process.
---
2. Bosch ROS20VSC Random Orbital Sander/Polisher
Bosch ROS20VSC Random Orbital Sander/Polisher
Smooth Finish: Pad dampening system designed to eliminate swirl marks on both flat and contoured surfaces
Easy Disc attachment: Through Bosch's signature Hook and Loop disc attachment system, sanding pads stick to the hand sander, acting like a Velcro adhesion material
Variable speed Control: Powerful 2.5 AMP motor allows speed to work piece and task matching with ease
Dust collection: Features a micro filter system for fine dust and trapping particles as small as a 1/2 micron in diameter. Durable and compact, the dust canister shows dust level and easily detaches for mess free tasks
Kit contents: Includes sanding pad, sanding disc, dampening ring, dust canister, vacuum adapter and carrying case
Design
If the previous model satisfies you in terms of its outlook, we ensure that Bosch ROS20VSC will catch your attention more. To be more specific, it only weighs 3.5 pounds, and its sizes are 9 x 5 x 6 inches. Similar to its rival, you can utilize this device to handle your projects without any hassle.
Power
When it comes to power, we are afraid to say that this ROS20VSC model is less impressive with a 2.5 Amp motor. However, you can set the speed between 7500 to 12000 OPM, which is incredibly useful to sand sensitive areas to get a fine and smooth surface.
Stunning Features
When it comes to Bosch ROS20VSC, how amazingly can it perform? First and foremost, you can give your project a smooth finish when you use this tool. Its pad dampening system is useful to avoid gouges and keep consistent sanding action on the sanding surface. For this reason, there is no need to worry about uneven surfaces in case of over-sanding.
Besides, there is a Hooktight hook-and-loop disc attachment system boasting over 35000 long-life hooks. Therefore, you will experience a great firm grip on the sanding pad during use.
On top of that, it will be a big mistake if we forget the micro-filter system. It does a great job in trapping particles so that they cannot spillback into your device. Thus, it ensures your safety and a mess-free space as well.
---
3. Makita BO5041 Random Orbit Sander
Makita BO5041 Random Orbit Sander
Smoother and faster sanding with 3.0 AMP motor
Variable speed control dial (4,000-12,000 OPM) enables user to match the sanding speed to the application
Ergonomic rubberized palm grip and handle for improved operator comfort and control
Adjustable front handle allows for sanding in corners and confined areas
Large two-finger trigger switch with conveniently located lock-on button for continuous use and increased operator comfort
Design
Obviously, the Makita product is on another level in terms of design. It is considered the lightest sander on the market with a weight of 2.1 pounds and dimensions of 10.8 x 4.8 x 6 inches.
You will not suffer from any fatigue and glide over most surfaces easily and quickly, we bet.
Power
Apart from portability, this BO5041 sander also stands out with its powerful motor. Specifically, it shares the 3 Amp device in common with the DEWALT product but offers a wider speed control dial of 4000 to 12000 OPM. Hence, you will have more options while matching the speed to the sanding material.
Stunning Features
Last but not least, let's find out what the Makita sander features. Well, this tool can provide everything you ever want, including convenience, greater control, and a dust collection unit.
For more details, it feels comfortable to use due to an innovative adjustable front handle for confined areas and ergonomic rubberized handles. This reduces the amount of vibration during use and gives you a better dual hand control.
Moreover, you will find its sanding performance praiseworthy with the help of a pad control system. This sander can control the speed upon start-up, making it helpful to reduce swirls and gages on the sanding surface.
Furthermore, it offers a double layer of insulation, providing enough safety for wet sanding and added protection on the moving parts from water damage.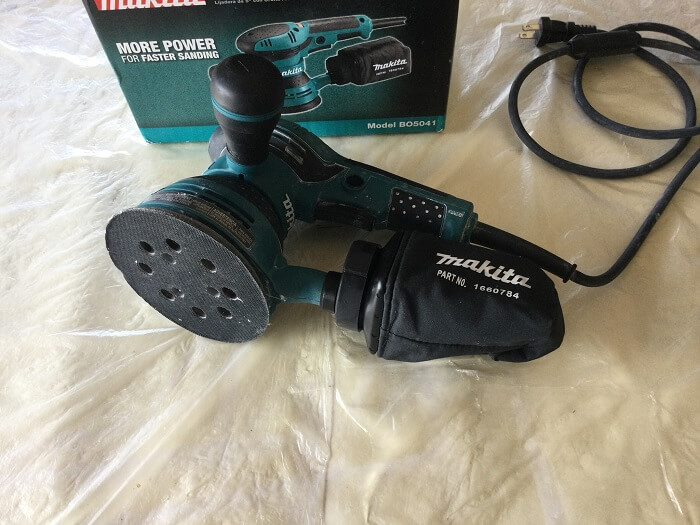 ---
Dewalt DWE6423K, Bosch ROS20VSC and Makita BO50411: Which One Is Best?
After carefully considering, we can conclude that Makita BO5041 wins this battle. There is no single reason that we pick up this product as the best sander out of three, but rather lots of reasons that we have mentioned above, including design, design, performance, and more.
Image
Image
Image
Image
We bet that any DIY enthusiast will fall in love with this machine.
Conclusion
Here is the wrapping up of our review about DEWALT DWE6423K vs Bosch ROS20VSC vs Makita BO5041. Have you made up your mind about the desired tool? If yes, purchase one and begin your DIY projects now.