Can't figure out the winner in the battle of Bosch ROS10 Vs ROS20VSC Vs Makita BO5041 Vs DEWALT DWE6423K? Then dive into our post to find out the answer.
Bosch ROS10 vs ROS20VSC vs Makita BO5041 vs Dewalt DWE6423K Review
1. Bosch ROS10 120 Volt Random Orbit Sander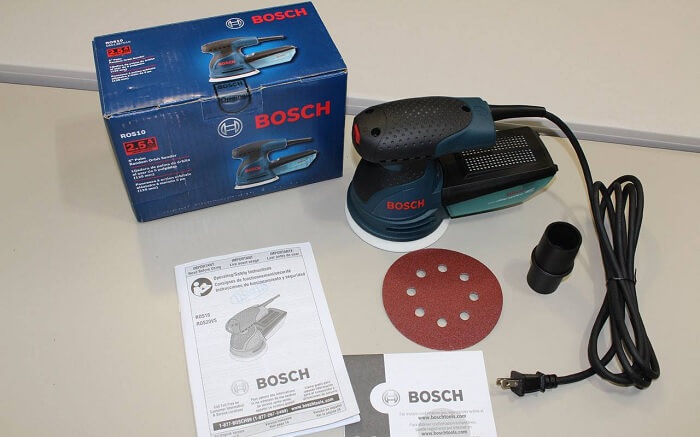 Bosch has always been a giant in the corded equipment industry. One of the most sought-after commodities of this company – ROS10 deserves your consideration because of its exceptional features and benefits.
At first sight, it can be clearly seen that the Bosch ROS10 provides you with fast removal and a well-blended, ultra-smooth finish. This item is guaranteed to effectively erase any swirl marks on both flat and contoured surfaces alike.
Alongside its 2.5 Amp motor, this item's dust prevention system is also very efficient when it can trap particles with the diameter as minute as 1/2 micron.
But nothing is perfect, this ROS10 Orbit Sander is quite heavy, which sometimes makes the sanding movements harder and slower.
Sale
Bosch ROS10 120 Volt Random Orbit Sander
Integral pad dampening braking system to prevent swirl marks
2.5 Amp motor delivers 12,000 OPM
Random orbit sanding action - combination of pad orbit and rotation deliver well-blended, ultra-smooth finish with fast removal rate
Hook-and-loop disc attachment for firm grip
Microcellular backing pad for smooth, fine finishes
Pros:
Easy to assemble and handle
Amazing dust collection
Provides exceptional removal and finish
Comes with a twist-off dust canister
Affordable
Cons:
2. Bosch ROS20VSC 5-Inch Random Orbit Sander
Bosch has sent another compelling candidate to the Orbit Sander competition – The ROS20VSC Model. This item is an updated version of the ROS10, so it is apparent that it is equipped with more advanced parts and accessories.
Specifically, both machines come with a 2.5 Amp motor, yet the ROS20VSC is proven to be much more versatile when offering users with two-speed modes: at 7,500 and 12,000 OPM. This will enable customers to vary their sanding for a suitable working process.
What is more, this ROS20VSC features an extremely comfortable design with a soft-grip top and body, which will enable buyers to experience multiple grip positions.
However, the only downside of this tool is its sky-high price. This price doesn't include a tool case, which means you will have to spend a few more bucks to purchase.
Sale
Bosch ROS20VSC 5-Inch Random Orbit Sander
SMOOTH FINISH: pad dampening system designed to eliminate swirl marks on both flat and contoured surfaces
EASY DISC ATTACHMENT: through Bosch's signature Hook and Loop disc attachment system, sanding pads stick to the hand sander, acting like a Velcro-adhesion material
VARIABLE SPEED CONTROL: powerful 2.5 AMP motor allows speed to work-piece and task matching with ease; no-load OPM: 7,500-12,000
DUST COLLECTION: features a micro filter system for fine dust and trapping particles as small as a 1/2-micron in diameter. Durable and compact, the dust canister shows dust level and easily detaches for mess-free tasks
KIT CONTENTS: Includes sanding pad, sanding disc, dampening ring, dust canister, vacuum adapter and carrying bag
Pros:
Elegant design with a soft-grip top and body
Provides right speed for effortless sanding tasks
Reliable dust prevention system
Release a low-vibration rate
Comes with a hook and loop disc attachment system
Cons:
3. Makita BO5041 Random Orbit Sander
Makita has gained a certain reputation in the hand tool market thanks to its ability to manufacture the best quality products and the Makita BO5041 is no exception.
Featuring a robust 3 Amp motor, this item can continuously run up to 3 hours without any fatigue or trouble. Another characteristic that promotes this item's performance is its quick-change abrasive disc, which will provide a cleaner working environment with the support of its through-the-pad dust collection system.
This item also provides you with a variable speed control dial (from 4,000 to 12,000 OPM), which delivers more than sufficient speed mode for a proper and hassle-free sanding process. The comfortable front hand is also equipped to improve your working process and provide full control to your machine.
Despite possessing many advantages, this Makita BO5041 still has an unfavorable shortcoming. Although the price is not low at all, this item still doesn't come with a carrying bag or a tool case, which requires you to spend more on those.
Sale
Makita BO5041 Random Orbit Sander
Smoother and faster sanding with 3.0 AMP motor
Variable speed control dial (4,000-12,000 OPM) enables user to match the sanding speed to the application
Ergonomic rubberized palm grip and handle for improved operator comfort and control
Adjustable front handle allows for sanding in corners and confined areas
Large two-finger trigger switch with conveniently located lock-on button for continuous use and increased operator comfort
Pros:
Powerful 3 Amp Motor
Facilitated with an adjustable front handle
Light yet sturdy construction
Provides variable speed control dial
Has a quick-change abrasive disc
Cons:
Doesn't come with a container
4. DEWALT DWE6423K Random Orbit Sander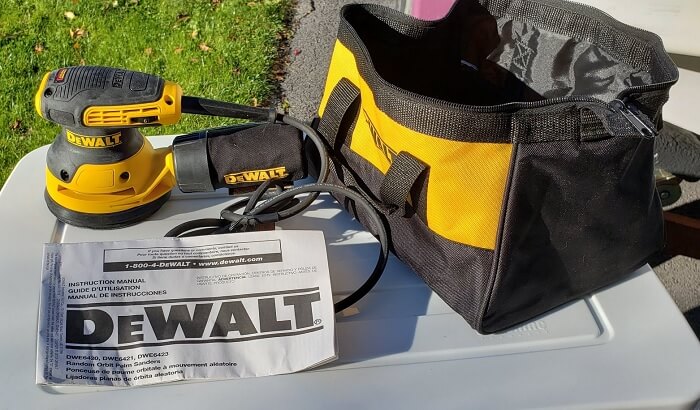 It is not an exaggeration to say that the DWE6423K Orbit Sander is one of the best products of the DEWALT brand as it holds distinct features as well as useful functions.
The most outstanding feature of this machine that must be mentioned is its flexible rubber over-mold, set in every critical area to perform tiny "orbital" movements that leave a professional, smooth, and polished surface.
Another significant point in this orbit sander is that it comes with a dust bag and a carrying case, while still holding a very reasonable price.
The only minus point of this machine lies in its dust port when there are a significant number of complaints about its hard-to-connect dust port. The dust port is not specially designed to connect with the external air vacuum, thus would sometimes cost you more time and effort to make everything fixed.
Sale
DEWALT DWE6423K Random Orbit Sander
3.0-amp motor of the orbital sander spins the pad at 8,000 - 12,000 OPM
Shorter height of the hand sander allows the user to get closer to work piece
Separate counterweight design reduces vibration for improved comfort of the electric sander
Rubber over-mold in all of the critical areas of the sander
Improved dust-sealed switch to protect against dust ingestion for longer switch life
Pros:
Easily adapt to different material
Shorter height
Low vibration and smooth operation.
Equipped with a dust bag and carrying case
Quite reasonable
Cons:
Which One Is BEST?
All things considered, we believed the DEWALT DWE6423K deserves to win our trophy as we find it offers such a more convenient feature compared to the others.
Specifically, this item possesses a 3 Amp motor like the Makita BO5041 and is more robust than 2 competitors from Bosch.
But what distinguishes the DEWALT and Makita? The DEWALT offers a more reasonable price along with a carrying case, while its rival requires more cash to own one.
Image
Rank #1
Rank #2
Rank #3
Rank #4
Rank #1
Image
Rank #2
Image
Rank #3
Image
Rank #4
Image
Conclusion
Finally, this lengthy yet informative review has ended, and do you know what does it mean? That means you have grasped all messages we want to transmit and ready to rush out and make the wisest decision.
Choosing a trust-worthy companion is not that easy, but after our Bosch ROS10 Vs ROS20VSC Vs Makita BO5041 Vs DEWALT DWE6423K Review, we believe that you are full-equipped to find your own answer.