A portable saw has always been a should-buy hand tool, yet it is often hard to choose a proper saw. Even when you have shrunken your choices down to the DEWALT DWM120 Vs Milwaukee 6232, it's still a tough call to make. Hence, this article is specially written to examine some noticeable differences between them and declare the victor.
Differences between DEWALT DWM120 and Milwaukee 6232
Image
The Winner (#1)
The Runner-up (#2)
Size
7.07 x 21.44 x 14.39 inches
21 x 23.38 x 13.25 inches
The Winner (#1)
Image
Size
7.07 x 21.44 x 14.39 inches
The Runner-up (#2)
Image
Size
21 x 23.38 x 13.25 inches
Performance
There are three main differences between these two machines that show you the most effective saw. Let's break this down!
In the first area, motor power, the Milwaukee 6232-21 takes a point when powering an 11A motor, which can withstand any job site application. Regarding its opponent, the motor of DEWALT DWM120 is a size going down to the Milwaukee 6232-21, which features a 10A engine. Yet, both are still guaranteed to provide precise and robust cut through any material, even metal.
Secondly, the blade is also an important criterion to decide the deserved winner in this battle. Both come with a suitable blade width and length that are able to efficiently work with not only round stock but rectangular one also.
However, what differentiates those tools is the blade speed each unit can handle. Specifically, the Milwaukee 6232-21 offers a variable speed dial of 100 – 350 SFM, which allows you to modify your pace for particular materials and diverse applications.
In the final round, the DEWALT DWM120 takes its reputation back when providing woodworkers with a LED work light, allows them to observe the cutting area clearly, even in poorly lit environments.
Portability
As mentioned above, the DEWALT DWM120 weighs only 18 pounds, up to 4 pounds lighter than its rival. Many may consider this is not a considerable distinction, yet it does matter when you have to lift the machine when cutting high-positioned parts.
Still, the Milwaukee 6232-21 comes with a case, which is a great protector for your tool when having to transfer to many worksites.
Quick Rundown Of DEWALT DWM120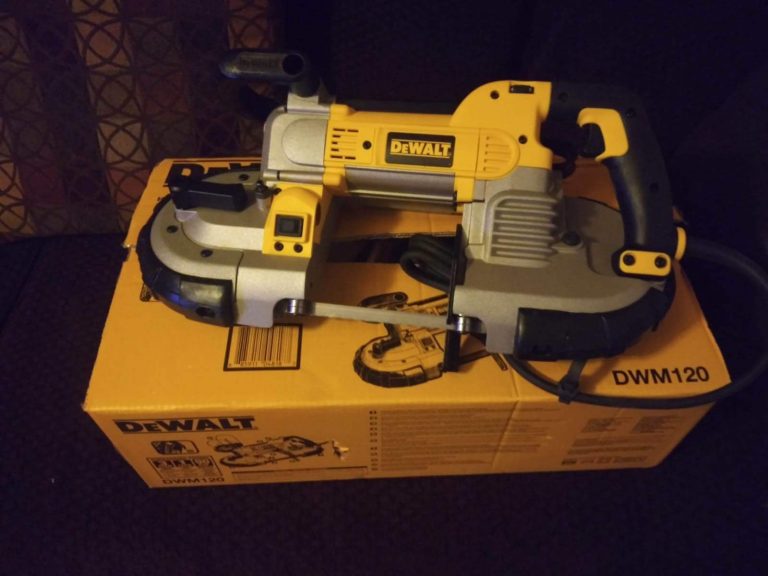 Sale
DEWALT DWM120 Band Saw
10 amp motor of the metal band saw is designed with power to withstand any jobsite application
The portable band saw has 5-inch deep cut capacity for rectangular stock (5 X 4-3/4-inch for round)
Serviceable steel shroud and rubber bumpers of DEWALT band saw allow guards to withstand jobsite abuse without damage
LED sight light allows the user to see cut line in dark jobsite environment
Integrated hang hook allows user to hang the saw without damaging front handle or castings
Pros:
Comes with a LED sight light
5-inch depth cut capacity
Durable steel shroud and rubber bumpers
Compact yet sturdy
Quite affordable
Cons:

Quick Rundown Of Milwaukee 6232-21
Pros:
Robust and stable motor
Large cutting capacity
Provides case in a set
Balanced body design
Reliable gear protecting clutch
Cons:

Conclusion
Each saw has its benefits and downsides, and so do the DEWALT DWM120 and Milwaukee 6232. However, both still ensure to provide you the most precise working performance and comfort.
I have my heart prioritized to the Milwaukee 6232 as this tool can manage a more significant workload and provide better exactness.
I hope that this DEWALT DWM120 Vs Milwaukee 6232 Review is enlightening and would be a great help for you to choose your trustworthy partner.
Popular Alternatives Worth Considering:
Related posts:
>>> The 10 Best Cordless Band Saw For The Money
>>> The 10 Best 14 Inch Band Saw