Saws-enthusiasts must have noticed the fierce battle between Rikon 10-353 Vs Laguna 14 BX as both deliver exceptional features and functions that will enable a smooth working process. Choosing the best machine would be hard if you are a newbie in this area.
Hence, I have specially written this post to share all the information I found that would be useful in declaring the victor.
Let's get on with it!
Differences Between Rikon 10-353 Vs Laguna 14 BX
Image
The Winner (#1)
The Runner-up (#2)
Size
22.5 x 17.5 x 70.25 inches
The Winner (#1)
Image
The Runner-up (#2)
Image
Size
22.5 x 17.5 x 70.25 inches
Performance
The three main features that decide each unit's performance are the motor power, the blade cutting ability, and the table tilt degree.
Regarding motor power, it can be seen that the Rikon 10-353 is more powerful with a 3 HP motor implemented. This motor is proven to manage heavy-duty woodwork for 3 hours continuously. On the contrary, although the Laguna MBAND14bx110-175 only features a 1.75 HP motor, it is more than sufficient for any DIY products or small scale projects.
What is more, the blade of the Rikon 10-353 is bigger than its rival, which will apparently solve hardwood issues more efficiently. This machine possesses a blade's width of 3/16 – 1 inch and a length of 142 inches, 30 inches larger than its opponent.
This industrial machine also comes with a wide range of table tilt degree, providing from -10° to 45° tilting from left to right. The Laguna MBAND14bx110-175 only manages a table tilt left of 7°, so it can't be as flexible as its rival.
Portability
As mentioned above, the Laguna MBAND14bx110-175 weighs merely 260 pounds, 55 pounds lighter than the Rikon 10-353. Besides, it is also equipped with a set of cast iron wheels, which will take you minimal effort and money to transfer.
Quick Rundown Of Rikon 10-353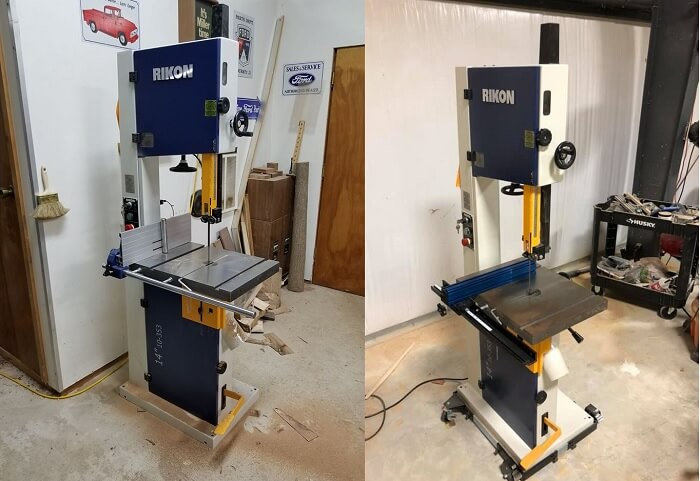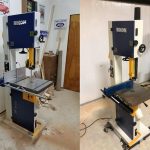 Rikon 10-353 Band Saw
Three Innovative, Patent Pending features make adjusting this redesigned band saw easier than ever before!
Spring Loaded, Tool-Less Blade Guides – easy & fast setting of the guides without wrenches.14 Inch Cutting Capacity
Quick-Adjust Rip Fence – adjusts for drift with the simple turning of a few knobs! No tools needed
Quick-Lock Table Trunnion System – handy lever and gear unlock and set table angles in seconds!
Extra Tall Rip Fence – Increased fence and re-saw bar heights of 6" give added support of lumber being ripped or re-sawn
Pros:
The strong motor of 3 HP enables smoother work
Durable blade provides super fast speed, up to 4,300 FPM
Large and comfortable cast iron table
The easily adjusted fence system
Comes with a long period of a 5-year warranty
Cons:

Quick Rundown Of Laguna Mband14bx110-175
Rikon 10-325 Band Saw
12" Resaw | height: 70 1/4" 21 1/2" X 16" | table height: 38"
7Degree table tilt left | 2 x 4" Dust ports | blade length: 115" | cast iron wheels
Magnetic starter | dual light mount | 45Degree table tilt right max. | blade width: 3/4" | pyramid-shaped spine
Min. Blade width: 1/8" | Footprint: 17 1/2" X 22 1/2" | Quick release tension | magnetic blade guard
Laguna Ceramic Guides | Hi/Low aluminum Fence | Worm Gear Rack & Pinion | Massive Cast Trunnion 8"X13"
Pros:
Huge resaw capacity
Quick-release blade tensioner enables more precise cutting
Sturdy yet compact
Comes with a set of wheels
Quite affordable
Cons:
Suitable for small scale only

Conclusion
Both machines have their strength and weaknesses, yet I can assure you that the benefits of the Rikon 10-353 and Laguna MBAND14bx110-175 have outweighed their downsides.
However, the Rikon 10-353 has always come to mind when I want to choose a reliable and robust band saw. What I appreciate most about this tool is its accuracy and safety when it comes to cutting hard lumbers.
I hope that this Rikon 10-353 Vs Laguna 14 BX Review would be enlightening and help you choose the most suitable partner.
Popular Alternatives Worth Considering:
Related posts:
>>> The 10 Best Cordless Band Saw For The Money
>>> The 10 Best 14 Inch Band Saw