Are you looking for a lightweight yet powerful miter saw for your DIYs? Here we have a brief Dewalt DWS716 review that can help you decide if it is the choice!
For a long time, Dewalt has been a reputable company in the carpenter tools' manufacturing industry. Their model DWS716, which is a miter saw with double-bevel are going viral recently, what are the specials about it?
In this article, we will go quickly through a Dewalt DWS716 review to see if it is the right saw for you. Let's get started!
I. Dewalt DWS716 Specs Overview.
First, we will take a quick look at the specifications of this miter saw. We will put them in bullet points to make it easier for you to catch up with the information.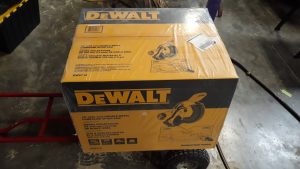 Dimensions: 27.2 x 22.4 x 19.9 inches
Weight: 48.3 pounds
Power source: Electric
Motor speed: 3800 RPM
Blade length: 12 inches
Rating: 4.8 out of 5 stars.
>>> Read Customer Reviews: Here
II. Dewalt Dws716 12-Inch Compound Miter Saw Review.
The Dewalt DWS716 is a really portable piece with great power and accuracy for the professionals. If you are on a budget, you can consider this miter saw for your carpenter work! Let's take a quick look at some of its pros: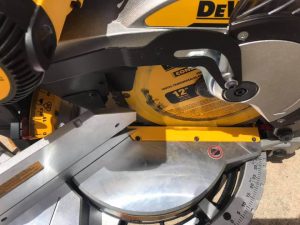 Smart design for quick & easy use.
Able to perform versatile cuts with great accuracy.
Safe to use with a guard cover the spinning blade.
Not so heavy, portable!.
1. Highlighted Features of the Dewalt DWS716 Miter Saw
*** Powerful 15 APM Motor
Since the Dewalt DWS716 is a miter saw for the professionals, its motor must be really powerful. It is a 15APM motor that can drive up to 3800RPM!
That beast will offer users with extra cutting power and great durability. Higher no-load speed also makes it easier and quicker for you to do framing, molding, or any cutting work.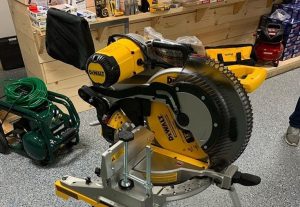 *** Stainless Steel Detent Plate.
This saw's miter detent plate is smoothly adjustable with 14 positive stops. When you actually use the saw, you will see how much this sturdy plate helps with accuracy and saving time!
You literally need no time to set up the saw while in the middle of the work. And that is why this design really improves cutting productivity to a whole new level!
*** Increased Cutting Capacity.
There are many smart adjustments that Dewalt has been putting on this DWS176 to improve its cutting capacity. One such the tall sliding fences that help with performing many samples of molding plus easy switching to bevel cuts!
The cross cuts are also improved to cut deeper at both 90 and 45 degrees.
However, one of the most impressive factors in this miter saw that made it appealing to professionals is the double bevel design! With a double bevel saw, your lumber work will be much quicker since you can adjust the saw from both sides.
Now you no longer need to turn the heavy woods around and around anymore!
*** Cam-lock Miter Handle with Detent Override.
Are you tired of repeating the same cutting movement? Or are you just worried that the cuts are not uniform?
The DWS716's miter lock and detent override will deal with that. We no longer need to twist the handle to lock the miter angle! This quick-lock is highly adjustable and delivers excellent repeatable accuracy.
2. Drawbacks Dewalt Dws716.
*** No Laser or LED guidelight.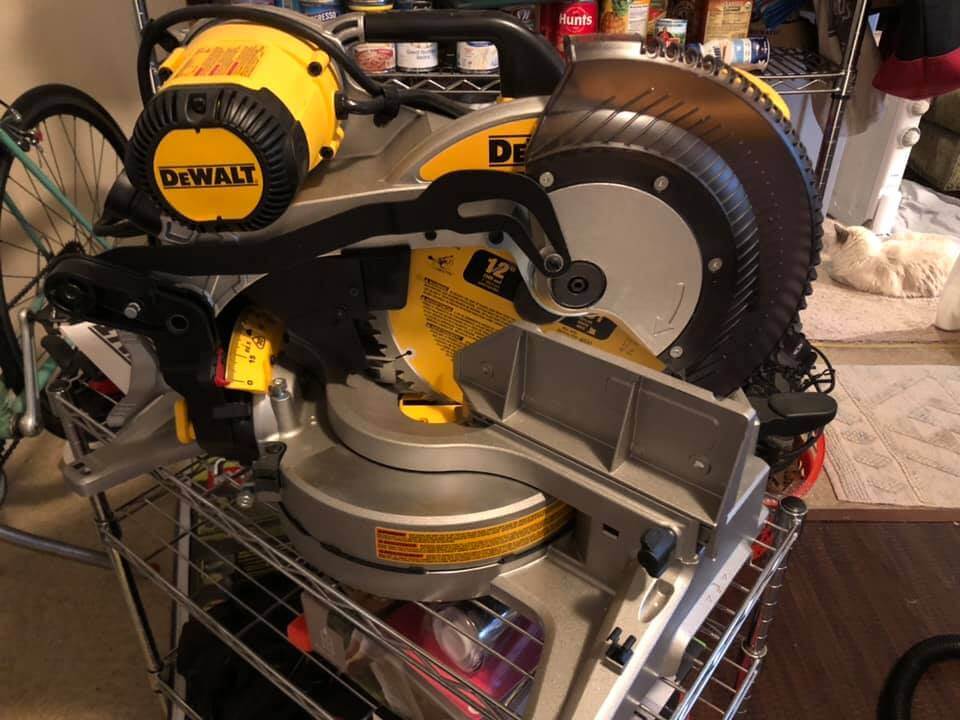 The Dewalt DWS716 comes with no cutting guide from the manufacturer. There are no built-in laser or LEDs attached to the box.
Many carpenters want to help a guidelight to perform more accurate cuts. You can actually purchase a LED or laser online. But it depends on the model that you get, the LED might be or not be compatible. So, pay close attention when choosing your guidelight!
And this is the end of our Dewalt DWS716 review!
Now we know that this miter saw is most suitable for pro carpenters, do you think that this is the one for you? Even if you are not a master at lumber work, you can still get this saw if you want your job to be done quicker and more accurately.