Milwaukee 2734-21HD is highly appreciated by users, from the power to the cutting capacity. That's why you prioritize to pick this miter saw to use for your cutting work.
Well, today's article will be Milwaukee 2734-21HD review. You have found the right content. Remember to read before starting your investment.
Let's go!!!
I. Milwaukee 2734-21HD Specifications
Type Saw: Sliding Compound Miter Saw
Saw Dimensions: 34.5 x 27.5 x 27 inches
Weight: 45 pounds
Blade: 10 inches, 60 teeth
Material: Aluminum
Run-time: 400 cuts
No Load Speed: 4,000 RPM
Power Source: Battery
*** Pros:
Longer-running battery
More convenient than the corded saws
The tight rails retracted the saw, no slop
Adjustable dual bevel
Various miter angles
Easy to change the blade
*** Cons:
A little slower when cutting
A lot of dust while cutting
>>> Read Customer Reviews: Here
II. Milwaukee 2734-21HD Review – Outstanding Features
1. Portability
The first outstanding feature that the Milwaukee 2734-21HD brings users is portability.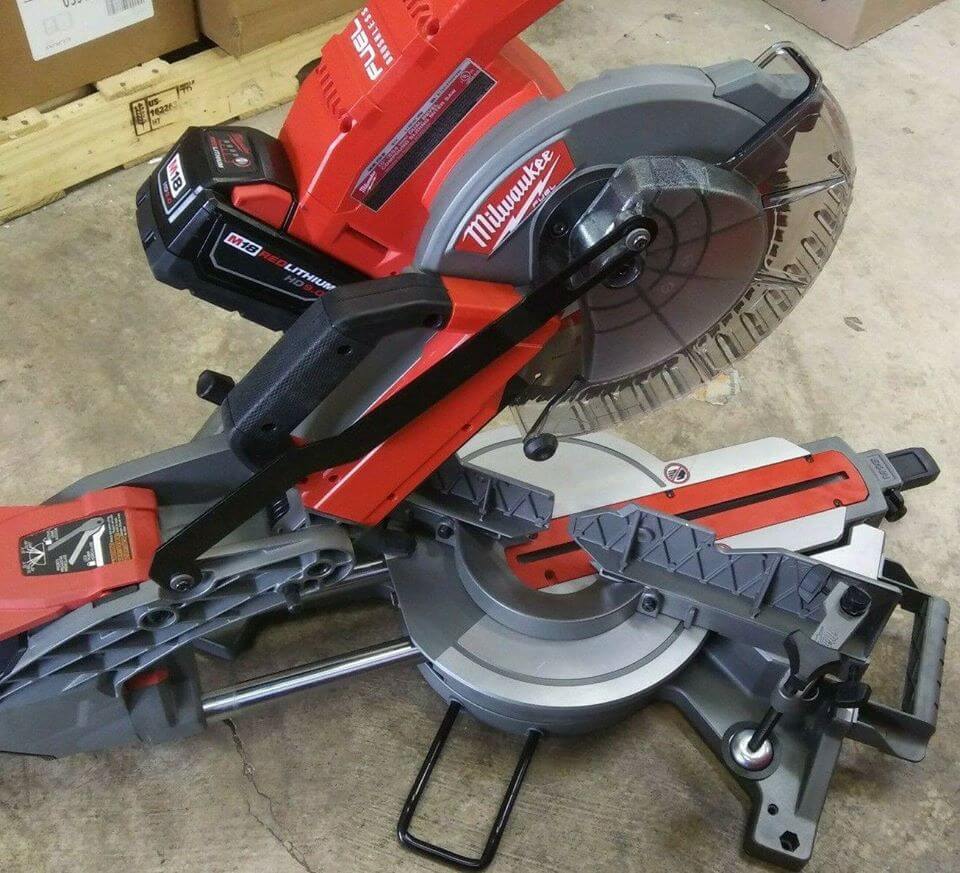 In comparison with many Milwaukee saws, this miter saw is much lighter – 45 pounds because the manufacturer cuts out of plenty of weight. They utilize struts and fancy grids across the metal. Looking at the base and the saw arm, you can see these ones.
2. Power
Is the cordless saw powerful? We do not know how other saws are, but Milwaukee 2734-21HD provides users with strong power with its non-cord design.
The machine runs with a 9Ah battery and even features the M18 battery platform. This combination is powerful enough for the 10-inch miter saw to cut.
In particular, the High Demand 9Ah battery allows you to perform 150 cuts (2×12 inches of lumber), 300 cuts (2 x 4 inches), and 400 cuts (3-½-inch baseboard trim).
3. Cutting Capacity
The Milwaukee 2734-21HD features the adjustable detent plate made from stainless steel, detent override, bevel adjustments, miter lock, trenching capability, bevel detent locations, cam locking system, miter detent locations, and detent override. Ensure that you can cut a variety of angles.
It is noticeable that "Fuel" appears in the product name. It means that this miter saw runs with a brushless motor.
How is the brushless motor? Not only does this motor help to last saw lifespan but the run time is also longer. Thanks to that, the cutting capacity becomes more optimal.
Typically, you might perform the 5-3/4″ vertical cuts as well as the 2 x 12 horizontal cuts. For bevel and miter settings, you are easy to cut at 48 degrees and  50°/60° for left/ right.
4. Clean Cuts and Dust Collection
With the 60-tooth blade, this saw leaves nice edges. Especially, the support of cove molding, chair, base, and crown also contributes to increasing the performance of the saw blade.
For the dust collection, initially, we do not highly appreciate it because Milwaukee has built up the dust port at the fixed distance from the blade. However, the dust collection bag could collect a significant amount. Not bad!!!
More: 10 BEST Miter Saws (Sliding, Compound)
III. Final Thought
How is your decision after reading our Milwaukee 2734-21HD review? Buy one or not?
We hope that you will be able to give the right choice. The best plan would be to consider the advantages and then ask yourself on the disadvantages that are acceptable.
Now, let's get down to cut!!!