When we talk about electric tillers, both Earthwise TC70016 vs Sun Joe TJ604E are excellent models that indeed serve you well. However, if you have to choose one, which tool is your favorite?
We all know it is challenging to give a satisfactory answer. That's why we have written this comprehensive review for you to consult. Do not hesitate and give this site a check!
Differences Between Earthwise TC70016 and Sun Joe TJ604E.
Image
The Winner (#1)
The Runner-up (#2)
The Winner (#1)
Image
The Runner-up (#2)
Image
Which Machine Is Much More Convenient?
Earthwise TC70016 comes to the market with a weight of 29 pounds, and dimensions of 40 x 19 x 42 inches after complete assembly. As for the Sun Joe TJ604E, its dimensions are 55 x 43 x 43 inches, and its weight is 27.1 pounds.
The weight gap between these two machines is not that significant, but you can quickly notice that their designs are totally different. However, they are all lightweight enough to move around without breaking a sweat.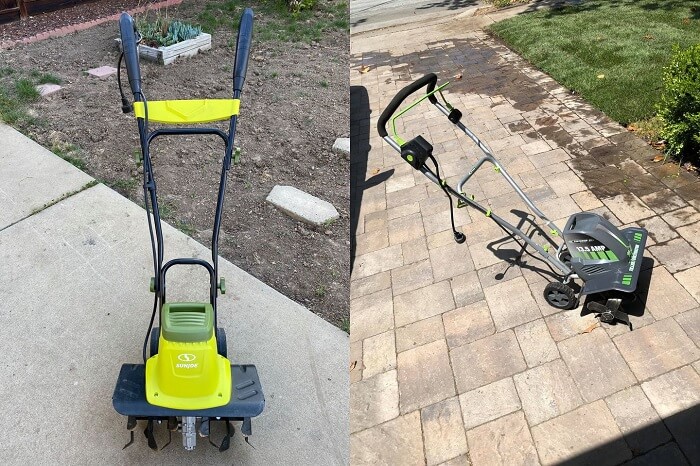 Engine Power
In addition to mobility, Earthwise and Sun Joe electric tillers are relatively identical in engine power.
To be more specific, they deliver a fair amount of power to perform well in a medium to large-sized garden with the help of a hefty 13.5 Amp engine. There is no need to put in much effort while tackling any tough and rough gardening projects.
It must be mentioned that the two brands have the same sense of purpose, which is to design the environmental-friendly motor without the usage of oil or gas.
Whereas the Earthwise's product enables up to 360 blade rotations per minute, its opponent is claimed to reach up to 370 RPM while slicing through the soil.
As a result, we can tell the winner in this regard belongs to the Sun Joe tiller as it has a more impressive motor.
Stunning Features And Included Accessories
Earthwise TC70016 vs Sun Joe TJ604E comes with a wide range of stunning features. Let's jump right into each part now!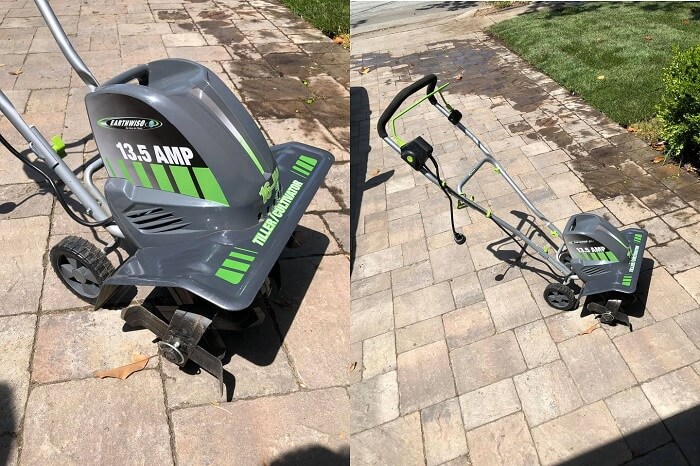 First, Earthwise TC70016 features a single-lever switch so that you will find it effortless to operate, as long as you plug this tool in an electrical outlet and have reliable power for tilling.
Suppose you seek a tilter/cultivator with a comfortable handle. In that case, you will never go wrong with this Earthwise model as it has a soft ergonomic grip to add extra convenience for users. Notably, there is a cord retention hook to avoid interrupting while gardening.
But what makes this TC70016 truly outshine other products out there are the six adjustable tines, whose cultivating capacity ranges from 11 to 16-inch width and 8-inch depth.
As such, you will have various customizing options to handle both soft and rough grounds with ease. Mostly, it might be helpful when you have to work in narrow areas.
Besides, thanks to the stainless steel, these times are rust-resistant and durable enough to serve you for an extended period.
This Earthwise TC70016 often includes an ergonomic handle, six adjustable steel tines.
Unlike the previous tiller, this Sun Joe TJ604E offers six steel angled tines that can cultivate up to 16-inch wide and 8-inch deep.
Other tillers only have four tines. But with the help of this product, finishing more tilling projects than usual has never been easy like that. No doubt, this feature has contributed significantly to the premium performance and durability.
Furthermore, you will undoubtedly love the 3-position wheel adjustment. The reason is that it enables you to handle this equipment effortlessly, and till deeper than the standard measurement of 8 inches.
Another advantage that must be mentioned here is its foldable handle, leading to extra convenience for storage. On top of that, this tiller is equipped with a plug-and-play tool. It means that you can operate this machine by pressing on its button. It is simple, right?
An investment in Sun Joe TJ604E consists of a foldable handle, six angled steel tines, three-position adjustable wheels, start/stop button.
Quick Rundown Of Earthwise TC70016
Earthwise TC70016 Tiller
Earthwise cultivator machine with 6 adjustable tines
Motor cultivator with 11" to 16" adjustable working width and 8" working depth
Corded electric roto-tiller with powerful 13.5-amp motor
Ergonomic and maneuverable electric hand tiller design
Compact and lightweight design with assembled product dimensions of 40 x 19 x 42 inches
Pros:
An environmental-friendly motor
Lightweight
Versatile to work in a narrow or wide area
Six adjustable steel tines
Comfortable handle
Cons
Needs assembly
Vague instructions

Quick Rundown Of Sun Joe TJ604E
Sun Joe TJ604E Tiller
[POWERFUL]: 13.5-Amp motor cultivates up to 16 in. Wide x 8 in. Deep
[DURABLE]: 6 Steel angled tines for maximum durability and performance
[EASY STORAGE]: Handle folds for convenient storage and easy transport
[ADJUSTABLE]: 3-position wheel adjustment
[WEVE GOT YOU COVERED!]: Your new tiller and cultivator is backed by the snow Joe and Sun Joe customer promise. We will warrant New, powered products for two years from the date of purchase. No questions asked. Contact snow Joe and Sun Joe customer Support at 1-866-766-9563 for further assistance.
Pros:
Easy to operate and maneuver around
3-position wheel adjustment
Foldable handle for more storage
Six durable tines for high-end gardening performance
Robust motor
Cons:
Runs at one speed
Needs assembly

Wrapping Up
Above is our in-depth review of two sought-after tillers/cultivators on the market. It cannot be denied that Earthwise TC70016 vs Sun Joe TJ604E shares many specs in common, but we will opt for the latter due to its robust engine, comfort, and extra storage.
Which tool suits your need more? We do hope that you can find out the perfect match!