Every gardener had better know that a tiller will help to tackle every gardening project like a knife through butter. Of course, there are plenty of trusted brands on the market for you to consider, and Mantis is among them. Its sought-after products that must be included here are Mantis 7924 vs 7940.
Which machine will worth your money more? Let's refer to our thorough comparison below to answer.
Differences Between Mantis 7924 and 7940
Image
The Winner (#1)
The Runner-up (#2)
The Winner (#1)
Image
The Runner-up (#2)
Image
Design Comparison
Mantis has paid attention to the users' convenience while transporting their machine around the yard, that's why both 7924 vs 7940 models are lightweight.
Specifically, the 7924 rototiller has dimensions of 48 x 17 x 38 inches and a weight of 20 pounds. Meanwhile, the 7940 product weighs 4 pounds heavier than the previous one, but its dimensions of 29.25 x 13.5 x 9.5 inches seem to be a more compact design.
However, Mantis 7924 is still more advantageous in terms of mobility, helping you lift and move it around without breaking a sweat.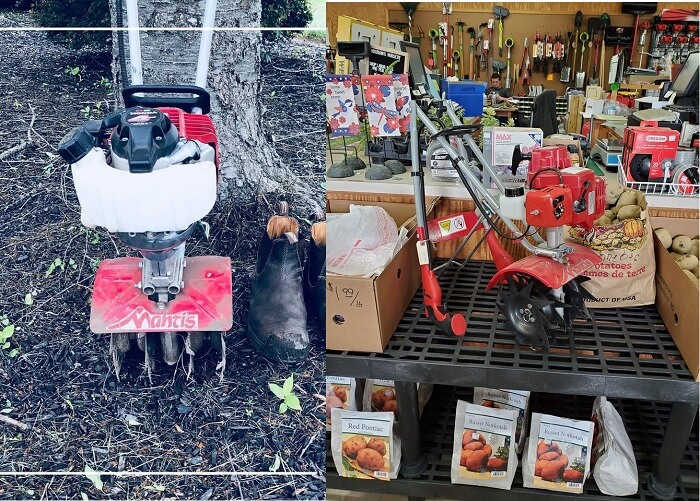 Power Comparison
There is a significant difference between these two candidates today. Mantis 7924 is powered by a 2-cycle 21.2cc motor. But the 7940 tiller seems to be unexpectedly on another level with a powerful Honda 4-cycle 25cc engine.
They share their ability to turn the tines twice as fast as other products out there at up to 240 rotations per minute.
In sum, Mantis 7940 obviously wins this game because it delivers much power to dig into the most hardened soil and clay.
Feature Comparison
The top-notch feature that makes the 7924 model further liked by lots of customers is Fast-start technology. It enables you to pull the starter cord 75% easier, so it saves a lot of time and prevents frustration for newbies during their first-time usage.
Let's talk about its tilling capacity. The machine gives you various depth options, which varies from two to a maximum of ten inches in the soil. Moreover, its limited 9-inch width is incredibly ideal for narrow areas.
Besides, it will be a big mistake if we do not mention the comfort from fingertip-controlled speed. You will find it extremely easy to operate and control the pace, thanks to the finger-throttle.
Notably, rest assured that you shall not get fatigued while holding the tiller for too long as Mantis has added convenient sure-grip handles to this device.
Mantis 7924 comes in a pack of four steel tines, foldable handles, a finger throttle.
Mantis 7940 is famous for a handy kickstand, contributing significantly to the ease of fueling and steady placement when the tiller is not in use.
Like the above machine, this 7940 unit also provides the ease of operation and control of the speed with the help of finger controlled throttle. No doubt, it adds extra versatility to the product.
On top of that, the unique curved tines let you till from two to ten inches of depth and nine inches of width. As a result, utilizing it to either till or cultivate is not a big deal anymore.
It is not an exaggeration to say that this Mantis tiller is a perfect package because it is easy to start, quiet to use, and practical to run.
Buying Mantis 7940 will receive four durable curved tines, ergonomically flared and foldable handles, a handy kickstand, and a fingertip throttle.
Quick Rundown of Mantis 7924
Sale
Pros:
Extremely lightweight
Fast-start technology
Fingertip-controlled speed
Convenient storage
Variable depth adjustment
Cons:
Lower power for tough projects
Gas-powered machine
High cost

Quick Rundown of Mantis 7940
Mantis 7940 Tiller
Comes with a handy carrying handle
Entire unit weighs Only 24-pounds
Handle Bars fold down for easy storage
2-year limited Warranty
Come with standard kickstand
Pros:
Controls speed easily
Robust Honda 4-cycle engine
A handy kickstand
Curvy and durable tines
Extra storage
Versatile for digging depth
Cons:
Need more maintenance
Not really eco-friendly
Expensive

Conclusion
Mantis 7924 and 7940 are quite similar, and they all make efforts to support you with your gardening work. No matter what your choice is, you indeed benefit much from it.
But if you have to pick up one, we recommend you go for the mighty Mantis 7940, and it will not let you down. We hope that you can finally make an informed decision.