Further down the page, you'll find some explanations regarding the key similarities and differences between the Horizon 7.0 AT and the Nordictrack C990.
But before checking out explanations regarding their specs and features here's a table that summarizes the main technical summary sheet for these 2 treadmills:
Image
The Winner (#1)
The Runner-up (#2)
Heart Rate Monitor
Contact Hand Grips, Bluetooth 4.0 Compatible Receiver
Bluetooth chest strap and EKG grip pulse
Display
7″ full color touch display
The Winner (#1)
Image
Heart Rate Monitor
Contact Hand Grips, Bluetooth 4.0 Compatible Receiver
The Runner-up (#2)
Image
Heart Rate Monitor
Bluetooth chest strap and EKG grip pulse
Display
7″ full color touch display
Specs Comparison
When it comes to shopping, we prioritize price above all else. These treadmills' prices vary depending on where you're buying, but in general, they both cost around $1000. Given their quality, they are truly a steal within the price range.
The match remains equal with the machines' weight limit: both can handle up to 325 pounds, just like other Nordictrack and Horizon trainers.
The number of training programs is where the two machines diverge. While Horizon 7.0 AT has only 6 programs, the Nordictrack C 990 provides 32 workouts.
Regarding the drive system, each owns a 3.0 CHP engine, allowing for long practice sessions. Even more, the 990 tread belt's design helps with noise and friction reduction, providing a more comfortable workout.
The Nordictrack continues to take the lead in the tilt range: it has a 15% range, while Horizon 7.0 AT compromises at 12%. It's not a surprise: Nordictrack products' strong point is their incline capacity.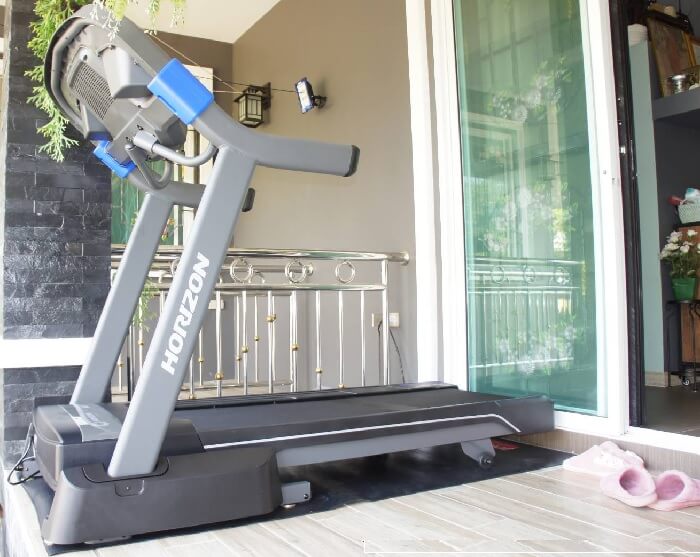 When buying treadmills, opt for nothing below 10MPH. These treadmills are perfectly suitable candidates, as the C 990 allows users to reach up to 12 MPH, while the T's range, though slightly smaller, settles for no less than 10 MPH.
As treadmills reach their limit speed, they produce a lot of heat, damaging the engine's age. To prevent this, Nordictrack has equipped its product with an automatic cooling mechanism, namely the AutoBreeze system. The Horizon doesn't come with such a feature.
The machines' heart monitors are similar, as both are Bluetooth-integrated. If any, the Horizon 7.0 AT application comes with a fancier name: Smart Fitness Technology.
Moving on to the sizes of the two machines. Nordictrack C 990 is 79.5″ L x 35.5″ W x 60.3″ H in size and 253 pounds in weight, while Horizon is less bulky, measuring 78.74″ L x 29.92″ W x 11.81″ H in size and weighing 215 pounds.
The Nordictrack has compact folded dimensions that measure 35.5″ wide, 42.6″ long, and 70.9″ tall. The 7.0 AT is similar with a 47″ L x 34″ W x 65″ H fold size.
Wondering how to move these treadmills? The answer is that both machines are equipped with rollers, 1.9 inches for the Nordictrack and 2.5 inches for the Horizon.
What about belt size? Both the C 990 and the 7.0 AT have a 20 ″ X 60 ″ belt.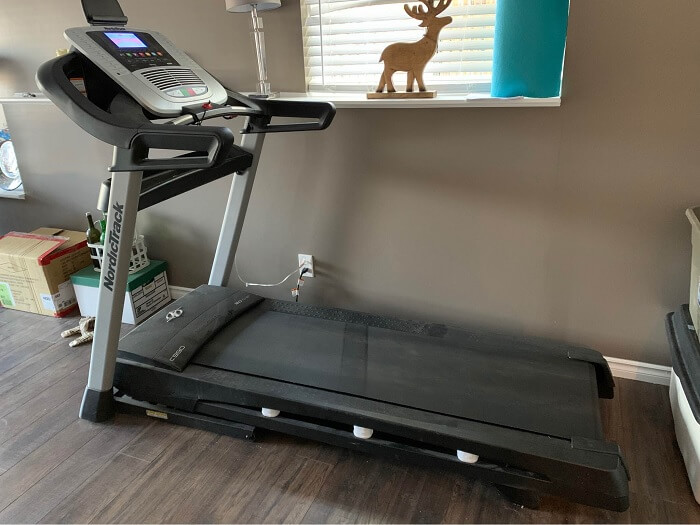 Features Comparison
How do you adjust the speed and tilt range or any other machine-related function? Just click the "Speed" and "Tilt" buttons on the control panel, and all else is up to you.
According to the user manual, both have a 7″ touch screen with a full-range color display. It helps users keep track of all figures relevant to the workout and acts as a control panel. Wishing to customize fan speed and workout programs? You're only one click away.
If you're the type of person who relies on music for constant motivation, both machines come with a speaker system. The one on the 7.0 AT is Bluetooth-integrated, while the one on the Nordictrack C 990 is a separate dual 2-inch system.
How about a wireless connection? Both products are Bluetooth-enabled and compatible with mobile devices. The Horizon 7.0 AT supports Smart Fitness Technology, which connects to media and guided classes. The C990 comes with iFit, providing extensive training materials.
If you want to bring water during practice, both machines are equipped with a water bottle holder. However, if you want a device holder, only Horizon 7.0 AT can provide it.
Quick Rundown Of Horizon 7.0 AT
Horizon 7.0 AT Treadmill
Advanced Bluetooth connects to multiple devices to stream media through integrated speakers
Includes free app to control your workout and push data to favorite fitness Apps, plus device holder and rapid-charge USB port
Powerful, 3. 0 chap motor
60" 3-Zone cushioned deck for comfortable footfalls
Lifetime frame and motor; Power: 120v - 60Hz
[i2pc show_title="false" title="Pros & Cons" show_button="false" pros_title="Pros" cons_title="Cons" ][i2pros]Powerful engine
Wide tilt range
Suitable for light workouts
Affordable price[/i2pros][i2cons]Small touch screen[/i2cons][/i2pc]

---
Quick Rundown Of Nordictrack C 990
Fan cooling available
Wide tilt range
Powerful engine
Many built-in workout programs[/i2pros][i2cons]No device holder
Expensive[/i2cons][/i2pc]

---
Product Videos
---
Conclusion
In brief, the C 990 leans towards the overall power, size, features, and internal factors, but the 7.0 AT is also a good choice in the remaining respects. If you want to save money, the latter will be more suitable!
So between Horizon 7.0 AT vs Nordictrack C990, which will you choose? Whatever your decision is, we hope this guideline has been helpful during the process. Thank you for following this post!
---