Further down the page, you'll find some explanations regarding the key similarities and differences between the Sole F63 and the Nordictrack 6.5 SI.
But before checking out explanations regarding their specs, features, and warranty, here's a table that summarizes the main technical summary sheet for these 2 treadmills:
Image
The Winner (#1)
Heart Rate Monitor
dual EKG handlebar pulse grips
The Winner (#1)
Image
Heart Rate Monitor
dual EKG handlebar pulse grips
Specs Comparison
Surprisingly, these two friendly-budget treadmills are offered at the same price. To decide which model is worth buying, we will go into details of other specifications!
Looking at the total weight capacity, we see that the maximum weight capacity of the sturdy Sole F63 is 325 pounds, while Nordictrack 6.5 Si can only hold a lighter weight of 300 pounds.
The Nordictrack model wins over its rival in pre-installed workout programs because the Sole F63 treadmill is only set up with ten workout programs. In comparison, the Nordictrack 6.5 Si comes with built-in 20 programs to keep you enjoyable and motivated.
An additional important factor you always have to check before buying is roller size. The Sole F63 comes with a standard roller size of 2.5 inches, which is believed to be a good size for a durable machine. As for Nordictrack 6.5 Si, it possibly has a shorter lifespan. The main reason is that it features only a 1.9-inches roller.
Also, both Sole F63 and Nordictrack 6.5 Si are equipped with a small-size motor. The 3.0 CHP motor of Sole F63 still delivers a good running, walking, and jogging performance. The Nordictrack 6.5 Si is powered by a 2.6 CHP continuous duty motor, which offers you all basic functionalities like running, cross-training, interval training.
Incline range is also as important as motor size, which helps gain a body fit quickest. Specifically, Sole F63 reaches a maximum incline of 15%, which still falls on the incline range of almost all treadmills in the market. At this incline range, you can expect that it can help burn around 200 calories per hour. Moreover, this number is also higher than Nordictrack 6.5 Si, which has a 10% incline as the max.
For anyone who is interested in running, speed range comparison can't be missed out. The durable steel frame of Sole F63 can hold the top speed of 12 MPH steadily. Compared with Nordictrack 6.5 Si, the max speed of this model is only 10 MPH, which is not suitable for a runner. Its speed max aims to leisurely walk or jog.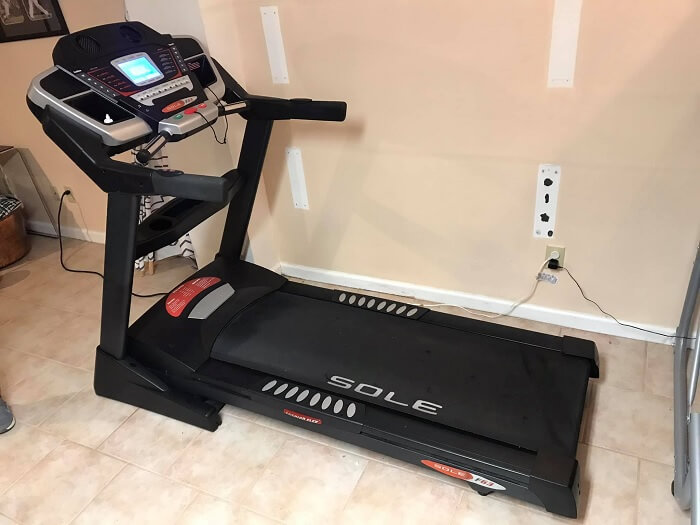 How about the built-in fan? Although it is not so essential as we practice in the air-conditioned room, the built-in fans are still favored. The Sole F63 gets a higher score with its built-in cooling fans, unavailable for Nordictrack 6.5 Si.
Regarding heart rate monitoring, the Sole F63 features a wireless heart rate chest strap to keep track of your heart rate in real-time. Unfortunately, this feature is not available for Nordictrack 6.5 Si.
Now we will move on to the details of their design. The dimension of both models is quite similar. More specifically, Sole F63 measures 33 x 75 x 58 inches (W x L x H). When folded as a V-shape, its dimension is 68 x 43 inches (H x D). The Nordictrack 6.5 Si, on the other hand, measures 6" x 67.5" x 73" inches. The small size of both models makes them take smaller space and store it with a breeze.
Features Comparison
The design of the console and handlebar on both machines make speed and incline adjustment easier. With Sole F63, you can easily adjust your speed and incline range from either console or handlebar.
Adjusting speed and incline on Nordictrack 6.5 Si is also convenient by touching the button. You can increase or decrease the workout level you want.
As the speed and incline adjustment, program selection on these treadmills is convenient. Using the arrow keys to scroll through the programs on the Sole F63 treadmill, you can select the program you want. However, the Nordictrack 6.5 Si is more high-tech, which features a visual screen available to select the programs you like by tapping on it.
In the competition to define the winner between Sole F63 and Nordictrack 6.5 Si, we consider that the visual display is one central point. The Sole F63 is furnished with a 6.5" white back-lit screen. In contrast, we prefer the Nordictrack 6.5 Si more because it is more modern with an HD touch 10'' screen display. The Visual Display of Nordictrack 6.5 Si also can stream on-demand iFit workouts and provides easy stats tracking.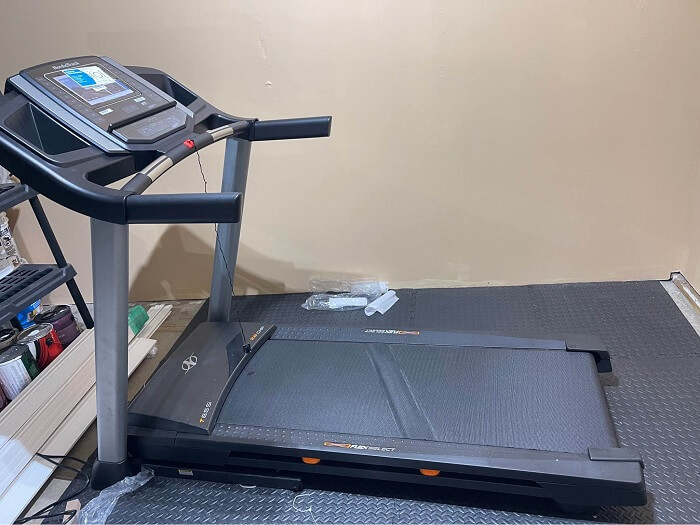 In the final part of the feature comparison, we analyze some other conveniences of the two products. In detail, the Sole F63 comes with Bluetooth's Audio Speakers syncing with your mobile phone and tablets, which would be more favorable than two built-in speakers and auxiliary audio input from Nordictrack 6.5 Si.
Subsequently, the Sole F63 provides you with a USB charging port, which is lacking in the model of Nordictrack 6.5 Si.
The Nordictrack 6.5 Si features two cup holders and one table holder to prop up your tablet for entertainment during running. Similarly, Sole F63 provides two water bottle holders, an accessory tray, and a tablet holder.
Warranty
As with other Nordictrack treadmills, the model 6.5 Si gives you ten years of coverage on the frame, two years on the parts, and one year on labor with your purchase.
With the Sole F63, you get lifetime coverage on the frame and motor, three years of coverage on the parts, deck, and electronics, and one year of coverage on labor.
Quick Rundown Of Sole F63
No products found.
[i2pc show_title="false" title="Pros & Cons" show_button="false" pros_title="Pros" cons_title="Cons" ][i2pros]Higher weight capacity
Affordable price
Built-in cooling fan
Bluetooth's Audio Speakers[/i2pros][i2cons]A little noisy
The built-in fan seems useless
Taking time in assembling. [/i2cons][/i2pc]
---
Quick Rundown Of Nordictrack 6.5 SI
Nordictrack 6.5 SI Treadmill
NordicTrack the #1 Treadmill Brand - Based on US Treadmill Dollar Share, TraQline Data 2018-2023
30-Day iFIT Membership Included; Stream Live & On-Demand Workouts On Your Equipment With Global Workouts & Studio Classes; Elite Trainers Adjust Your Equipment (15 Dollar Value)
Immersive 10-inch interactive HD touchscreen streams on-demand iFIT workouts directly to your equipment and provides easy stats tracking; SMART-Response motor for effective running and cardio training
10 % OneTouch incline control; 10 MPH SMART OneTouch speed control; Your iFIT Trainer auto-adjusts your smart treadmill's speed and incline for a fully optimized workout that meets your goals
Innovative SpaceSaver design with EasyLift Assist means your treadmill can fold up after your run for compact, simple storage; 20" x 50" tread deck; Bluetooth headphone connectivity for in-ear audio
[i2pc show_title="false" title="Pros & Cons" show_button="false" pros_title="Pros" cons_title="Cons" ][i2pros]10-inches screen display
Loudspeaker
Sturdy machine [/i2pros][i2cons]Louder once running
Heavy machine
Unsuitable for the tall runners[/i2cons][/i2pc]
---
Product Videos
---
Conclusion
We hope the comprehensive comparison between Sole F63 Vs Nordictrack 6.5 Si provides you a clear overview of the two models. Between the two models, the sturdy Sole F63 is more dominating in terms of important specifications. But the Nordictrack 6.5 Si is more suitable for those who need walking, jogging. Especially if users are ready to sacrifice lower running speed and smaller maximum programs for a fancy high-tech display and iFit Trainer.
---