Further down the page, you'll find some explanations regarding the key similarities and differences between the Horizon Fitness T202 and the Nordictrack C 700.
But before checking out explanations regarding their specs and features here's a table that summarizes the main technical summary sheet for these 2 treadmills:
Image
The Winner (#1)
The Runner-up (#2)
Display
3" LED, backlit LCD screen
The Winner (#1)
Image
Display
3" LED, backlit LCD screen
The Runner-up (#2)
Image
Specs Comparison
When it comes to shopping, we all know that cost is the most pressing issue. In this round, Nordictrack C700 wins because it costs $200 cheaper than its competitor.
What comes next? Nordictrack C700 has a maximum user weight of 300 pounds. The Horizon T202, on the other hand, can carry up to 325 pounds. Although the gap in their weight capacity is minor, some customers also consider it criteria when making a purchase.
The most obvious difference is the number of built-in programs in each product. While Horizon T202 only offers you five exercises, Nordictrack C700 helps you practice with twenty different programs.
Noticeably, the horsepower also varies in two treadmills. A strong 2.75 CHP motor is included in the Horizon T202. Meanwhile, the engine on the Nordictrack C700 produces just 2.75 CHP.
Regarding the incline range, Horizon T202 wins over its competitor because it has a wider one: 0 – 12%. This figure in C700 is about 0 % to 10%.
Now, let's take a quick look at the speed. The Nordictrack C 700 can reach a top speed of 10 mph. Meanwhile, Horizon Fitness T202 can reach a maximum speed of 12 mph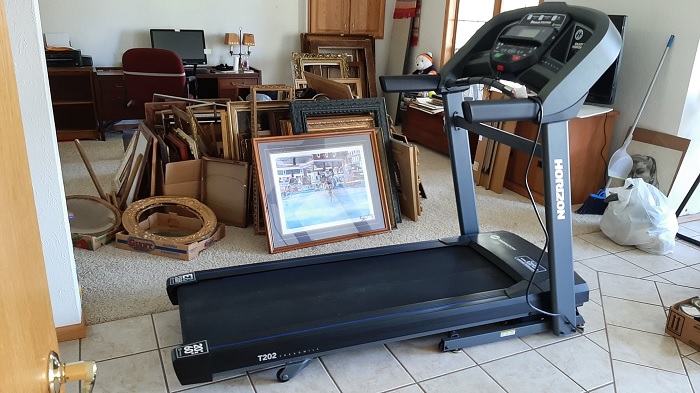 One more thing in their commons is the cooling fan. There will be a lot of heat emitted when the treadmills reach their peak speed. In that case, the fan will cool down the machines.
The heart monitoring functionality is the same in both devices, too. You only need to use the handlebars to calculate your heart rate on the trainers.
How about the size? Horizon Fitness T202 has a length of 76 inches, a width of 32 inches, and a height of 58 inches. Meanwhile, the Nordictrack C 700 is 66 inches long, 33.5 inches wide, and 57 inches high.
Although the Horizon trainer looks bigger, it weighs less than its counterpart. To be specific, the weight of C700 and T202 is 199 pounds and 172 pounds, respectively.
You may wonder how we can lift or move these bulky machines, right? We have good news for you! C700 and T202 are equipped with rollers in case of movement, not to mention the fact both of them are foldable. Folded dimensions are 47″ x 34″ x 65″ in T202 and 62.5″ x 33.5″ x 34″ in C700.
The last specification to compare is the running area. The belt size of T202 is 20″ x 60″, which is larger than the 20″ x 55″ belt of C700.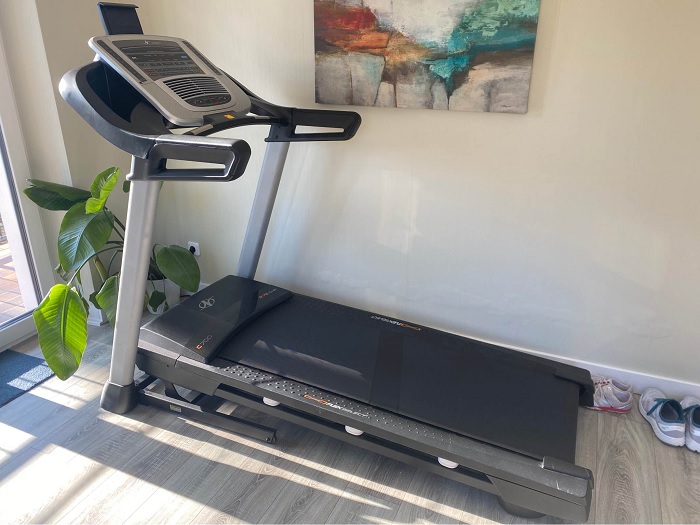 Features Comparison
According to the manual, both the T202 and C700 provide quick shift speed and OneTouch incline control. Users can take advantage of them to adjust their exercise process.
Interestingly, the two treadmills come with an iFit app that allows you to access an uncountable workout library on your device. The app also enables you to keep track of your speed and calculate your anticipated calorie burn every time you work out.
Moreover, users can utilize the rapid-charge USB port to connect freely to the treadmills. Another good news is that connection ability to iOS and Android is available on both treadmills.
About the speaker, the Horizon model has the edge over Nordictrack. C700 installs two 2″ digitally amplified speakers. In contrast, the T202 features two built-in speakers coming with an aux cord so that you can get the volume up when the quality of the sound goes down.
C700 gets one more point thanks to its advanced technological appliance – a Multi-window LED Display. On the other hand, T202's display is just shown by the 3 LED windows.
Last but not least, T0202 and C700 have a built-in holder for users to place their drink in terms of bottle cubbies. Such a convenient solution!
Quick Rundown Of Horizon Fitness T202
Horizon Fitness T202 Treadmill
Includes free app to control your workout and push data to favorite fitness Apps, plus device holder and rapid-charge USB port
Assembled Dimensions: 75" L x 34" W x 58" H | Folded Dimensions: 47" L x 34" W x 65" H | Running Area: 20" x 60" | Weight: 187 lbs
Max User Weight: 325 lbs
Quickly shift speed and incline with one-touch keys, quick-rotating Dial and handle bar controls
Powerful, 2. 75 chap motor
[i2pc show_title="false" title="Pros & Cons" show_button="false" pros_title="Pros" cons_title="Cons" ][i2pros]Ability to carry more weight
Powerful engine
Wide running area
Good warranty policy
[/i2pros][i2cons]Lack of technological support (compared to C700)
Loud noise from the cooling fan
[/i2cons][/i2pc]

---
Quick Rundown Of Nordictrack C 700
Nordictrack C 700 Treadmill
Features AutoBreeze Workout Fan, 2 front wheels, FlexSelect Cushioning, Two 2" Digitally Amplified Speakers, Integrated Tablet Holder, Auxiliary Music Port, Multi-window LED Display
Product dimensions – 73.5" L x 35.5" W x 60.4" H, Folded dimensions – 36" L x 35.5" W x 60.4" H, Weight limit – 300 lbs., Incline – 0-10%, Power requirements – 110V 15 amp, Tread Belt – 20" x 55", Speed – 0-10 MPH, Motor – 2.75 CHP
Interactive personal training at home powered by iFit, Gain access to on demand, interactive trainer led global and studio workout programs; membership required, sold separately
Assembly required, Table holder holds up to an iPad Pro size, Innovative SpaceSaver design with easylift assist means your treadmill can fold up after your run for compact, simple storage
Bluetooth connection allows iFit to automatically adjust your treadmill's speed and incline to match trainer recommendations and mimic real life terrain, Integrated tablet holder secures your tablet or smartphone
[i2pc show_title="false" title="Pros & Cons" show_button="false" pros_title="Pros" cons_title="Cons" ][i2pros]Affordable price
More workout programs
Multi-window LED Display
High-quality speakers[/i2pros][i2cons]Heavyweight
Low incline range[/i2cons][/i2pc]

---
Product Videos
---
Conclusion
We have just compared Horizon T202 vs Nordictrack C700. As we can see, C700 brings out more modern supports such as LED displays or speakers. However, when it comes to workout, T202 seems to surpass because of its powerful operation, large running belt, and wide incline range.
---