You may be familiar with handheld drills, which use different types of drill bits. One thing unpleasant about this tool is that it hinders you from achieving the power, precision, and repeatability when you need to use it on a variety of materials.
Therefore, drill presses are introduced to get rid of your discomfort with handheld drills. These tools come in a variety of shapes and sizes in the market. We'll walk you through a detailed comparison of JET JWDP-12 vs WEN 4214 in today's post.
1. Jet 716000 JWDP-12 Drill Press Review.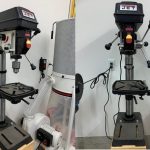 JET JWDP-12 is a combination of the power of a large model and the design of a compact, space-saving tool. The tool is ideal for home usage or works that require traveling.
JET JWDP-12 has a rugged construction due to the iron-made base, which produces the rigidity and stability for the equipment. The compact and firm design makes it possible to be placed in minimal space and easily transported to different locations.
The tool powers with its heavy ½ HP motor, boosting strength for various drilling applications. Even for the toughest materials, they are handled with ease by JET JWDP-12, which might be more difficult to operate in the case of WEN 4214.
Besides, JET JWDP-12 functions at a variable speed of 530-3100 RPMs for versatility. The lever on the tools gives you the ease of changing speeds. Moreover, the spindle can travel up to 3-1/8″ for maximum depth cutting.
The tool contains various features for jobs requiring accuracy. The laser crosshairs make alignment foolproof. And there is also a LED screen to read out display speed.
Jet 716000 JWDP-12 Drill Press Review
DRILLING ACCURACY: X-shaped XACTA Laser ensures perfection every time.
EASE OF USE: Oversized ergonomic knobs provide maximum control.
CONSISTENT DRILLING: Clear, linear scale with depth stop.
EXTRA SUPPORT: Retractable roller extension provides support and quick workpiece adjustments.
COMPACT DESIGN: 10" x 16-1/8" cast iron base fits neatly on workbenches with limited space.
Pros:
Firm construction
No significant vibration during operation
Reasonable throat depth and smooth quill travel
Powerful motor
Easy setup
Equipped lasers for better accuracy
Compact benchtop design for easy transport
Cons:

2. WEN 4214 Drill Press Review.
WEN 4214 is cheap but good quality equipment, it's $150-$200 cheaper than JET JWDP-12.
The tool has a fairly beefy motor of ⅔ HP and being rated at 5-Amp. At this rating, WEN 4214 is a decently powerful enough for drilling from low-density wood to metal sheets.
WEN 4214 delivers at a variable speed of 580-3200 RPMS with a 3-1/8″ spindle travel, which is versatile and able to cope with a variety of materials. And there is also a digital readout meter to help you keep track of your speed during operation.
An outstanding feature of the tool is the expandable table roller that can roll up to 17 inches, and be tilted 45-degree to the right or 45-degree to the left for angular drills, which allows you to make beveled drills easily.
On the downside, due to a lack of torque at the drill bit, the tool is difficult to deal with metal as it may cause stalls or unprofessional finishes.
WEN 4214 Drill Press Review
Infinitely variable speed ranges from 580-3200 RPMS. Mechanical variable speed delivers equal torque throughout the range. LED read out displays speed.
Spindle Travel of 3-1/8" with easy to read, locking linear depth stop for accurate and repeatable drilling operations. Front to the back of the motor is 22 inches
Quill diameter of 2.17 inches. Durable 2/3hp induction motor develops ample torque and power. Motor: 120 V, 60 Hz. Laser Module: Class III
9-1/2 x 9-1/2" cast iron worktable features rack & pinion height adjustment and bevels up to 45 Degree left & right. Width with the handles: 14-1/2"
Includes drill press, mechanical variable speed, laser, table roller extension, 5/8" keyed chuck & key, tools for assembly.Drill press Height from the Floor to the top: 37 inch
Pros:
Expandable table roller
On-board work light
Convenient digital speed readout
Cons:
Difficult to perform on thick materials

JET JWDP-12 vs WEN 4214 Review: Which One's BEST?
On our sides, we recommend you go for JET JWDP-12 due to its sturdy construction, compact design, and robust performance. Specifically, it allows you to deal with various materials and their thicknesses.
JET JWDP-12 gets a better rating than WEN 4214 in terms of the motor.
WEN 4214 is recommended mostly for drilling in wood that is not more than 3-1/8" thick since it can not deliver a satisfactory drilling experience with tough materials such as steel, maple, and hard walnut.
On the other hand, with a heavy-duty induction motor, JET JWDP-12 has no problem drilling through various tough materials.
Moreover, JET JWDP-12 rarely causes strange sounds as it runs quietly and smoothly, while WEN 4214 had a strange clicking noise.
Image
The Winner (#1)
The Runner-up (#2)
The Winner (#1)
Image
The Runner-up (#2)
Image
In a nutshell
We hope our review of JWDP-12 vs WEN 4214 is helpful for you to find your favorable drill press.
Each product has its pros and cons. All in all, you may also need to consider your budget and working purposes to decide your favorite "sidekick".