When seeking out a reliable drill press to purchase, WEN's products have always been the most sought-after one. However, many people might find it confusing to choose among the top best-seller products, specifically among the WEN 4208 vs 4210T vs 4212 vs 4214.
Our review would thus, guide you in the right direction and help you make the best decision for yourself.
Now let's get this started!
WEN 4208 vs 4210T vs 4212 vs 4214 – Overall Reviews
1. WEN 4208 8-Inch Drill Press Review.
The 4208 Drill Press is one of the very first drilling models to be introduced to users by WEN. This product has been widely used by hobbyists mainly for its convenience in the household environment.
Specifically, the well-functioned 8-inch swing and a modest height contribute significantly to the lightweight nature of the 4208 model, making it a reliable assistant for any home users.
Besides that, this compact design makes transportation and off-seasoned storage completely trouble-free. You can move it anywhere you want without worrying that it might take up too much space or require too much human labor.
Regardless of the small size, this product still provides users with astonishing versatility and durability. The well-equipped 2,3A induction is still powerful enough to cut through various types of material such as metal, wood, plastics effortlessly.
The only notable downside of this 4208 Drill Press is its inability to deal with any material whose capacity exceeds ½ inch. So if you are about to purchase a drill press for professional purposes, this specific product might not be the perfect option.
WEN 4208 8-Inch Drill Press
Includes a 1/2-inch keyed chuck and onboard key storage
Operates at 5 different speeds: 740, 1100, 1530, 2100, 3140 RPM
Spindle travels up to 2 inches with easy to read, locking linear depth stops for accurate and repeatable drilling operations.Cord Length (ft.):6
Durable 1/3 HP induction motor develops ample torque and power
6-1/2 x 6-1/2" worktable is height adjustable and bevels up to 45 degrees left & right
Pros:
Five optional swing speeds
Cast-iron base and frame
Long-lasting
Accurate drilling
Budget-friendly
Cons:
Not suitable for thick materials
2. WEN 4210T 10-Inch Drill Press Review.
Remember the time when drilling a hole in a piece of wood was such a torture, not to mention aiming the piece precisely? But with the WEN 4210T Drill Press, not only does it make the drilling process so effortless, but it also provides you with the best designs for accuracy.
For the most part, this model resembles the WEN 4208 one, especially in the speed range, amperage, and chuck capacity. There are just a few additional features to maximize the precision of the finished products.
To be more specific, this model is constructed of an X-ray laser light to mark the exact spot that the bit is supposed to cut through. The laser light also works cooperatively with the onboard working light to illuminate evenly across the workpiece in any lighting condition for accuracy.
However, just like the WEN 4208, due to a relatively moderate amperage of 2,3A, it won't be appropriate to apply for professional use. The constant exposure to hardened materials might cause premature damage to the machine.
No products found.
Pros:
Precise drilling
Versatile machine
Smooth performance
Reasonable price
Perfect for home users
Adjustable speed
Cons:
Not suitable for professional use
3. WEN 4212 10-Inch Drill Press Review.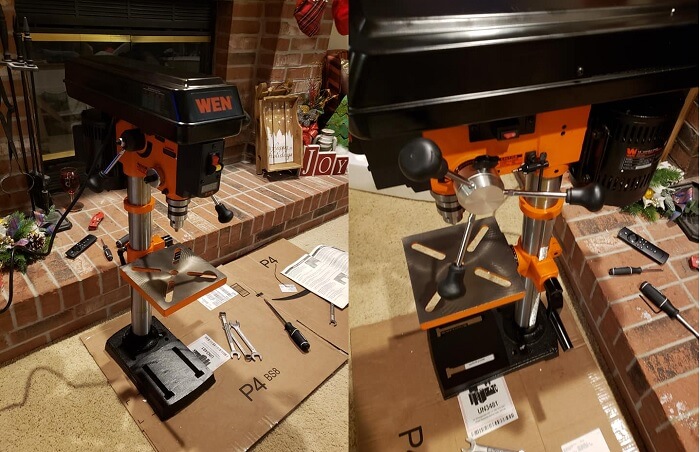 For all the high-quality features the WEN 4212 Drill Press offers at such a budget-friendly price, it comes as no wonder why this product has been taking the world by storm. After trying this item out for ourselves, we can finally understand its growing hype.
Well-equipped with a 10-inch swing as well as a high-powered induction motor of 4,5A, this drill press helps to enhance the drilling speed and shorten the operation time while still assuring the quality and precision of the final products.
Moreover, this drill press operates on a mechanical variable speed, which will keep the power and torque unchanged through the entire speed range. This feature promises a smooth, even, and balanced performance even during a high-speed drilling process.
The only worth-mentioning weak point of the WEN 4212 model is the fragile power switch mounting housing. The switch can easily come off during operation if enduring strong hand forces, so it would be best to handle it as carefully as possible.
WEN 4212 10-Inch Drill Press
Spindle travel of 2-2/5 in. with easy to read, adjustable depth stop for accurate and repeatable drilling operations
8 in. x 7-2/3 in. cast iron worktable features rack and pinion height adjustment and bevels up to 45 degrees left and right
Laser target your drilling operation marked with an X-pattern display
Includes drill press, mechanical variable speed, 1/2 in. keyed chuck and key, laser, and tools for assembly
Pros:
Variable speed range
Accurate operations
Large chunk capacity
Height-adjustable worktable
Suitable for thicker material
Cons:
Weak power switch
Quite heavy
4. WEN 4214 12-Inch Speed Drill Press Review.
For all the advanced features that the WEN 4214 Speed Drill Press possesses, this machine is undoubtedly a perfectly-designed device for industrial and professional uses.
To be more detailed, this device is equipped with such an impressive operative system. The 12-inch swing, the 5A induction motor, and the variable speed range come together to tackle even the most stubborn, hardened materials that the other models cannot handle.
Apart from that, with the 45°-bevelling worktable that can be easily adjusted left and right, the machine can effortlessly cut through any material whose capacity ranges from 0.8mm to 16mm with precision and smoothness.
However, this product is not the most fitting drill press for home-use purposes. It might be too extravagant for hobbyists who only use the device occasionally or too inconvenient to move around the house, mainly due to its heaviness.
On the other hand, it is highly suggested for industrial use. One piece of advice for the professionals out there is that you can add in some optional accessories such as circle cutters and drum sanders to optimize the results when drilling in mass.
WEN 4214 12-Inch Speed Drill Press
Infinitely variable speed ranges from 580-3200 RPMS. Mechanical variable speed delivers equal torque throughout the range. LED read out displays speed.
Spindle Travel of 3-1/8" with easy to read, locking linear depth stop for accurate and repeatable drilling operations. Front to the back of the motor is 22 inches
Quill diameter of 2.17 inches. Durable 2/3hp induction motor develops ample torque and power. Motor: 120 V, 60 Hz. Laser Module: Class III
9-1/2 x 9-1/2" cast iron worktable features rack & pinion height adjustment and bevels up to 45 Degree left & right. Width with the handles: 14-1/2"
Includes drill press, mechanical variable speed, laser, table roller extension, 5/8" keyed chuck & key, tools for assembly.Drill press Height from the Floor to the top: 37 inch
Pros:
Mechanic variable speed
Adjustable speed range
Tackle tough material easily
Powerful motor
Large swing
Cons:
Heavyweight
Take up lots of spaces
High-priced
Which One Is The Best?
Based on various researches, test-outs, and thorough evaluation, we can surely say that the WEN 4212 is well-deserved to be ranked as the best drill press out of the four products.
As opposed to the inability to deal with chunkier piecework found in the WEN 4208, WEN 4210T; or the sky-high price that you have to pay to get a well-functioning industrial drill press like the WEN 4214, the WEN 4212 is a perfectly-balanced mixture of everything needed.
With an efficient and reliable machine operative system, this device makes an ideal companion for both home and industrial uses. For half the price of the WEN 4214, you can already own a drill press that can effortlessly tackle the thickest hardwoods for professional use.
Image
Rank #1
Rank #2
Rank #3
Rank #1
Image
Rank #2
Image
Rank #3
Image
Conclusion
WEN 4208 vs 4210T vs 4212 vs 4214, choosing out the most fitting drill press for your personal needs is obviously not an easy-breezy thing to do. It takes lots of time for you to thoroughly evaluate and compare products before coming to the final decision.
However, it shouldn't be that hard of the task for you, especially after reading our informative article.
All in all, I hope you will soon find the most suitable drill press and when you do, don't forget to leave a comment to share with us!